There are many Breathtaking Places in Indonesia to See Before You Die. But what comes to mind when you hear the word Tegal? Yep! In addition to "warteg" (stalls typical of the city Tegal) is famous for cheap, Tegal is also famous for his speech is very distinctive public speaking (java accent). But in addition to these two elements, Tegal which part of its territory lies along the Pantura lane and into some Slamet mountains, has tremendous tourism potential, it is no wonder if the city is nicknamed this maritime city to develop tourism as its leading sector.
Things to Do in Tegal, Central Java, Indonesia 
In the Tegal city tours are all complete, there are beaches, mountains, and artificial tours. Want to know anything tours in this city of Tegal? yap, here's a list of tours in a small town, the heart of Pantura. Here are some tourist attractions in Tegal which is a tourist spot in central Java:
1. Beautiful Purwahamba Beach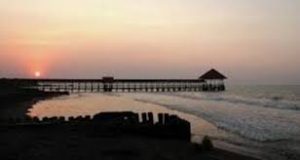 The location of the Tegal town along the Pantura lane makes the city rich in coastal tourism, one of which is Purwahamba Beach, or common in short with Pur'in a beach.
Sand beach here is not white like the sand in Bali, but the scenery on this beach is very beautiful. Especially when the sun is almost drowned at the tip of the skyline, this beach can be the most epic spot to enjoy the sunset.
The location is located at Jalan Raya Tegal-Pemalang km 14, precisely in the village Purwahamba, District Suradadi. On this beach, you can enjoy many facilities available, such as swimming pool, water boom, water bike, mini train, gazebo cafe, mini zoo, children playground and much more.
The view of brown sand and blue sea water and beach lips surrounded by lush vegetation into a typical panorama owned Purwahamba this Beautiful Beach. If you want to visit here, from Tegal city bus terminal, this beach can be taken by public transports majors Pemalang city. You will travel about 14 KM to reach this place, its strategic location on the edge of the Pantura makes you not hard to find it. Happy visiting..!
2. Pantai Alam Indah (PAI) – Tegal (Natural Beach Tegal)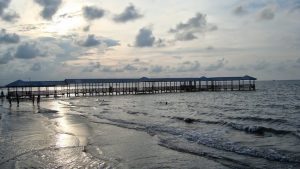 There are many natural and beautiful things to do in Tegal, Central Java, Indonesia. Beautiful Nature Beach this could be a tourist destination pride of Tegal city because its location is almost right in the heart of the city, Alam Indah Beach complex also offers a cool tour in it. In the location of Alam Indah Beach Complex has been built some interesting facilities such as Waterboom and Marine Monument.
Beautiful Nature Beach is located in the street Sangir Village Mintaragen Tegal Timur District, Tegal City. The location is very strategic and the scenery of a nice and clean beach becomes the main attraction. Especially in this complex, there is a maritime museum that became the icon of the city Tegal itself.
If you visit this beach, you will find a row of tent stalls on the beach lips that sell a variety of typical foods Tegal, such as lengko rice, kupat glabed, tofu aci, sate clams, and various kinds of beverage. Visiting the beach is recommended in the morning and evening because the spot and the scenery are cool if it goes during the day, the scorching sun burns with ferocity, because of the location of this beach along the famous Pantura is hot.
In the afternoon many young people who used to enjoy this afternoon beaches and just culinary and refreshing tours, and also take pictures in the maritime museum that became the icon of this Tegal city pride.
3. Mas Bahari Waterpark Gate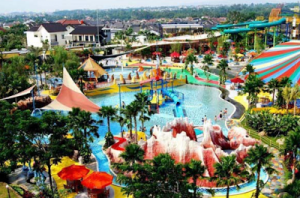 Mas Bahari Waterpark Gate is a water tour in Tegal town which opened on June 15, 2015. This tour is located near Tegal City Terminal. Bahari Waterpark is built in an area of approximately 5 hectares.
Bahari Water Park is one of 4 water parks in Indonesia that has a Swimming Pool after Jakarta, Solo and Surabaya. This waterpark is perfect for holidays with your family, because the atmosphere is very family, with a variety of children's games. You can spoil your sons and daughters in this place.
With enough to pay Rp. 15.000 on Monday to Friday or on holiday, Saturday and Sunday Rp. 25.000 You can try some rides like Kiddy Pool, Olimpic, Swimming Flow, Futsal Field, Raft Slide, Racer Slide, and many more. For those big balls, please try the Flow Pool. High waves can reach 2 meters. Imagine!
Entrance fee does not include rental ticket buoy yaa !. Here are enough buoys that can be rented by you. The rates also vary, depending on the type of buoy you rent. Not bringing supplies? Do not be afraid of hunger huh. Because in the area of the Waterpark is available many food sellers both light and heavy.
In the parking area is also available a food stalls with diverse menus ready to prop your stomach. Access to Bahari Water Park is very easy if, from the direction of Brebes, Bahari Water Park is located on the left of Pantura road after Tegal City Bus Terminal. And if from the direction of Pemalang, after the Pacific crossroads straight west, later you will find the gate mas on the right side of the road. 
4. Rita Park-Tegal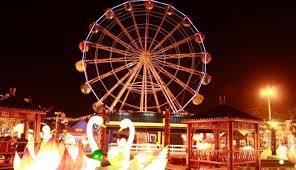 Rita Park is a new tourist attraction in the city of Tegal inaugurated on March 31, 2013. Although quite new, Rita Park is on the rise and so many conversations. Mentioned as miniature Dufan in Jakarta. Rita park is located at Jalan Colonel Sugiono No.155-Tegal, the location is very strategic because it is exactly one complex with Rita Supermall.
Because of being the fame, this tour became the mainstay of the city tour Tegal, Rita Park is the largest game rides of Central Java today. Cool is not it! If you visit Rita Park, you will be entertained by various game rides, such as Bombom Car, Cinema 5D, Circus Travel, Flying Tiger, Frog Jump, Kiddie Ride.
Rita Park on Monday until Friday and Sunday is open from 09:30 – 21:00 WIB is special on Saturdays open at 09:30 – 21:30 WIB. Rita Park tickets are divided into two groups: one ticket rides and tickets canal. The difference? one ticket rides is a ticket that pays to adjust whatever rides we will ride.
The ticket will be shaped like an electronic ticket. Unlike the tickets canal, that we can try all the rides that exist in Rita Park. Later tickets this canal shaped bracelet. Vacation to Tegal feels incomplete if you have not been to Rita Park. Let's enjoy all the things to do in Tegal, Central Java, Indonesia.
5. Taman Rakyat Slawi Ayu (TRASA) – Market Festival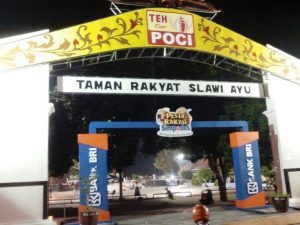 Slawi Ayu People's Park includes a new tour in Tegal city, opened in 2013 ago located in front of Slawi bus terminal, this location is very strategic because it is in front of the main road connecting Tegal – Purwokerto and vice versa.
So, if you want to reach it very easily. The purpose of establishment of People's Park Slawi Ayu (Trasa) is as a place of community interaction Tegal District in various activities, such as social activities, performing arts, sports and so forth.
In this place, you can also culinary tour, in the garden area provided a shelter that peddles typical food Tegal city. This trick is divided into 3 (three) main parts or called the shelter. In the north, the shelter is reserved for the seller of Tegal products or souvenirs. For middle shelters more devoted to community activities. This shelter consists of a tiered stage and base with a special floor. So suitable for use as a place of performances. While the southern shelter contains street vendors (street sellers) who sell fast food.
New trends look crowded when late afternoon until evening. Lots of activities done there. Starting from just sitting around, playing ball, playing bikes, until the activities of certain communities. Especially when the holidays, not only the community who gathered there, some visitors also bring family members to enjoy the facilities in Trasa. Support facilities were fairly complete. Starting from public toilets, musholla, parking motorcycles and shady cars. Parking was not withdrawn, alias free. But must remain vigilant to maintain their vehicles.
6. Puppet Consortium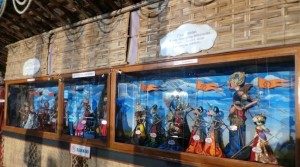 Consortium Rumah puppet is a tourist residence located in ki Enthus Susmono, he is a cultural (dalang) famous for his santri tales. Now in addition to his busyness as Regent of Tegal, he is still active "dalang" for entertainment and public education.
The location of this consortium is located in Sanggar Satria Laras, a studio run by ki enthus Susmono himself. This Wayang House has an area of about 4 x 4 meters, this place store thousands of wayang both traditional and contemporary style, from wayang kulit, wayang golek, puppet santri, wayang bamboo, wayang kreasi, there are also accessories such as keris, mask, martial arts, puppets world painting, weapons typical of the world of wayang, photographs of Ki Enthus, gamelan, and many other collections displayed nicely here.
In addition to seeing the collection of puppets, this place you can also learn how to make the puppet itself, both wayang kulit and wayang golek. Because the information presented here is complete from the start of raw materials, stages of the production process until the finishing process and can be played. Administratively Rumah Wayang was inaugurated on March 19, 2012 ago.
To come to this Pupang Konsorium please visit from 08: 00-10: 00 and 15: 00-17: 00. Just a suggestion, it is better to visit on a weekend or holiday because if you are lucky you can directly meet with who has, that is Ki Enthus Susmono, you can learn many things directly from him. 
7. Sulaku Bumijawa Park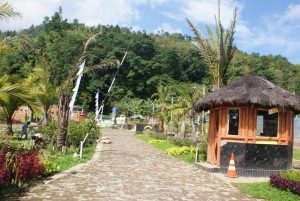 Sulaku Bumijawa Park is located on Jl. Raya Wredameta Bumijawa, Bandarsari Village Kec. Bumijawa, Tegal regency or not far from the foot of Mount Slamet. Its location right at the foot of the mountain makes the air in this tourist spot is very cool.
The cold water reaches 20c. Various kinds of games and interesting activities are here, such as outbound, playground, fishing, lodging, agro-tourism, futsal centre, water boom, the herbal shop, even you can walk around the garden with a very exciting ATV.
Especially a hobby challenge this place you can try flying fox. There are a variety of track lengths, some 60 meters, 150 meters, up to 200 meters, with an average speed of 80 KM / hour across the gardens in Sulaku. For security issues, do not worry, because it already uses standard security and of course experienced instructors. This place is very suitable for those of you who want to remove the fatigue from the boring job routine.
After tired of playing and on the move, this place you can also try a steam bath with boiled herbs is guaranteed to make your body back relaxed and powerful. And for quality time you can try the typical cuisine that is here while enjoying the natural scenery of earth java with slopes and hills that epic out. Is very fun not it?
8. Guci Hot Spring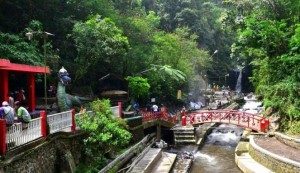 Hot water bath urn is about 30 km from Slawi or 40 km from Tegal Town to the south. Hot water bath urn located in Guci Village, Bumijawa District is the southernmost district in Tegal regency which is located just under the foot of Mount Slamet with 3,428 M. Can imagine here is a perfect place to unwind after the activity.
The atmosphere is still beautiful and the air is very cool. That's the reason why travel urn is your must visit.
To go to Guci you will pass through the hills and the road is quite steep. But behind it all, you will be served with the incredible natural scenery. Many hills, rivers, plantations can be found along the way. Very pamper the eyes.
After arriving, you will feel the freshness of the air and the weather is cool enough. Souvenirs can be found along the way. There are many bathing options are offered, there is an open bath form, closed, and swimming pool. You just select as you wish.
If you feel tired, here many horse rentals also can be used to get around. If not yet proficient, there are jockeys who are ready to help. Hot water here is efficacious to heal itching on the skin. Because it contains sulfur. But do not soak too long yes especially for those who have a history of heart disease. Dangerous.!
8. Curug Putri (Putri Waterfall)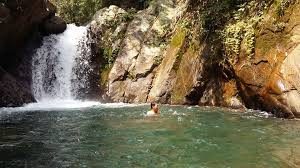 Curug Putri is a tour located at a border of two regencies of Tegal and Brebes. This waterfall is still very natural, in the form of a waterfall with a height of about 25 meters, in addition to an interesting waterfall with very cold water, the scenery around the waterfall is also no less exotic, in the form of folds such as paintings of god carved in cliffs, very epic .!
To reach the waterfall you have to pass the rice field, with a stretch of green and shady trees, because the location is far from the residential community.
There are two routes to reach this location, namely through Desa Benda (Sirampog, Brebes) and Sakalibel gas station (Brebes). If you use the path of Desa Benda, you can ride the vehicle from Kalisalak Together Desa Benda to Mendala Village and continued straight up to meet Dukuh Padanama. Vehicles can not go on this road because the road is not yet paved.
We can track down rice field and paddy path about 500 meters. you will also be going through a cliff that is quite steep. When using the second line, from the direction of Purwokerto -Tegal, down at Kaligadung Jigsaw or at Sakalibel gas station. Half an hour drive, arrive at the intersection Sirampog then take the road north to meet with Dukuh Padanama.
9. Law of Lawet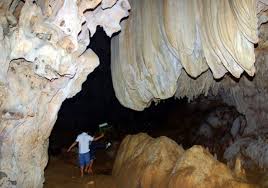 Lawet Cave attraction is located in Harjowinangun Village, Balapulang, or its distance about 20 kilometres from Slawi Town. Lawet Cave itself is believed to be hundreds of years old.
Historical researchers conclude that the Cave Lawet was used as a place of asceticism of the rulers or kings in the kingdom of Mataram so that not many people visit this cattle goet.
The atmosphere in this cave is deserted, so it feels right here you can learn about nature, see the relics of the past in the kingdom of Mataram that already almost difficult to meet and see the beauty that is in this cave. 
10. Water Boom Yogya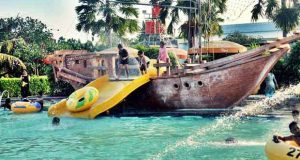 Playing in Tegal which also should not be missed is Waterboom Yogya. Previously, Waterboom Waterboom Dedy Jaya, after switching ownership in 2013 turned his time to Waterboom Yogya.Sekilas if seen from the outside, this water boom is quiet.
Because the position is behind the department store Yogya. But if you have entered into it through the south side door, water boom is full of visitors. Especially on Sundays and holidays.
Waterboom Yogya is open from 09:00 to 17:30 on Mondays until Friday with tickets Rp. 12,500 while Saturday, Sunday and Big Day are open 08: 00-17: 30 with ticket price Rp. 15,000. The Waterboom has four pools divided according to the age and depth of the pool. For children or toddlers, there is a special tool that is not too wide with a water depth of 30 cm. There is also a pool with a depth of 1.3 meters, 1.4 meters, and 1.8 meters.
Not only the swimming pool alone, there are rides that spill water every few minutes. There are also water slides with different heights, ranging from 3 meters, 6 meters, and 12 meters. For the western swimming pool itself, the depth is different from one end with the other tip. Other facilities in this water boom are a tired rental, rent locker, café, musholla, and free gazebo. The place is overgrown trees on the side of the pool is also always guarded by a special officer. So security always takes precedence.
12. Month Tanjung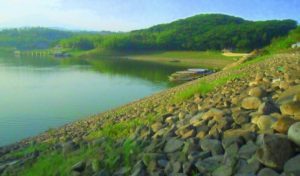 Mount Tanjung is located in Lebaksiu Village, Tegal Regency, Central Java. If from the direction of Slawi City, then you will travel about 7 kilometres to this Tanjung Mount tourist location.
Tanjung tourism object is perfect for you who love adventure in the wild, especially treking. There are two factors that cause this one tourist attraction visited by many tourists, namely the beauty of natural scenery and the hospitality of its population is very famous.
Actually, the mountain is a hilltop area, you can enjoy incredible views here. In addition, the expanse of rocks that look beautiful and also the Sunglon Bridge and Bukit Sitanjung. In this area, there is also a food stall which is equipped with fishing which provides various menu mainstay of various fish dishes and martabak eggs typical of Lebaksiu area.
What a beautiful things to do in Tegal, Central Java, Indonesia!
More Tourist Attractions Around Central Java
Those are some tourist destinations in Tegal, which can be used as a reference for your vacation if you visit the coastal city on this northern coastline. Happy holiday in Indonesia!!