As you can see foryourself, this belvoed country of Indonesia has many choices of attraction that you can have to spend all day long on holidays. Some of them like things to do in Nusa Tenggara is of course already known by many people, either the common tourists or backpackers.
But now, in this year of 2018 we want to recap all the places into one article with this title of the breathtaking places of Indonesia. Maybe you can prepare from now on about dealing with packing and stuff, to finally visit all the breathtaking places in Indonesia below :
1. Komodo National Park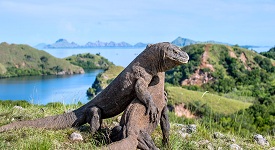 At first, you can visit one and only place that has a unique endemic animal in Indonesia caled Komodo National Park. Of course, some of you can get to this exclusive island with some efforts, like renting some boats, and preparing for staying in there for days.
But the result is quite amazing to get, to see directly the most rare animal in this world, Komod Dragon. By the help of the guides there, you can study more detail about it like the ecosystem, how it behaves, and so on. All you can get in one exclusive ride to Komod National Park.
Location : East Nusa Tenggara
Best Time to Visit : Day
2. Ijen Crater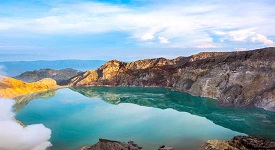 One of the best things in things to do in East Java is the Ijen Crater. Located just about the tip of Java Island on Banyuwangi city, about several kilometers from the island of Bali. This is the biggest sulphur crater that you can find in the land of Java.
Not only that, this Ijen Crater will provide you with its best attracions, the wonderful colour that reflectd on the surface. During dusk, you can almost see the clearest colour of it, which is the lue crystal clear colour.
Location : East Java
Best Time to Visit : Day or Night ( To do star gazing)
3. Baluran National Park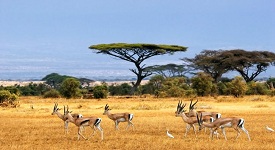 Next one, is the Baluran National Park. In this National Park, you'll be treated with the gorgeous view of the mountains around. Also, there are some unique houses in here too, which showing to us that those are tha traditional African Houses.
There's also one thing to notice here, called Savana Bekol. The place is Savana Bekol is the savana that has some animals on it like buffalos, deers,wild cows, and so on. With some things that can be seen in here, you can almost see this National Park as the one in Africa called Serengiti National Park.
Location : East Java
Best Time to Visit : Day
4. Borobudur Temple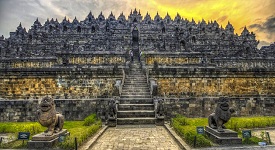 As one of the best gems of Central Java, this Borobudur that included in the things to do in Magelang is of course a must visit one. Beside the rich histories, you can also visit this temple for the photo hunting. There are some good spots in here like the stupas, or maybe taking some pictures in the stairs.
Borobudur Temple is wel maintained by the corresponding staff, even though the condition is getting weaker through years. But the government will always take the best decisions to maintain the beauty of this temple, so you can your next generations will be able to enjoy this temple with comfort.
Location : Central Java
Best Time to Visit : Day and Night
5. Toba Lake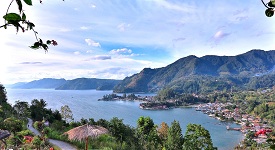 As one of the best destinations in North Sumatra, you can't miss this wonderful lake of Toba. Like you can see in previous articles about the greatness attractions in North Sumatra, this Lake has some good points for you.
It has the beautiful natural look, it has its own child called Samosir Island. In that specific island, there are also some things to do, like exploring the islands fully by visiting its "vital" points. With thise benefits, you surely can't miss it.
Location : North Sumatra
Best Time to Visit : Day, especially during the morning
6. Prambanan Temple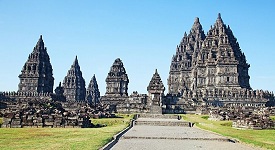 After visitin Borobudur Temple in Magelang, you can also visit the other temple that located in the same province called Prambanan Temple. Like the condition of Borobudr Temple, Prambanan has some good staff to carefully preserve it for another day of touring.
Becauseof that, the condition of it is also well maintained, even though some architectures already destroyed because of natural disaster. But, the temple has the thousand beauty that can be enjoyed until today.
Location : Yogyakarta
Best Time to Visit : Day and Night 
7. Bromo Mountain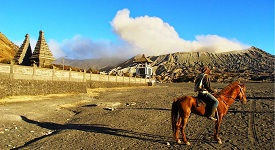 Also, it's a good thing to enjoy all the beautiful things to do in Mount Bromo. Well if you're a hiker, or maybe some usual tourist, you can have your final momento of holiday in this Bromo Mountain. Seeing the view of the cities around it can make the good memories for two.
Not only that, the Bromo mountain can be a perfect place to enjoy either sunset or sunrise. The mountain already provided you with some spots that can be used to see the sunset or sunrise perfectly.
Location : East Java
Best Time to Visit : Day and Night
Other Heavenly Places in Indonesia
Not only those 8 attractive places that worth visiting, this small below contains all the reamining spots left on our list of breathtaking places in Indonesia :
Thousand Islands of Jakarta, another gem that can be found in an area like Jakarta
Kawah Putih or The White Krater, you can find this good looking thing in Bandung
The Old City of Semarang, can't hurting a bit for visiting some old places
Karimun Java, can find this exclusively in the area of Jepara, Central Java
Barito Brige, visit the South Borneo to get the full experience
Nusa Dua Bali, of course you shouldn't miss this one beside the beaches in Kuta
Rinjani Mountain, one of the best things in things to do in East Lombok
Way Kambas National Park, another good National Park that you should visit
So those are out complete list of breathtaking places in Indonesia. Of course, in this new year, it's a good thing to try something new, getting new experiences inthe whole new places that already described above. So, be sure to include visiting these breathtaking places in your new year resolution. Have fun!