Jakarta is a great city with plenty of formidable excursion potential. We can find a countless of excursion spots in this metropolis. A number of them are a stone's throw away from Jakarta which are allowed to be explored. Every single site won't only gives us multifarious experiences, but also different challenge.
Beside offers the modern tourist attractions, Jakarta also comes up with several horseback riding places. Many of them are often visited by tourist in certain time, even some people thought that horseback riding sometimes still seen as something overpriced and upscale. You may also visit: Things to Do in Jakarta on Friday Night
There the best place to do horseback riding Jakarta. If you are captivated with horseback riding activity, you have no wrong to visit some places in Jakarta. Horseback riding place itself is a well-known attraction and has well-trusted procedure, such as :
1. Horseback Riding Pulomas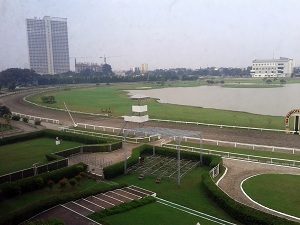 This is one of the most distinguished horse racing place. As the one of horse racing place in Jakarta, it became very popular in its epoch.
It was built when Governor Ali Sadikin sat on the government throne in the 1970's, which was received a great response when it opened for the first time. But then was once closed in the 1980's in caused of local regulations ban gambling.
Even so, the horseback riding activity was still accessible and became something noteworthy at that period. Nowadays, this place comes out one of the most visited and the most economical horseback riding sites. We have to pay Rp 20,000 for adults and Rp 10,000 for children to enjoy one lap horseback riding impression. What an affordable price, isn't it? Apart from that, this location provides horses to rent, an area to tame horse in order to obey its instructor.
Pacuan Kuda Pulomas is situated in Jl. Pulomas Jaya No. 1, RW. 16, Kayu Putih, Pulo Gadung, East Jakarta, DKI Jakarta, 13210. This site is crowded on weekends and national holidays, recommended for children tourist attractions in Jakarta. You may also visit: The Best Bowling Alleys in North Jakarta
2. Trijaya Equestrian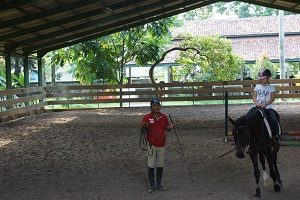 The next place is located in Jl. H. Montong No. 23, Rt 08 / Rw 03, Ciganjur, Jagakarsa, South Jakarta, DKI Jakarta, 12630. This is a reputable horseback riding site in Jakarta and the nearby cities. Trijaya Equestrian is more personal and more exclusive place than Pacuan Kuda Pulomas and moreover used as an interesting playground for children in Jakarta.
It extends miscellaneous horseback riding drills for sightseers, even if most of the visitors are the professionals and who has become the member of this place. As beginners, however we may come and own the infrequent sensation. We acquire professional horse instructors that keep us safe and comfy.
We ought to pay a considerable cost for a training session. Equipment and horses are provided. We just need to come and enjoy, then. You may also visit: Things to Do in Glodok Jakarta Indonesia
3. Gading Equistarian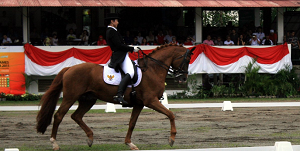 This place is one of the famous site known to locals in Jakarta for horseback riding. The reason is because the horse riders that is raised from this place participate in horseback riding competitions as SEA Games and etc, even they are the national team members of Indonesia. This place accommodates to all different classes of experiences, from beginners to professional horsemen.
So, beginners do not have to be intimidated to come to this location. This specific place can be a bit expensive because of the high-quality service and horses in order to have the best experience for the customers. This place also offers lessons for kids and it is one of their most important priority as they believe it is start from a younger age. You may also visit: Things to Do in Kemayoran Jakarta
The address for this location in Jakarta is on Jl. Pelaten Raya No. 9 Rt. 7 / Rw. 10, West Pejaten, Ps. Minggu, South Jakarta, DKI Jakarta 12510. Other than offering horseback riding lessons, this specific location breeds and raises horses. Here, you can find many different breeds of horses from many places or originally from that location. 
4. Arthayasa Stable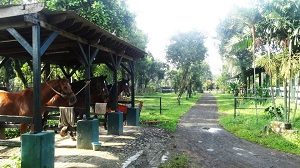 This place is one of the favorites site from locals for horseback riding. It's one of the inexpensive tourist attraction in Jabodetabek that is very unique and special for people to visit. This site is famous for its high quality services and horses and it is also used for a practice area for national athletes in Indonesia.
This place is open to the public especially to those who wants to experience being horsemen. That's why this location attracts many people as it has many things that the public can enjoy. Because of this, it's not surprising that this place is frequently search by many tourist or locals. This place holds many lessons and accepts many young students who is interested or would like to be horsemen athletes in the future. This is to expand the knowledge of horseback riding to the public.
Besides being a horseback location, it has many other activities that people can do. With so many trees in the surrounding areas, it creates an atmosphere of relaxation which makes the people stay for a long time. It's no mistake to spend the whole day at this location to enjoy horseback riding and other various activities that they offer there. You may also visit: Best Islands in Thousand Islands Jakarta
More best place to do horseback riding Jakarta
That was some information regarding horseback riding places in Jakarta. Other than the locations mentioned above, there is more places that people can visit, here are the best place to do horseback riding Jakarta:
Jakarta Perkumpulan Equistarian Center
Pacuan Kuda Stabe & Equistarian
Brancho Bintaro
That was the complete recommendation of the many horseback riding places in Jakarta that you can visit. The horseback riding places mentioned above, are the perfect place to spend your vacation with your family or just to enjoy the sport. Hopefully this information helps.