After we talking about the previous article, which is filled with some great loations inside the things to do near Hotel Mulia Jakarta, we also curious to find some more beautiful places that exist in the Jakarta city, the capital city of Indonesia.
Even though, the places in Jakarta like located in one example of its area inside things to do in Mangga Dua Jakarta are of course look good in the day, but they don't guarantee the same look during the night. And that's why we provide some of the best spots that have amazing view in that specific time. Some of them are maybe already famous by the people by having this kind of unique view, but some of them maybe you don't know that they actually exist.So without further do, let's start our article of things to do in Jakarta on Friday night.
1. National Monument / Monas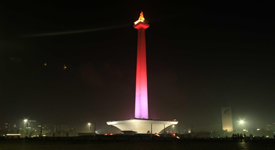 Walking around in Monay on sunny day might be the hottest experience you have. During the day, the place is really crowded, especially by the people who like to do some sports, or just by the street vendors.
Maybe, you can taste the different experience during the night, when the monument will be lighten up with colourful colours. Of course, the monument will look more greater than its condition during the day. It's time to visit it again on other time.
Location : Gambir, Jakarta
Tips : Don't put your trash everywhere
2. Jaksa Street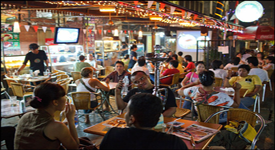 The next location that you should visit during the night in Jakarta, is the Jaksa street. This street is known for its humble society. A place where you can share a laugh or experience in one bowl of foods.
Yes, there are so many street vendors in here that you can choose. Most of them sell the Chinese foods, but some of them also provide the Indonesian traditional foods on their menu. You don't need to pay any money to enter.
Location : Jaksa street, Jakarta
Tips : You can choose one or two for that many kind of cuisine
3. Kota Intan Bridge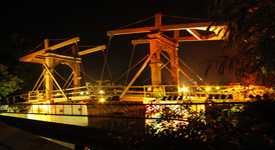 Aside from the beautiful things on things to do in Menteng Jakarta, there are several spots that now known as tourist attractions, but always worth a visit. A place like those is the Kota Intan Bridge. Lonely bridge located in the area of Old Town Jakarta.
The sturcture of this building is unlike the other usual bridges. Yes, the main structure is always be the same. But, the additional on top is somewhat new for us. It was built during the era long before Indonesian proclamation, which is maybe in the Colonial Era. Now, it gives you several amazing shots ot it that only can be captured in the night.
Location : Ancol, Jakarta
Tips : Don't forget to bring your own camera
4. Pasar Baru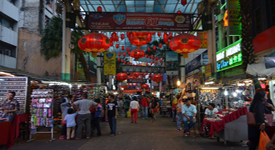 Moving from there, we wil got to another spot in Jakarta, a place that everyone knows, called Pasar Baru. What's the deal with this Pasar Baru? The place looks very chineses, becasue of the decorations, the lamps, that resemble very well the chinese culture and tradition.
Aside from that, the people of Jakarta will usuelaly visit this place after work, usually evening. After long hours of working in a day, a sip of coffee would be very relaxing. Other than coffee, visitors can enjoy the other traditional foods in here, which have so many variants. Also, it's free to enter.
Location : Jakarta
Tips : You can also buy some accesorries in here too
5. Segarra Ancol Jakarta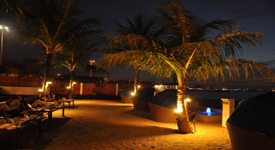 If you want to look for any romantic place in Jakarta, don't be worry, there are severals like things to do in Gambir Jakarta. The romantic place is very identical of the sunset, evening, and the breeze. And the place that has all those aspects is this Segarra Ancol.
This spot called Segarra is really popular, and recommended by the couples out there for having such a romantic place for two. That's why, if you coming in here, you can see some couples hanging around the spot. Everyone loves it, especially because you don't have to pay anything else to enter.
Location : Karnaval Beach, jakarta
Tips : Don't do anything funny here
6. Setu or Lake Babakan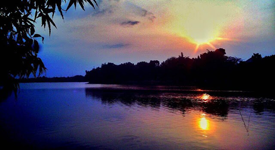 Once, this lake was a sacred one that many people fear. They said, in the location, there were several ghost sightings that can make a reason why there are only a few people, who brave enough to come here.
Answering to that problem, the government took it seriously and converted the scary lake into one beautiful tourist attraction that can invite some more people to come here. The government added some traditional Betawi houses, to make the atmosphere more friendlier. You only need to pay the parking ticket of Rp2.000,- to enter. 
Location : Muhammad Kahfi street, Jakarta
Tips : It's recommended to not visit this place beyond 6 pm
7. Mangga Besar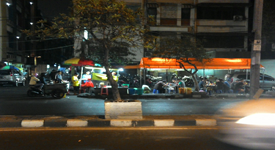 The next location that more famous than things to do in Cikini Jakarta, is this Mangga Besar. This place known to be the Red District of Jakarta, you know, the place for adults. Some people who were coming in here said to be perverts or something.
But the thing is, the journey into Mangga Besar is not only about the adult things. As example, you can join this adventure called Jakarta Hidden Tour. That tour will give you understanding that jakarta is not only consisted of malls, restaurants, and cafes.
Location : Taman Sari, Jakarta
Tips : Always be careful of the robbers
Other Locations
Also, there are other places inside the area of Jakarta that also have this kind of atmospheric look. To add the seven numbers above, we want to compelete it with the other things to do in Jakarta on Friday Night. Well, surely they will bring you another unique experience of adventuring the city during the other side of the day.
Ismail Marzuki Park
Old Town Jakarta
RPTRA Kalijodo
Menteng Park
Dufan
Sunda Kelapa Port
Istiqlal Mosque
Ayodya Park
Suropati Park
So that's our list of the things to do in Jakarta on Friday night, maybe for your next schedule of hanging out or vacation in this region. If you want to avoid the crowd, maybe it's better to visit those attractions during the night.
Even though many say that during the night all the places are actually looks a bit creepier than their condition in the day, but visiting them in this specific time, which is the night, can bring another experience of travelling in your journey.
Jakarta's Night View