Semarang city is one of cities that full of history. The city that is the capital of Center Java that always visited by. In Semarang city is not only Kota lama area as a historical attractions, but there are the other interesting attractions, like Things to do in Pecinan, Semarang. If you guys like to observe the buildings with China or Tionghoa arcithecture, then try to stop over there. Here are the following explanation.
History of Pecinan Semarang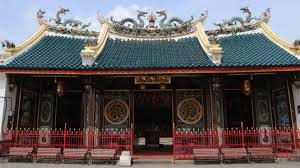 Pecinan Semarang area is the area that filled with old buildings typical of the architecture of  China. This area has the high historical value for the society around Semarang.
This place has existed since thousands of years ago, so there is a lot of historical story attached to this place. The tourist who visit not only can see the historical attractions but also the culture attractions.
The history of Pecinan Semarang area can not loose from the existence of the dark  history of citizens revolt that happened on colonial era. Chinese revolt against the invaders happened at 1740s dan strated from Batavia. Batavian revolt was made a lot of Chinese citizen brought to Semarang.
Chinese citizens were given a place of localization by invaders. The purpose on the past is in order to make them easier of supervised, so easier to secured if sometimes a similar revolt happened. Because if they are scattered, then it can be harder for invanders to set everything. Pecinan are become a place to stay and for their activities and looking for sustenance, until now. You will find that many economical activities in Pecinan area, like in Semawis market.
You may also visit: Things to Do in Semarang at Night
Things to Do in Pecinan Semarang
For you that want to come to Pecinan Semarang area and confuse will do what at the venue, here below some alternative thing to do in Pecinan, Semarang.
Exploration the Architecture of Tionghoa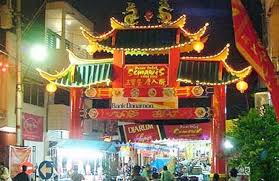 If Semarang city identic with many stately Dutch colonial buildings and stand firmly until now. Because Semarang also has a lot of beautiful buildings typical of the architecture of Tionghoa. This place will be as if invite you to the other side of world.
The buildings most have a simple form with a roof that is similar to saddler a horse. Moreover, additional Chinese feels when we explore this area.
In additional, there are many top buildings, like one of klenteng building. Klenteng is has been hundreds year but still stand fast til now. At least, there are 11 klenteng, in small size and in big size. One of popular klenteng is Tay Kak Sie in Lombok alley. You may also visit: Things to Buy in Semarang
The other interests thing to do is Semarang culinary tour. One of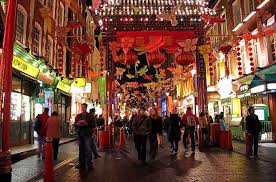 that you can visit is Semawis market. Semawis market is one of iconic attractions in Pecinan Semarang, where there are culinary festival in Gang Warung street.
Gang warung is a small aisle but so popular. Besides on Gang Warung, there are another aisle like Gang Lombok. Gang Lombok contains a typical food of Semarang, that is Lumpia. You may also visit: 39 Ideas for Romantic Dinner in Semarang
There are the other aisles like Gang Baru, Gang Gambiran, and etc. Every asiles has their characters each other. 
For those who likes photography, come to Pecinan Semarang area is not waisted for. Because there are a lot of unique buildings that can be a good spotlight for photography in Semarang. Moreover, the typical of atmosphere also can be a good spot for photography, if you can feels around yourself.
Indeed, there are many things to do in Pecinan Semarang. Another activity that you can do is city tour or explore the city. This activity will be fun if you are with your family, or friends. While enjoy the night view dan culinary tour, you and your friends or your family can go for a walk and feels different impressions. You may also visit: What to Eat in Semarang
Like with the following word before, one of thing to do in Pecinan Semarang is culinary tour. You can come to Semawis market. This place can be access only at night, that is at 18.00 o'clock to 23.00 in midnight.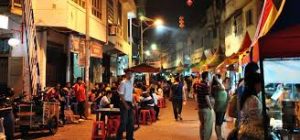 The concept that served is outdoor culinary concept in the aisle. While, for the food seller is in on a tenant, like a atmosphere of  Sunday market. There are lot of food that you can found there. The most is the typical of food in Semarang, and Chinese food.
But, culinary market is only open in weekend, that is on Friday to Sunday. So, we recommend that you may check your traveling schedule so you won't get the wrong day. You also prepare yourself for your empty stomach before you go to the culinary tour in Semawin, because there are a lot of typicay food of Semarang that you can eat. You may also visit: Beaches in Semarang You Must Know Exist! (Effing Beautiful) 
The Location and The Route at Pecinan Semarang
One of tips for traveling in Semarang for you who want to come to Pecinan Semarang area. There are main route that you can go for reach that place, with the following words.
First route is from Gajahmada street area. From there, you can go to Kranggan street and go to Benteng street. Then you can reach Pecinan.
Second route is go to Wotgandul street area then go to East Wotgandul street.
Third route is start from K. H. Agus Salim street area then go to Pekojan street and go to Pecinan from Gang Pinggir.
Fourth route is start from Jagalan street then go to Ki Mangunsarkoro street then to Gang Pinggir Pecinan Semarang.
The location of Pecinan Semarang is quite close to Lama town Semarang. Moreover, it is close to Johar market area
So that is the explanation of things to do in Pecinan Semarang that are so interesting for visit when you are in holiday to Center Java.