Semarang is the capital city of Central Java, so there are certainly many interesting places to visit. Semarang tourism is not just dwelling on old buildings in the old town or coastal areas of Java Island. Semarang is also the right city for culinary tour.
Well, there are many Things to Do in Semarang, If you are planning for a culinary tour with a couple, here are some romantic cafes in Semarang that can be visited.
1. Pisa Cafe and Resto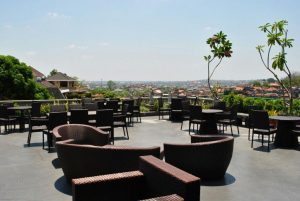 Location : Diponegoro Street 22A, Siranda
One of the places that can be suitable visited with your partner is Pisa Cafe and Resto. The one dining place is also suitable for hangout with friends and even family too.
Besides the place is quite spacious, this place also quite comfortable. Its main attraction is the view of Semarang city, which is more beautiful seen at night. In addition to the weekend, there is always a live music that makes the atmosphere becomes more comfortable in this place.
The most menu there are western food, but there is also Indonesian food. The price offered is also quite affordable. Thus, this is one of the most romantic dinner in Semarang.
2. The Skyline Lounge and Exclusive Dining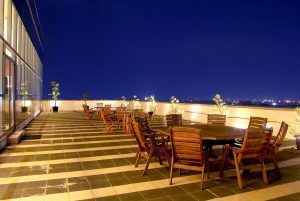 Location : Gumaya Hotel Tower 17th floor, Gajah Mada Street number 59 – 61
If you wonder What to Eat in Semarang, come here. The next dining place is interesting and suitable to be visited with a partner is The Skyline Lounge & Exclusive Dining. In this dining place, visitors can enjoy the view from the city of Semarang, which is in the area Simpang Lima, Port of Tanjung Mas, to the Great Mosque of Semarang.
Even when lucky, on a sunny day visitors can see the silhouette of the mountains and also the sea that blends with the beautiful. And when the night, the lights that have been turned on will increasingly turn the mood.
This romantic cafe in Semarang can be enjoyed in outdoor and indoor areas. Both can be selected according to individual taste. For the price of food is quite expensive because the concept is exclusive. However, all services will surely match the price.
3. Sky Pool Bar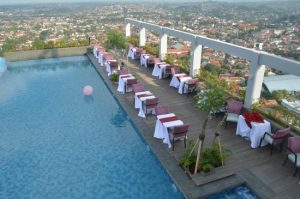 Location : MT. Haryono Street number 972
As the name implies, this one is a dining area that has a swimming pool. The swimming pool is also located at the altitude, which is on the highest floor of the Star Hotel. His position is on the highest floor of this make visitors can enjoy the scenery with a wider.
In addition to eating, visitors can also swim by paying a separate ticket. If you want to enjoy the food, you can come from 10 am to 10 pm. The food menu offered is also varied. Not only Indonesian food , but also there is an Italian or American food menu. Thus, this is one of the most romantic dinner in Semarang. Then, you can visit Beaches in Semarang
4. The Hills Dining Restaurant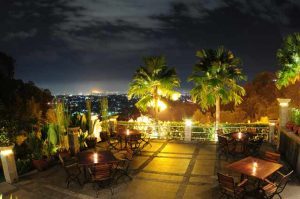 Location : Bukit Baladewa Street number 22 -24
The concept of this romantic cafe can be described from the name, which is a restaurant on the hill and suitable for enjoying dinner. Surely visitors who come, can enjoy the view of the city of Semarang from a height.
In addition, because it is in the height, the atmosphere is also certainly cool. Lighted by city lights, also add to the romantic atmosphere. And also you can enjoy candle light dinner with a couple in this place. This place of interest is also often used as a location to hold a wedding. You can choose indoor or outdoor area. Customize it with your taste and weather. What a romantic dinner in Semarang! Also visit, Places To Visit in Indonesia
5. Pondok Kopi Umbul Sidomukti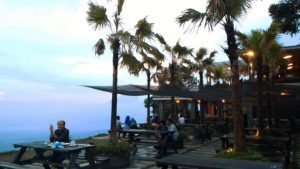 There is one more romantic cafe in Semarang which is at the height of the hill, namely Pondok Kopi Umbul Sidomukti. This dining place is located at an altitude of approximately 1200 meters above sea level so that cool temperatures will soon be felt. This one dining place can be visited from morning till night.
And every condition, the ambiance will be different. In the morning until afternoon, visitors can see the mountain scenery. But at night, the more sadistic scenery will be clearly illustrated. Because the atmosphere is very cold, especially at night, there is a variety of hot drinks menu that can be selected by visitors. The price offered is also quite affordable. This place is also still a part of Umbul Sido Mukti Tour Semarang.
6. Joglo Agung Resto and Gallery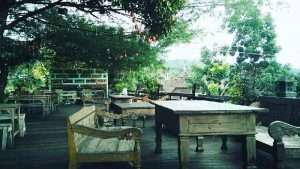 Location: Lemah Abang Street KM 36 Bandungan, Semarang
This one dining place is suitable to be a location to eat with your partner, friends, or family. The concept offered is a traditional concept but located in the highlands. It makes the atmosphere there very cool and also has a very charming scenery.
This dining place is also interesting if you want to hunting photos in Semarang because of its very beautiful and unique and close to the trees. There is also a gallery that offers many antiques that are more impressive of its traditional concept. For the food menu is also more to the local food menu with a fairly affordable price. What a romantic dinner in Semarang! 
7. Carnivor Bar Sky and Grill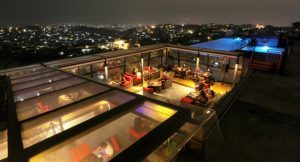 Location: SL Floor, Grand Edge Hotel, Sultan Agung Street Number 96
Another romantic cafe in Semarang that can be visited if you want to spend time alone with a partner is Carnivor Sky Bar and Grill. This dining venue is open from 5 pm to 1 pm. The main attraction is of course the view of the city from a height that can be enjoyed when it gets dark.
This place also offers a comfortable atmosphere for visitors. As the name implies, the food menu here is mostly meat with a sizeable portion. In addition there is also a variety of beverage menu and also a snack that can be selected according to taste.
8. Nestcology Land of Gastronomy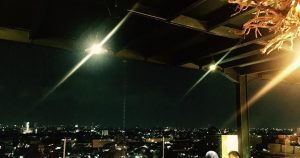 Location: Tamboran Street number 5A
Another interesting place to eat because it can provide views of the city of Semarang from above is the Nestcology Land of Gastronomy. This dining place consists of indoor and outdoor areas suitable for a visit with a partner.
Various delicious dishes are there and can be selected according to taste. The hours are from 12 noon to 11 pm. You can come anytime, but more advisable to come at night for the city light view, make more romantic feel. What a romantic dinner in Semarang!
9. Eling Bening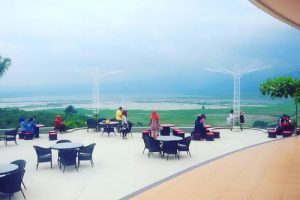 Location: Kartini Tambakboyo, Ambarawa, Kab. Semarang
If you go to Semarang and want to travel and doing culinary tour, Eling Bening Tour is recommended one. There is a variety of atmosphere that offers beautiful natural scenery. In the Nuance of Nature in Semarang there is also one of the romantic dining places in Semarang that can be visited is a very beautiful restaurant.
The food menu served is also quite affordable. In addition, you and your partner can directly enjoy the various tourist activities in Eling Bening, such as doing outbound activities, trekking, and so forth.
10. Spiegel Bar and Bistro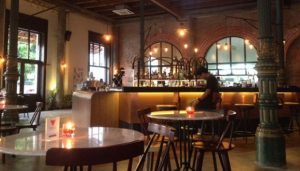 Location: Lt. Jen. Suprapto Street number 34 Kota Lama Semarang
This one place to eat around the Old Town of Semarang. For those of you, who want to eat with your spouse or friends after tired of walking around the sights in the old city, maybe this place can be visited. There are many food here.
The feel of the interior is an old city feel, with old buildings with high ceilings. You can enjoy the typical European atmosphere in it. Although the price of is quite expensive, but the atmosphere is different and fun to hang out. 
More Romantic Spots in Semarang
In addition to some of the places described above, there are still some other romantic cafes in Semarang that you can visit while on vacation in Central Java, among others, as follows :
Vien's Resto Sausage & Steak
Gubug Makan Mang Engking
Cimory On The Valley
Lind's Ice Cream Cafe & Resto
Kampung Laut Semarang
Koenokoeni Cafe Gallery
Sate Kalak by Grill On
Prince House
The Tavern
Rinjani View
Pesta Keboen Restoran
River View Cafe
Noeri's Cafe
Steam & Brew.Co
Angkringan Gaul Ampiran 3
Goodfellas Resto & Bar
Shabu Zen
Kampung Kopi Banaran
Beans Resto & Coffee
A to Z Bar
Strada Cafe
Clapper Movie Cafe
Waroeng Kaligarong
Sendok Bebek Noodle & Rice
Warung Wasabi
Gama Ikan Bakar & Seafood
Rustico Kitchen & Bar
S2 Indonesia
Tekodeko Koffiehuis
Those are some of the romantic cafés in Semarang that re interesting to visit with your partner. Enjoy the holiday atmosphere or honeymoon with your partner in Semarang by visiting also to some exciting attractions in Semarang. Hope this article help you.
You may also see :