Tawangmangu is a district located in Karanganyar city, Central Java. Karanganyar is well-known by its many tour places and Tawangmangu is known as the chilly region because it is located in mountains. One of the most famous place in Tawangmangu is west slope Lawu mountain.
Besides that, Tawangmangu is surrounded by the hills and forests so we can enjoy the beautiful scenery there. No wonder if there are so many tourists either local or international tourist visiting the various tour places in Tawangmangu. Well, here are 7 recommended tour places in Tawangmangu that must be visited during vacation.
Read:
Tour Places in Tawangmangu
Here are all the things to do in Tawangmangu
1. Pringgodani Waterfall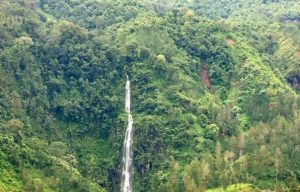 Pringgodani waterfall is one of the tourism objects in Tawangmangu. It is located in Blumbang village which is approximately 4 km from bus station of Tawangmangu. Pringgodani is place used by people to perform asceticism, that's why the waterfall is also known as Pringgodani asceticism. Pringgodani waterfall has 100 meter of height and this waterfall comes from Pringgosari lake.
To head in this place, we should have enough energy because we are required walking on foot for 2 km. The route of the main road is also challenging because we need to walk through the forest and steep way. But, don't be upset because as long as we walk, we will see the various of fantastic scenery such as carrot, cabbage  and onion farm. While the view from west, we will see the villages of Karanganyar and also volcano mountain. Then, if we look at the east, we will see the water fall.
Read:
2. Lawu Mountain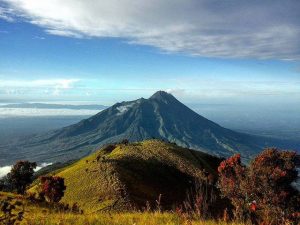 Lawu mountain is located between 3 districts, they are Karanganyar, Ngawi and Magetan. This mountain has 3.265 mdpl of height and has 3 mount named hargo dalem, hargo dumilah and hargo dumiling. In the slope of the mountain includes so many attraction objects such as talaga sarangan and etc. If you are on the top of Lawu mountain then it feels like you are in the land onto the clouds. As for the citizen faith on Lawu mountain is still solid, they are used to perform a ritual each night on the 1st Sura.
If you want to climb Lawu mountain, make sure that you have a strong stamina because the track that you will get through is a bit hard and don't forget to bring the things that you will need later. The climbing can be performed in two places, they are Cemorokandang in Tawangmangu and Cemorosewu in Sarangan.
Read:
3. Agro-tourism of Sandoko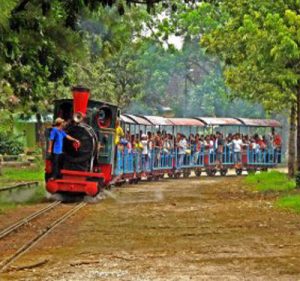 Sandoko agro-tourism is located in Mangkunegara street, Karanganyar. This place is not really far if you are from the center of Solo city. It probably will take 45 minutes to get there. Before it was made as one of the tourism places, Sandoko agro-tourism was the biggest sugarcane factory in Karanganyar.
There are so many vehicles provided in this tourism places, such as flying fox, climbing wall, water garden, swimming pool, tree house, and many more. Besides that, we also can see the process of how to make sugar. Meanwhile the facilities provided are very complete and organized very well, including mosque, park place, place to eat, and toilet.  As for the characteristics of Sandoko Agro-tourism is locomotive train along with steam machine. To get enter in this place, we should pay 5000 thousand rupiah and every vehicles are also costed. 
4. Gorojongan Sewu Waterfall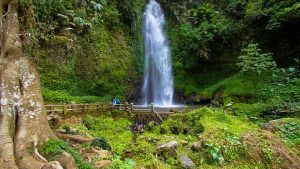 Gorojongan sewu waterfall is placed in slope of Lawu mountain, Tawangmangu district, Karanganyar. If you are in the center of Karanganyar, to visit this waterfall, it will be 27 km from East. You can use bus from solo to Tawangmangu with the Rp. 10.000 costs. After that, you can walk on foot which takes 1 km till the destination. But, if you don't prefer walking, you may use another public transportation from Tawangmangu terminal.
Gorojongan sewu is often named as a thousand waterfall, it means a unit of distance that is used in measuring the height of the waterfall. There are several points of waterfall around Grojongan sew and the highest waterfall has 81 meter height.
The ticket price entering the Grojongan sewu waterfall is 6000 thousand rupiah. Beside this waterfall, there are also several attraction places such swimming pool, forest animal garden, several shops, worship place, and also the souvenir place. The special food of this place is rabbit sate and chicken sate. Moreover, this place also has flying fox, hanging bridge and gazebo.
Read:
5. Cetho Temple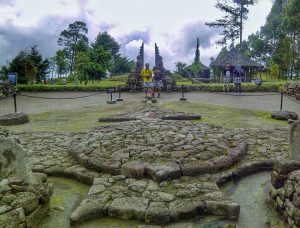 Cetho temple is an historical place which is placed in Lawu mountain slope, it is close to Sukuh temple. Cetho temple is Hindu temple and it was built around 15 M. The ticket price in entering this temple is really cheap, only Rp. 2.500/individual. Cetho temple starts to operate in 08.00 morning till 17.00 afternoon.
Cetho temple is an interesting tour place that you must visit. The air around the temple is quite cool because it is located plateau and then the panorama there is really wonderful. The route to go to the Cetho temple if you are from Solo city then you have to go to Karanganyar and then follow the way to Grojongan sewu, you will find the sign related Cetho Temple. There are so many beautiful things to do in Tawangmangu.
Read:
6. Jumog Waterfall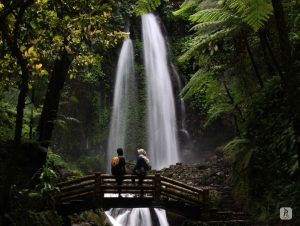 Jumog waterfall is placed in Berjo village, Karanganyar. The distance to get to Jumog is 40 km from the center of Solo city to Tawangmangu. Jumog waterfall has 25-30 meter height. This waterfall is nicknamed as "the lost paradise" because sometimes the rainbow will across in this place.
As for the facilities which are provided including gazebo as the rest place, children game, swimming pool, and place to eat. If you are from the outside of the city, you don't need to be worry about where to stay because in this place, there is a cottage and homestay provided.
Read:
7. Kemuning Tea Garden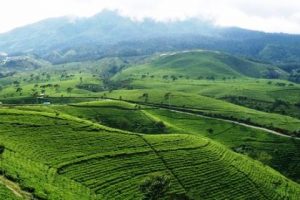 Kemuning tea garden is an tour object located in Luwu mountain slope. It is adressed in Ngargoyoso, about 25 km from the center of Solo city. Usually, the temperature of this tea garden is about 21,5 Celsius degree. Tea garden starts to open in 06.00 morning till 18.00 afternoon.
To enter Kemuning tea garden costs free, you are only required to pay the facility that you will use. Several vehicles are provided in this tea garden among others, paint ball, flying fox, down the river, swimming, and riding horse. If you want to stay overnight, you can go to hotel and lodging that are already provided. 
More Attractions in Tawangmangu
Here are more things to do in Tawangmangu:
Tahura.
Parang Ijo Waterfall.
Sukuh Temple.
Balemkambang Park.
Tour Tawangmangu Village Nglurah.
Tawangmangu Tourism – Outbound.
Cemoro Kandang.
Campsite Sekipan.
Sarangan Lake.
Archaeological Site Menggung.
Cumpleng Warm Water Baths.
Ndoro Donker Tea House.
Cemoro Sewu.
Telaga Madirda.
Strawberry Tawangmangu Garden.
Dayu Archaeological Museum.
Bale Branti.
Agrowisata Amanah.
Agro Tourism Kampung Karet.
Puri Taman Saraswati Karanganyar.
Grojogan Jurang Jero.
Lalung Reservoir.
Sewawar Waterfall.
Las Fountain Park.
Watu Kandang.
Sapta Tirta Pablengan
Java Dwipa Heritage Resort & Convention.
Tour Tubing Goasari.
Astana Giribangun.
Taman Pancasila.
Goa Cokro Kembang.
Kethek Temple.
Candi Genggung.
Petilasan Eyang Cokronegoro.
Sedinding Waterfall.
Goa Tlorong.
Sangiran Fossil Museum.
Edupark Aerospace.
Dayu Museum.
Museum of the Essential House.
The Jamus Tea Garden.
Umbul Pengging.
Read:
That's all the recommendation of tour place in Tawangmangu that you must try during vacation. Capture your sweet moment with the love ones. Have a best vacation!