Besides of the historical sites and the famous beaches, Bali also has a lot of waterfalls that become the tourist attraction as well. This recommendation list will hopefully help you to decide the best destination for you, and eventually help you to know another natural beauty of Bali, its waterfalls.
So, here are list of famous waterfalls in Bali Indonesia:
1. Tegenungan Waterfall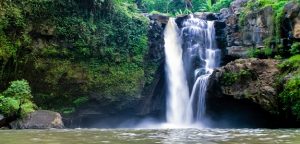 There are some tourist destinations in Ubud, including Tegenungan Waterfall. Also known as Kemenuh Waterfall, Tegenungan Waterfall is located Kemenuh Village, Sukawati District, Gianyar. The waterfall is prominent among foreign tourist because of its interesting and beautiful landscape. Check out Things to Do in Ubud at Night
To reach the waterfall, you have to climb hundreds of stairs start from the parking area. The stairs are the only access to the waterfall, which means that you will have to use them once you want to go back to the parking area. You are allowed to swim in the crystal clear water of this 4 meters tall waterfall.
2. Gitgit Waterfall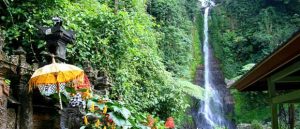 If you are in Kuta, it takes 80 km trip by car to reach Gitgit Waterfall in Buleleng for about 2,5 hours. The waterfall can be easily accessed because it is close enough to main road that connects Singaraja City with Denpasar, Bedugul. Check out Things to Do in Bedugul Bali #Instagrammable Spots
Since it is situated in mountainous area, the road that will take you to the waterfall will be ascending and winding with addition of mist. Right before you reach the entrance of the waterfall, you can visit some coffee and clove plantations near the area.
The 48 meters tall makes Gitgit Waterfall the highest waterfall in Bali. The attraction of this destination is the clear and fresh water that surely will make you want to swim. There are foods, drinks, and gift shops in the location that you can visit. You only need to pay Rp. 5.000 for an adult or Rp. 3.000 for a kid in order to visit the waterfall.
3. Sekumpul Waterfall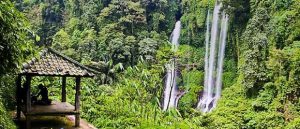 Sekumpul Waterfall is located in North Bali around 76 km, or 2,5 hours, from Denpasar City. The best time to visit Sekumpul Waterfall will be in the morning in order to avoid rain that usually comes in the evening that will make the path and the stairs to the waterfall rather slippery.
You need to climb around 300 meters footpath before reaching Sekumpul Waterfall. Not only the long footpath, but there are also hundreds of stairs that are available. Not stopping there, you will also need to cross a river around an adult's thigh in depth.
The entrance ticket is priced at Rp. 2.000 for a domestic tourist and Rp. 5.000 for an international tourist. The facilities in the area are rather inadequate because there are no restrooms. However, the beautiful waterfall along with its gorgeous scenery is another example of Bali's natural beauty. Check out about Things to Do in Denpasar, Bali Indonesia
4. Dusun Kuning Waterfall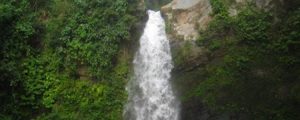 This is perhaps the most exotic waterfall in Bali. Dusun Kuning Waterfall can be visited in Dusun Kuning in Bangli District. There are plenty transportation that you can use to reach the waterfall. If you are in Taman Bali Village, you will only need to take about 500 meters walk to the waterfall along the path that will gives you a panorama of clove plantations along the way.
There are many famous waterfalls in Bali Indonesia. If you are looking for a destination that is not visited by many visitors, Dusun Kuning may be your main option because of its remote area. You even can also see monkeys along the way. The natural magnificence of the waterfall will certainly be a memorable memory for you.
5. Les Waterfall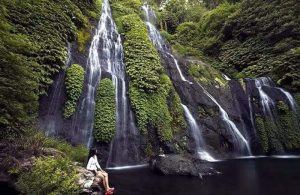 Another natural destination in Bali that is recommended in this list is Les Waterfall in Buleleng Regency. Located in North Bali, the waterfall is precisely located in Les Village in easternmost of Singaraja. In order to access the waterfall, the trip takes around 100 km from Kuta, or about 3 hours long.
You might be curious about the uniqueness of the waterfall that is also known as Yeh Mampeh. The clear and fresh water of the 35 meters tall waterfall will obviously enchant you. From the parking area, you need to walk pass trees and bushes for around 2 km. This is of course the destination for you who love tracking. This is one of many famous waterfalls in Bali Indonesia. 
6. Melanting Waterfall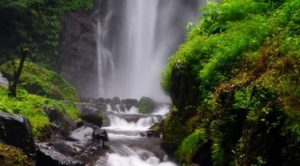 You can see Melanting Waterfall in Munduk Village, Banjar District, Buleleleng. Here, you will not only get the great view of the waterfall, but also the coffee and clove plantations around the area, that of course will be one of the best spots to take pictures in Melanting Waterfall. With about 20 meters tall, Melanting Waterfall is not as tall as the giant 48 meters Gitgit Waterfall.
However, this makes the waterfall safe enough for you to swim and take a bath. Check out about Things to Do in Munduk Bali Indonesia (Beautiful)
From Kuta Bali, the trip takes 2,5 hours or 77 km before you reach the waterfall. At the entrance, you need to pay Rp. 5.000 for an adult and Rp. 2.000 for a kid. Close to Melanting Waterfall, there is also Munduk Waterfall that will require you to pay Rp. 3.000 in order to visit it.
7. Carat Waterfall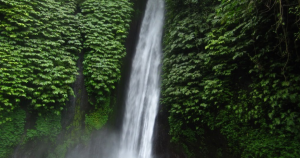 Another waterfall is located in Tamblang Village, Kubutambahan District, Singaraja. From Denpasar, you can go to Kintamani or Gianyar before you can reach the Tamblang Village. Once you have arrived, you can see that Carat Waterfall has two other waterfalls, the smaller 4 meters waterfall and the bigger one. You can swim under the smaller waterfall, but for the bigger one, it is better for you to watch it from a distance.
You will not be charged an entrance fee to visit the waterfall. Therefore, you will find the waterfall is naturally preserved. However, you also cannot find any buildings around the area. It is said that the local communities near Carat Waterfall believe that the waterfall is haunted. So, it will be an interesting journey to visit Carat Waterfall.
8. Nungnung Waterfall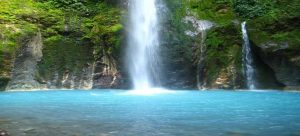 Located in Nungnung Village in Petang District, Nungnung Waterfall is only 45 minutes away from Denpasar. The interesting thing in the waterfall area is that you can see the scattering rice fields and plantations that will make you feel the air of countryside.
Situated in 900 meters above sea level, the waterfall has quite heavy stream. There are hundreds of stairs that you should descend in order to reach the waterfall. You need to pay Rp. 3.000 for the entrance ticket. It is advised that you use comfortable and not slippery footwear since you have to use the stairs to the waterfall. 
9. Blemantung Waterfall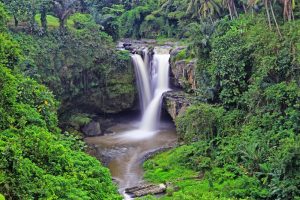 Blemantung Waterfall is located in Pujungan Village, Pupuan District, Tabanan Regency. If you are in Denpasar, then it takes around 70 km or 2 hours trip to the waterfall. Along the way to Blemantung Waterfall, you can take some pictures of beautiful rice fields that becomes one of the main characteristics of destinations in Indonesia.
Since the waterfall is located in remote area between some cliffs, the road that should be taken from the main road is more or less 1.500 meters. This is truly a challenging trip for those who love travelling. Once you have arrived, you will be rewarded with the magnificent view of the 50 meters Blemantung Waterfall. You can also take a rest in gazebos near the waterfall. Unfortunately, there are no other buildings beside the gazebo built in the area.
Also go to:
Those are the information and recommendation list of gorgeous waterfall destinations in Bali. Hopefully, the list will help you decide what to put in your destinations list to Bali. Happy vacation!