Visiting the famous place like Bali ain't complete without having someone by your side. They can be your family, your brother, your sister, your friends, or even your boyfriend. Now, if you taking your boyfriend to Bali, then this article is really perfect for you.
Maybe some of you know the best spots in Bali, but for boyfriend? You must take a look more closely to find the locations that really suit you and him. Usually the boys like to do anything challenging, but also don't forget to visit the romantic places for you two. Of course, we included some of the best places like beaches in Kuta. Don't worry, here's some places on the list of things to do in Bali with boyfriend, check them below:
1. Royal Sport Horse Mengwi Bali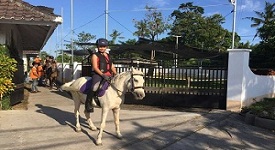 The first one on the list is of course the most unique place of them all in Bali, perfect for you and your partner. Well, horse riding isn't so bad if you doing it with your love one. To reach this place, you should go to the Pura Dalem Lingsir street in Bali, which is very famous for some people there.
You can pay the price for the horse riding tour for about Rp300.000,-, a little bit expensive yes? But in here, you can take an hour long journey with your best horse and don't forget, your boyfriend. Taking pictures here will be much much better for two.
Opening Hours : Opens everyday from 10 am – 5 pm
Entry Ticket : Parking ticket only to enter
2. Kuta Beach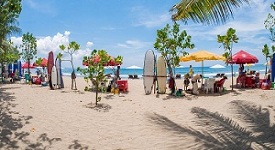 Well who don't know this very famous beach of Bali. In here, you can find a lot of things to do in Kuta. Well, this Kuta is of course very recommended for you and your boyfriend to do your beach activities in this wonderful beach. Many people love it, that's why this place is never empty. You can befriend with them if you want.
And then, the things to do in here are so many.You can pick an activity from many choices available in there like playing sand castle, swimming, massaging, and of course, surfing. The waves here are great to do that kind of thing. Your boyfriend will like it, undoubtedly.
Opening Hours : Always opens
Entry Ticket : No entry ticket
3. Padang-padang Beach Ungasan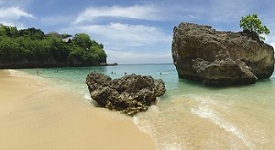 Another beach to look for the adrenaline pumping activity of surfing, is the Padang-padang beach. You can find this beach inside the area of Ungasan Bali. But in here, there's not so many tourists except the ones that want to try the waves, either just for fun or practicing for championship.
That's why, for that reason you can find so many stuff related to surfing, starting from the board rental, the maker of surfing board, and so many others. Well you can try it for a while with your boyfriend. Practicing surfing with boyfriend sounds a lot of fun.
Opening Hours : Always opens
Entry Ticket : No entry ticket
4. Tanjung Benoa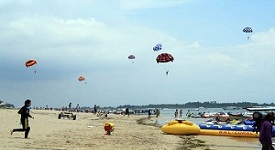 Of course, we will not forget the known Tanjung Benoa. This one is the bomb. You and your boyfriend will surely be happy when visiting this spot, because there's a lot to do in here. There are so many things to do in Tanjung Benoa, you can pick all of them if you can.
But for the tourists, the prices in here are considered as not so expensive, on the mid level of cheap and expensive. What are you gonna do in here are based on your free will. Do whatever you want in here, try those rides one by one till your heart content.
Opening Hours : Always opens
Entry Ticket : No entry ticket
5. Tekor Bali Restaurant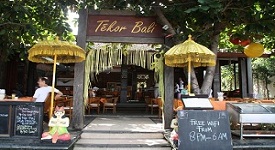 In the fifth place in things to do in Bal with your boyfriend, we have this Tekor Bali Restaurant, in Balian Beach street number 33, Balian, Bali. In this special area of Balian Bali, you can take your boyfriend here to get the best Balinese Cuisines with so many good aspects, including the view, environment, and the architectures. Almost like the restaurants inside things to do in Bangli.
Another aspect you can notice is the waitress. Not just usual waitress wearing their uniform, in this Tekor Bali Restaurant, they wear the traditional kebaya of Bali. Well this Indonesian feeling is actually what we are looking for in a journey to Indonesia. Very traditional, very much better.
Opening Hours : Usually opens on 9 am – 9 pm
Entry Ticket : Parking ticket only 
6. Krisna Air Lovina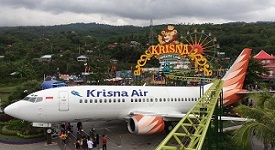 Last but not least is the Krisna Air Lovina. The location of this place is of course in the Lovina, Bali. Near the beach of Lovina to be exact. Well, this is like the mini park where you and your boyfriend can enjoy your good times in here.
At the gate, you can take some pictures with the plane, parked in front of the park. Take a picture o two and then continue your journey inside. You'll so many things inside, just like the rides inside the Surabaya Carnival as one of the points of interest in Indonesia or another carnival. So, now call your boyfriend to do all things to do in Bali with boyfriend.
Opening Hours : Opens everyday from 8 am – 9 pm
Entry Ticket : Rp 25.000,-
Another Attractions To Go With Boyfriend in Bali
Without visiting these places, your trip in Bali your boyfriend ain't complete yet!
Wake Bali Adventure, an adrenaline pumping activity, covered by beauty
Ulun Danu Bratan Lake, A beautiful creation
La Laguna Bali, the best cozy place in Umalas Bali
N'Jung Bali Camp, bext experience you can get from Bangli Bali
La Favela, chilling out with boyfriend in the nigh will be much better in this place
Finally, those are the things to do in Bali with your boyfriend. Remember, you should get a permission first for both of the parents for taking a trip somewhere else, especially with you love one. That's it, hope you can get all the fun things in there, see you!