The beauty of Indonesia is not only from its nature, but also from its culture, art, craft, culinary, to heritage relics. There are many amazing tourist attractions which are crowded by domestic and foreign tourists. A day, a month, even a year is not enough to explore interesting places in Indonesia that stretch from east to west, from north to south. Let's see the most incredible tourist spots in Indonesia.
1. Bali
The popularity of Bali in the world is undeniable. The beauty of Bali has been known by many tourists from all over the world. No wonder Bali becomes Indonesia's flagship tourist attraction. Every corner of Bali keeps a charming beauty.
Bali has many attractions, ranging from beaches, temples, mountains, to adventure tourism. In addition to its stunning natural beauty, Bali is also famous for its rich culture that is well preserved. You will be definitely amazed when exploring Bali.
How to Get There
It's very easy to Bali. Every day there are hundreds of flights from various cities and countries to Bali's Ngurah Rai International Airport. You need take time more than a day. There are many things to do in Bali, from Singaraja, in North Bali, to Kuta, in South Bali.
2. Gili Trawangan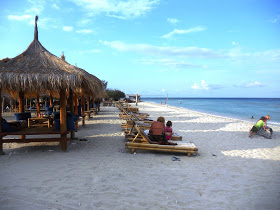 Some might say Gili Trawangan is a competitor of Bali Island. Gili Trawangan has a white sandy beach with various facilities that spoil the tourists. Gili Trawangan also has a low level of pollution because of the absence of motor vehicles.
Gili Trawangan is a romantic island, a place where you can enjoy the panoramic sunset at dusk or sunrise at dawn. Gili Trawangan is also widely known as Party Island. The nickname is given because of the many cafes, bars and restaurants that are open until late midnight.
How to Get There
You can depart from Bali's Padang Bai Port by speedboat directly to Gili Trawangan. Or you can come to Lombok International Airport, then to Bangsal Port by car. From Bangsal Port you can take a boat to Gili Trawangan. Prepare yourself because you will have many things to do in Gili Trawangan.
3. Borobudur Temple
Borobudur Temple, which is listed in UNESCO's World Cultural Heritage, is evidence of Indonesia's greatness in the past. Borobudur Temple has the beauty of the structure that can be seen from its reliefs and statues. Uniquely, the temple was built with no use of any adhesive, only with the locking techniques of systematically arranged stones.
Borobudur temple consists of 10 levels. Each level symbolizes the stage of human life depicted through reliefs on the walls of the temple. Everyone who wants to reach the level of Buddhism must go through every stage of life.
How to Get There
Borobudur Temple is located in Borobudur Village, Magelang Regency, Central Java. It's only about 1 hour drive from Yogyakarta. The admission for domestic tourists is Rp 40,000 while for foreign tourists is USD 25. Opening hours is 6 am to 5 pm. In addition seeing the temple, there are many things to do in Borobudur.
4. Yogyakarta
Yogyakarta is the province of Java that is most visited by tourists. In addition to the friendly people, the holiday costs in Yogyakarta are relatively cheap. Yogyakarta provides a variety of interesting places to visit such as beaches, mountains, temples, cultural festivals, shopping centers and culinary centers.
Yogyakarta is thick with its Javanese culture and traditions. Here you can see the majesty of the Yogyakarta Palace, the residence of the King of Yogyakarta. In certain months, the King of Yogyakarta routinely holds cultural events on a large scale that become entertainment for tourists and residents of Yogyakarta.
How to Get There
It's easy to get to Yogyakarta. From Jakarta you can take a plane to Yogyakarta's Adisutjipto International Airport. Or you can also take the train from Jakarta to Yogyakarta. You must provide 3 or 4 days to explore Yogyakarta. You have lots of things to do in Yogyakarta.
5. Labuan Bajo
Labuan Bajo is Indonesia's rising tourist attraction. Labuan Bajo has an exotic natural beauty, typical of Eastern Indonesia. Many tourists come to see with their own eyes the beauty of Pink Beach and the rare Komodo dragon.
The Labuan Bajo's landscape is amazing, there are many instagramable spots. Therefore Labuan Bajo is often used as a prewedding photo location. The most fun way to enjoy Labuan Bajo's charm is by taking a liveaboard tour.
How to Get There
Despite being in Eastern Indonesia, Labuan Bajo is very accessible. There are many flights from Jakarta to Labuan Bajo, or from Denpasar to Labuan Bajo. You will not get bored here. There are a lot of things to do in Labuan Bajo.
6. Raja Ampat
Raja Ampat is one of the best diving spots in the world. Raja Ampat is located in the heart of the world's coral triangle, therefore Raja Ampat has the richest diversity of marine species in the world. Raja Ampat has more than 540 coral species, more than 1000 species of coral fish, 700 species of molusca, etc. No wonder Raja Ampat is referred to as paradise of underwater.
Raja Ampat is an archipelago of 600 islands and 4 large islands, namely Waigeo Island, Batanta Island, Salawati Island, and Misool Island. To explore spots located in the islands you will use speedboat. Best time to visit Raja Ampat is based on wind conditions. June, July, and August are months with the worst wind conditions.
How to Get There
Raja Ampat is a regency in West Papua whose capital is Waisai. To get to Raja Ampat, you must first come to Sorong. There are many flights from Jakarta to Sorong. Then you continue the journey to Wasai. From Sorong to Waisai there are two options, you can use the boat or Susi Air's propeller aircraft. Upon arrival at Waisai you can rent a boat for island hopping or to dive spots. Or just join the tour packages offered by tour operators. They have good ideas about things to do in Raja Ampat Islands.
7. Tana Toraja
Tana Toraja is one of the gems in Eastern Indonesia. The beauty of its nature and culture is fascinating. That's why Tana Toraja becomes a popular tourist attraction in South Sulwesi.
Tana Toraja is famous for its luxurious burial ceremonies. For Torajan, a funeral is the most important ceremony in their life. They will hold feasting, entertainment and traditional ceremonies that can last for 10 days. Uniquely, the corpse is not buried or burned, they leave the corpse inside a cave.
How to Get There
Tana Toraja is located in South Sulawesi Province. First you need to come to Makassar. There are many flights from Jakarta to Makassar. From Makassar you take a bus to Tana Toraja. The journey is about 10 hours drive from Makassar. Also take time to explore Makassar. You will find good things to do in Makassar
8. Tanjung Puting National Park
Tanjung Puting National Park is a place of conservation where you can see orangutans, native animals of Borneo Indonesia. In some places of the park you are allowed to feed orangutans. In addition, Tanjung Puting National Park is home to nine species of primate, hundreds of species of birds, various species of snakes, frogs and crocodiles.
Tanjung Puting National Park is more visited by foreign tourists than domestic tourists. It is evident that Indonesia's natural beauty mesmerizes the world. For a tour of Tanjung Puting National Park, you will use a boat, liveaboard. A day is certainly not enough to enjoy the charm of Tanjung Puting. And there are still more things to do in Kalimantan.
How to Get There
Tanjung Puting National Park is located in Central Kalimantan. First you take a plane from Jakarta to Pangkalan Bun. Upon arrival at Pangkalan Bun you continue the journey by taxi to Port Dumai. There are several boats rented for a tour to Tanjung Puting National Park.
9. Derawan Islands
Derawan Islands has a stunning underwater beauty. Various marine and coral reefs can be found here. Its biodiversity is almost like Raja Ampat. If you are lucky, you can see Manta Ray.
At Derawan Islands there is also a green turtle conservation, which is on Sangalaki Island. If you want to swim with a stingless jellyfish, you must stop by the ancient lake on Kakaban Island. Despite far from the hustle of the city, Derawan Islands is a well-organized tourist area.
How to Get There
Derawan Islands is located in East Kalimantan. First you take a plane to Balikpapan. Then the journey continues with a propeller plane to Berau. From Berau the journey continues to Tanjung Batu by car. From Tanjung Batu you take a speedboat to Derawan Islands. Since there are lots of things to do in Derawan Island make sure you are in good shape.
More Tourist Spots in Indonesia that will blow your mind
10. Mount Bromo
Mount Bromo is probably Indonesia's most visited volcano. The uniqueness of Mount Bromo is located amidst extensive sandy seas. The Tengger tribe, the community around Mount Bromo, also adds to the attraction of this mountain.
Sunrise at Mount Bromo is very beautiful. Tourists are willing to wake up at midnight and climb in the middle of the darkness to capture the moment of sunrise. The crater of Mount Bromo, which still boasts white smoke, is also a mandatory destination after the sun shines on the Mount Bromo.
How to Get There
Mount Bromo is located in Probolinggo Regency, East Java. From Jakarta you can take a plane or train to Surabaya. The journey is continued by bus to Probolinggo. From Probolinggo you take a mini bus to Cemoro Lawang, the base of Bromo. Anyway hunting for sunrise is one of many things to do in Mount Bromo.
11. Ijen Crater
Ijen Crater is famous for its blue flame that it is said there are only two in the world, here and in Iceland. Ijen Crater is also the largest crater in Java. The crater contains acidic water that has a green color. The acid comes from sulfur gas that reacts with water.
Blue fire can only be seen in the early hours of the day. Therefore you have to start trekking in the middle of the night. From the parking lot to Ijen Crater takes about 2 hours. Ijen Crater is filled with sulfur fumes, so you should bring a mask.
How to Get There
Ijen Crater is located on the border of Situbondo Regency and Banyuwangi Regency, East Java. First, from Jakarta you board a plane or train to Surabaya. From Surabaya the trip is continued by car or bus to Situbondo. You can also depart from Bali. From Bali you cross by ferry to Banyuwangi via the Gilimanuk Port. Ijen Crater is one of the top mountains in Indonesia for hiking.
12. Dieng Plateau
Dieng Plateau is a popular tourist destination in Central Java. Dieng Plateau has breathtaking scenery and many interesting attractions. There are many things you can do here like hunting the golden sunrise at Bukit Sikunir, exploring the ancient Hindu temples, seeing the beauty of Lake Color, admiring Dieng volcanic activity, boating on the Lake Color, climbing Mount Prau and culinary tour.
Dieng Plateau is a well-managed tourist area. There are plenty of inns and restaurants to pamper the tourists. The mix of beautiful nature and cool atmosphere makes tourists happy to linger here, away from the hustle and bustle of the city.
How to Get There
Dieng Plateau is located in Kejajar, Wonosobo Regency, Central Java. First, from Jakarta you take a train or bus to Purwokerto. From Purwokerto the journey is continued by bus to Wonosobo. From Wonosobo you take a mini bus to Dieng. If you depart from Yogyakarta, first you take a bus to Magelang. From Magelang you continue by bus to Wonosobo. From Wonosobo you take a mini bus to Dieng. FYI, visiting Dieng Plateau is just one of the things to do in Wonosobo.
13. Bogor Botanical Garden
Bogor Botanical Garden is a must-visit place in West Java. Every day Bogor Botanical Garden, which has an area of 87 hectares and a collection of about fifteen thousand plants, is visited by tourist from everywhere. Here there are also zoology museum, artificial lake, deer breeding, botanical laboratory, orchid house, and presidential palace.
The atmosphere of the green Bogor Botanical Garden makes tourists love to spend the day. Picnic, reading a book, relaxing, strolling, jogging or just gathering with friends are examples of the activities that are often done. Bogor Botanical Garden is open 8 am – 5 pm. The admission for domestic tourists is Rp 14,000 while for foreign tourists is Rp 25,000.
How to Get There
Bogor Botanical Garden is located at Haji Djuanda Street, Bogor City, West Java. It's about 1 hour drive from Jakarta. Take time to explore Bogor. You will see lots of things to do in Bogor.
14. Lake Toba
Lake Toba is the largest lake in Indonesia. Lake Toba has an area of about 1,130 sq km and is estimated to have formed 74,000 years ago. Anyone who comes to Lake Toba will be fascinated by its beauty.
Lake Toba has an amazing landscape. You can explore Samosir Island located in the middle of Lake Toba, play in the Binangalom Waterfall, feel the serene atmosphere, and admire the culture of Batak Toba tribe. Lake Toba is Sumatra's must visit place.
How to Get There
Lake Toba is located in Parapat, Girsang Sipanganbolon, Simalungun Regency, North Sumatra. First from Jakarta you board the plane to Medan's Kualanamu Airport. From Medan you board propeller plane to Silangit Airport, Siborong-Borong. From Silangit Airport you can take a taxi to Parapat with a distance of about 77 km. If you want to be cheaper, from Medan you can continue the journey by bus to Parapat with a distance of about 175 km. By going around the area you will find interesting spots in Lake Toba.
15. Bintan Island
Bintan Island is famous for its luxurious resorts. In addition Bintan Island also has white sandy beaches and challenging water sports. Since its location is close to Singapore, the island is frequently visited by tourists from Singapore and Malaysia.
It's wrong if you come to Bintan Island just to relax by the pool while sipping a glass of cocktail. There are many things you can explore here. Bintan Island has interesting attractions such as Crystal Lagoon, Bintan Wake Park, turtle breeding, Air Adventures Flying Club, Ria Bintan Golf Club and Riau Islands Marine Festival.
How to Get There
Bintan Island is located in Tanjung Pinang, Riau Islands Province. You only need to board a plane on the route Jakarta – Tanjung Pinang. Upon arrival you will definitely have many things to do in Bintan Island.
Ok guys, now you know the incredible tourist spots in Indonesia. No doubt Indonesia has the best Places To Visit in Indonesia with its beautiful nature and culture. Let's visit Indonesia..!