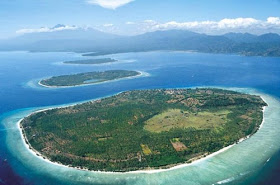 Gili Trawangan is an island located northwest of Lombok, West Nusa Tenggara Province. Compared to its neighbors, Gili Meno and Gili Air, Gili Trawangan is wider and more famous. The island began inhabited around 1970 by the Bugis, the Sasak and the Balinese.
There are several options to go to Gili Trawangan. You can depart from Padang Bai Bali Port by speedboat (cost Rp 700,000) directly to Gili Trawangan. Or if you want cheaper you can take the ferry (cost Rp 40,000) from the Padang Bai Port to the Lembar Lombok Port. From Lembar Port you continue the journey to Bangsal Port by car. From Bangsal Port you can take a regular boat (cost Rp 15,000 for locals and Rp 20,000 for foreigners) or speed boat (cost Rp 80,000) to Gili Trawangan.
The simplest way is you come to Lombok through Lombok International Airport, then to Bangsal Port by car. If you want a more private atmosphere, from the airport you head to Teluk Nare (Nare Bay) by car. At Teluk Nare you rent a speedboat to Gili Trawangan at a cost starting from Rp 350,000.
Gili Trawangan has a stunning natural beauty, both on land and at sea. Its charms rival its neighbor, Bali. In Gili Trawangan, you can feel the atmosphere of excitement everywhere so that people call this island as a party island. The cool thing is there is no motor and car here which means free of traffic and pollution. In addition to party, eat and sleep, let's find out the top things to do in Lombok Gili Trawangan, Indonesia.
You may check these articles :
1. Visiting Gili Tawangan Beach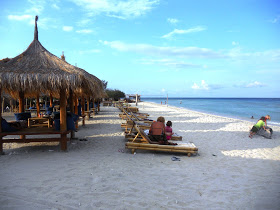 When you first set foot in Gili Tawangan, you will be fascinated by its beautiful beach. You can see its clean white sand, clear blue sea, friendly waves, and certainly feel the fresh sea breeze. Doing nothing is the main activity here. You can sit idly enjoying the beach atmosphere, sunbathe, walk down the beach or swim. Being on the beach with breathtaking panoramas makes time pass quickly. So, that's the first of many best things to do in Lombok Gili Trawangan, Indonesia.
Read this :
2. Seeing Underwater Beauty

Gili Trawangan has amazing underwater beauty. You should take the time to see it. It does not matter if you can not swim. You can join the snorkeling tours offered at varied prices, from Rp 100,000 to Rp 150,000. You will be lent mask, snorkel, fins and life vest. If you can dive, you can take diving tours offered by various dive shops here. The price of diving tours is fixed, about 40 USD, including dive equipment rental fees. The good thing is to get to snorkeling / diving spots, we board glass bottom boat.
Visit this : Things to Do in Sumba
3. Sunset Viewing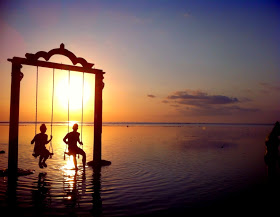 Gili Trawangan's beach has spectacular views of sunset and is also instagramable. You will never get tired of seeing this painting of nature. At the far end of the horizon, the sun is swallowed by the sea.
Accompanied by the sound of the waves and the sea breeze, this serene atmosphere will make you relax and forget the hustle and bustle of life. You can also enjoy the beauty of sunrise in Gili Trawangan. You just need to go to the beach on the east side.
You might like this :
4. Visiting Turtle Hatchery

This turtle hatchery was built by former village chief, Zainuddin, who is concerned over the loss of turtles in the Gili Trawangan area. The hatchery buys turtle eggs from fishermen for Rp 1,500 – 2,000 per egg. The egg is then buried for 40 days in the sand. There are about 350 eggs that hatch in a month. The hatchlings are then treated for 6 – 8 months, after which the hatchlings are released into the sea.
This hatchery is managed independently. There is no entrance fee, but you better donate to help the conservation of turtles. If you want to participate in releasing the hatchlings, you need to donate Rp 200,000 per head. The most abundant species of turtles in this hatchery are green turtles and hawksbill.
Also read : Things to Do in Eastern Indonesia
5. Enjoying Night Life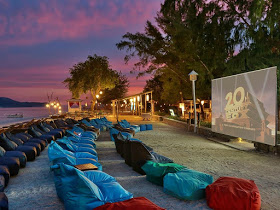 Although Gili Trawangan is a small island but its night life resembles Bali. You just need to walk to Night Market which is near Gili Trawangan Harbor. There are many cafes and bars with live music here. You can do café / bar hopping until morning. There is no entrance fee, you just need to order drinks.
There are also souvenir shops that sell Lombok's unique handicrafts. In addition there is an open air cinema on the edge of the beach (Rp 100,000 admission) that is too good to pass up.
Also visit :
6. Cycling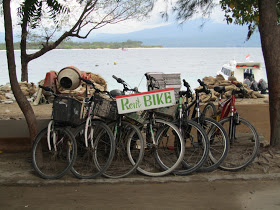 To get around Gili Trawangan you can rent a bicycle that costs Rp 50,000 / day or Rp 15,000 / hour. Don't worry, the price is still negotiable. You can choose single or tandem bikes. The time required to surround Gili Trawangan is about 1.5 hours. Along the way you will find beautiful spots that are instagramable. If you don't want to bother, you can rent a cidomo (horse-drawn carriage) whose rates start from Rp 100,000.
You might also like this :
7. Riding Horse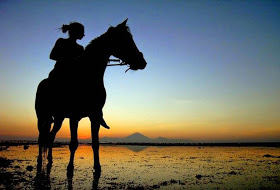 Horses are the only means of transportation in Gili Trawangan that doesn't make you sweat. You can try to ride a horse at a cost of Rp 150,000 / 15 minutes. The horse that is rented is not a horse used to pull the cidomo, but a great horse like the one used in horse races. You can even surround Gili Trawangan with this horse. If you are not used to riding horses, the guide will lead the horse from the front.
You may visit these places :
8. Culinary Tour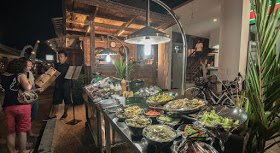 Gili Trawangan is a haven for culinary lovers. You have a lot of food choices here. Warung Dewi serves Indonesian food that match with local tourist's taste. Scallywags is famous for its diverse seafood dishes such as fish, shrimp, lobster and crabs. Black and Penny's is a must visit place for western food enthusiasts. In the evening you can stop by at the Night Market that sells a variety of Indonesian food and seafood with cheap price. You should also have a dinner at Casa Vintage which offers an outdoor dining atmosphere with beautiful sea views. In addition there are Gili Gelato and Scooperific which serve delicious ice cream.
Read this : Things to Do in Komodo Island
9. Watching Stick Fighting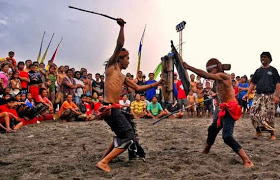 Stick Fighting is a martial arts show involving two male warriors who each carry a rattan stick and a cowhide shield. The battle is led by two referees called Pakembar. At first Stick Fighting is performed as part of a ritual of begging for rain during the dry season. Now Stick Fighting is also performed to welcome the arrival of tourists, commemorate the Independence Day, commemorate the anniversary of the regency and welcome the coming of Ramadan. Although it seems harsh, the Stick Fighting tradition is not to seek the enemy, but to strengthen the bonds of brotherhood.
Visit this : Sites Diving in Indonesia
10. Island Hopping

A vacation in Gili Trawangan is not complete if you don't visit its neighbors, Gili Meno and Gili Air. If you are traveling with your friends, you can rent a boat at a cost starting from Rp 225,000. Otherwise, you can join the tour or just jump into the public boat. Every 9:30 am and 4 pm there is a boat that goes to Gili Meno and Gili Air. The fare to Gili Meno is Rp 18,800 for one way and to Gili Air is Rp 22,900 for one way. While the price of island hopping tours starts from Rp 120,000.
You might like this :
More Attractions in Gili Trawangan
Indeed, here are more things to do in Lombok Gili Trawangan :
11. Doing Water Sport

You will never get bored in Gili Trawangan. There's always plenty to do. If you stay at Hotel Villa Ombak, you have the privilege to try banana boat. One banana boat is ridden by 6 participants and pulled by speed boat. Each participant will be required to wear a life vest even if he / she can swim. The duration of banana boat game is about 20 minutes. If you just want a relaxed activity, you can rent a kayak or stand-up paddle board to circle Gili Trawangan beach.
Also read this : Things to Do in Tanjung Benoa Bali
12. Doing Yoga

Yoga, which existed 2,000 years before Christ, combines body movement with concentration and serenity. Yoga not only makes your body fresh and fit, but also helps you to control stress and anxiety. You should take the time to try yoga in Gili Trawangan. There are many places that offer yoga classes for all levels and experience. Don't worry, you will be guided by an experienced instructor.
Also visit this : Things to Do in Legian Bali
13. Trying Spa and Massage

Pampering yourself while on vacation in Gili Trawangan is a must. Do not miss the opportunity to try out the spa and massage here that can make you fully relaxed and unwind. There are many places with nice view (facing the sea) that you can choose. They offer a variety of packages at affordable prices. You can do pedicure, manicure, beauty rituals, reflexology massage, and even soak in the jacuzzi.
You might also like this :
14. Fishing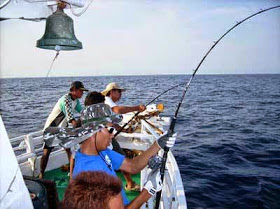 The coral reefs in Gili Trawangan are well preserved. No wonder the waters of Gili Trawangan is populated by various fish. You should try the excitement of fishing that usually targets barracuda, marlin, tuna, snapper and grouper fish. You can rent a boat at a cost ranging from Rp 750,000 to Rp 1.5 million. Don't worry about fishing gears. You can easily find fishing rents here. Or you can join fishing tours that are offered.
You may visit these places :
Ok guys, now you know the top things to do in Lombok Gili Trawangan Indonesia. No doubt Gili Trawangan has the best Places To Visit in Indonesia with its beautiful nature. Let's visit Gili Trawangan Lombok Indonesia..!
You may visit these places :