As we knew already, the attraction choice in Bali is of course one of the best. You can see the perfect examples in things to do in Pemuteran Bali that has a lot of great destinations for you to visit. Not only that, almost all areas in Bali covered up some hidden attractions you wouldn't even guess.
Beside the island of Bali itself, you can see the small islands that surrounding Bali like things to do in Nusa Ceningan and the other locations included in our articles. But, not ends there, our journey willbe continued to the other Nusa in Bali called Nusa Dua. So what's the thing you can find in that specific area? Let's start with these locations below :
1. The Pirates Bay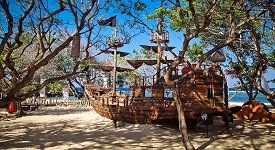 As the first thing to do in Nusa Dua, which is really good for families is visiting the Pirates Bay, loated in the Lot C-0 of Nusa Dua. As you can see on the picture here, this park picked the Pirates theme and applied it to the rides, which can give another immersive experiences for the kids.
The children can also increase their motoric skills by doing some sports by running around and act as a captain. The experiences you can get exactly in one of the attractions in things to do in Tabanan Bali. An affordable yet fun attraction for you to get in Nusa Dua.
Location : BTCD Area, Lot C-0, Nusa Dua
Opening Hours : Opens every time
2. Water Blow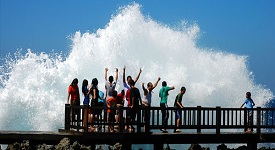 This can be a perfect place that should be included in things to do in Bali for honeymooners. Yep, even though the spot is really dangerous for kids, because of the gigantic waves that can slap your fave in a fast speed, this can be a real fun thing to do in Nusa Dua for families, especially the newly married couple.
Upon entering the big gate, you can see for yourself the sign that claims "The Water Blow". You know what it means. In this very location, the exciting thing is to witness or got splashed by the waves that hit the corals not far from there. Thus creating the massive water splash that's  gonna hit you're body if you standing right on the bridge.
Location : Nusa Dua Beach
Opening Hours : Opens every time
3. Geger Beach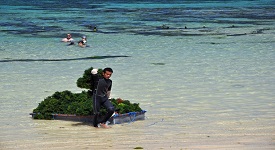 The next things to do in Nusa Dua for families is Geger Beach. Even though there arenot so many tourists in here, but the place is usually crowded, by some of the domestic people who came to the beach to farm the sea weeds.
As you swimming around the beach, you can also see the process of how they harvest the sea weeds. Usually they wear a swim suit first, and then just gone, entering the sea. Then you can see them rising up while holding so much sea weeds for a day. Thinking about the safety in here, there's no lifeguard or whoever that ready to help you. Because, the waves in here are really calm and suitable for all people, kids included.
Location : Geger Beach, Nusa Dua
Opening Hours : Opens every time
4. The Devdan Show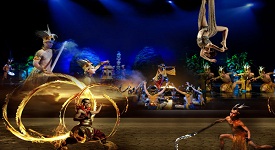 As the next things to do in Nusa Dua for families, you can't miss this spot. The show that received an award from Indonesia Travel and Tourism Award in the event of Indonesia Leading Tourism 2014/2015 is one and half hour of beauty.
The show will take you to the ever corner of Indonesia, introducing you to the richness of culture reflected by the modern and contemporery performances. You'll never get bored in this Devdan's, because they will show you an unpredictable acts on every show.
Location : ITDC Complex, Nusa Dua
Opening Hours : Opens Monday, Wednesday, and Friday only. From 7.30 pm to 9 pm
5. Surf and Turf Rider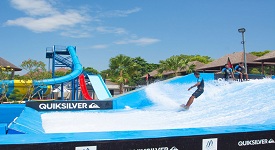 One of the reasons why you should go to Bali is to try some surfing. It's really good if you an do surfing, but if you can't, that will be shame to your friends. But don't worry, the Surf and Turf Rider beach club will take care of that. By doing some exercises in the modern technology of surf training.
You can also doing some fun after training by trying to do boogie boarding. Don't worry about the safety though, they will guarantee it by serving a nice and comfortable services for you. The trainers are also very helpful.
Location : BTDC Attraction Area, Nusa Dua
Opening Hours : Opens everyday from 10 am – 7 pm 
6. Nusa Dua Plane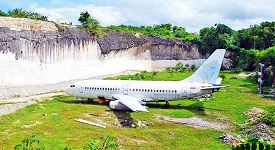 Even though you never guess this to be an attraction, but in Nusa Dua, you can find this big plane somewhere between houses in Kuta and Pandawa beach. It just laid there without no further explanations about what's going on about the plane itself.
Many people hunt down this plane to grt some exotic pictures of it. It's rare to find a real plane landed somewhere except airport. It's planned that this place will be refurbished to be a restaurant. But until now, the plan is somewhat blurred and never happened.
Location : The Area of South Kuta
Opening Hours : Doesn't have opening hours
Not only those six attractions that also worth to remember, these four spots are actually can be included in our list of things to do in Nusa Dua for families:
Pandawa Beach, witness the one and only beach in the world that has some spectacular things for you
Mangrove Broadwalk, take your time to introduce your kids to the nature
St Regis Bali Resort, best place to take off your fatigue
Hilton Bali Resort, with the special package of A Day in Paradise
More Places in Bali to Visit for Backpackers
Things to Do in Gretek Bali
Yep, those are the things to do in Nusa Dua Bali for families that worth a visit or two. Maybe some of them are unfamiliar to you, and a bit strange for you. But, it can be concluded that, and has the meaning of exploring. If you'rea try traveler in heart, maybe you should visit the other locations that not so famous with people, but keeping a hidden secret that can be uncovered. Maybe it's time to go out of the box.