Having the long long holiday for this year, you should prepare some destinations to visit, spending all of your days in some spectacular places. You can try something new for this weekend, and maybe you finally want to try to go to the island of Bali just like many people did.
Maybe some of you keep on wondering, "what's the good points of Bali, it's to mainstream for me anyway". Well let us tell you the reasons why you should visit Bali during this holiday. Prepare yourself, some of them will blow you up. Here are some reasons why you should go to Bali before you die!
1. Appetizing Traditional Dishes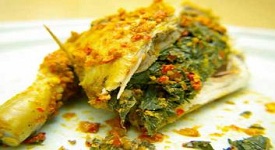 The first reasong why you should viti Bali is trying the traditional Balinese culinary in here. Many of them can't be found anywhere else beside Bali island. There are so many foods or snacks to try in here, like for th example is Ayam Betutu and Lontong Jukt Serapah. Both of them are really good to eat, especially during breakfast as the energy boosters. Then you can have some light meal during afternoon, trying kinds of porridge in here like Mengguh Porridge for example.
Also, for you who don't want to gain much weight, you can try the Balinese snacks. They came in different form and different taste. For example, you can try the Jaja snacks in here, one of them is called Jaja Bendu. If you want to give your mouth some tasty taste, you should try for yourself a Balinese salt peanuts. They are so well to bring during your trip. Don't ever thing so hard about the price though, they are very affordable. The are that is perfect for look for the Balinese traditional dishes is Ubud, location that has so many things to do in Ubud Bali.
2. Eye Opening Beaches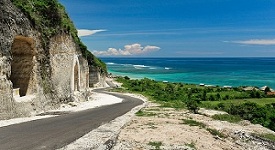 Of course, you knew it already that Bali surrounded by some beaches like beaches in Kuta for example. But here's another reason why you should visit Bali this time, because for the beach category itself, it contains a lot of good options. You can take a trip to the eye opening beaches in here, like the Pandawa Beach. This beach is one of Indonesian beaches that you can't find anywhere else except Bali. Even you can't find the exact same beach on the other countries. The great status, the amazing view of the beach is top notch.
Not only Pandawa beach, you can go to the other beach located in things to do in Sanur Bali, which of course, has the name or Sanur beach. Beside the good looking, the beach has another specialy, the giant waves. So, for you who are a  traveler and a surfer combined, maybe you can take a look at this Sanur beach for a second. Challenging Balinese surfers? Why not.
3. Hidden Exotic Places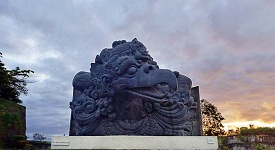 Beside finding the beautiful beaches, you can also do some hunting to find the exotic places. Bali has so many choices and options, ranging from the natural attractions to the mand made spots that look incredible. Like for the example, youc an visit the exclusive Blue Point beach in things to do in Ungasan Bali that hidden inside the dense forest. If you like to do some adventures, this Blue Point will reward you really big in the end of the road.
And for the human made ones, you can check the temples in here. Some of them like the TanahLot Temple is located exclusively on top of the giant corals. It requires special time for you to cross it, and finally reach the temple. Beside that, there's other gigantic statue called GWK or Garuda Wisnu Kencana. This statues is on progress, and looks more better every year. When the time it's finally complete, it will be the most epic statue in South East Asia, even can be one of the best statues in Asia.
4. Rare Rice Fields View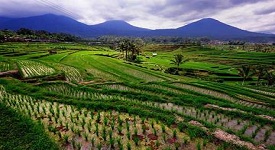 With those busy activities of work, you should take some rest before going to be stressed out by the work itself. You can calm down a bit, and packing to go for Bali travelling, and going to the area with the name of Jatiluwih.
Here, you can find things to do in Jatiluwih, and one of them is the best to relese your anxiety or reducing yout stress level efficiently.
The rice fields are made with such a clean structure, so they are located perfectly on the hills of Jatiluwih. It's really perfect place for relaxing. This is nice reasons why you should go to Bali before you die.
5. Wonderful Culture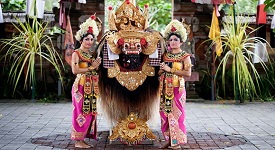 One of the best things that people notice about Bali is its culture. Maybe some of you already knew the famous Kecak Dance or Barong Dance, which always shown in so many tourism spots. But beside those dances, there others more waiting for you.
They came in different type of dance, depending on the mask that used in the dance. Talking about mask, they are so many in numbes and variety. Even the Barong itself came in different types, like Barong Macan, Barung Ladung, Barung Gajah, and many other. You can also bring some of the masks as souvenirs, just be sure to place the non scary mask at your home.
6. Best Souvenir Centre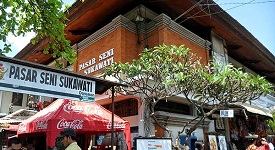 After going along the stream of tourism in Bali, it's time to go back home. Better to bring some souvenirs, right? As the way to promote the good reasons why your beloved people at your home town should visit Bali next time.
There are so many good souvenirs in here that can be brought home, like traditional Balinese musical instruments, and also don't forget to buy the milk pies! They are really famous by the way, you can bring some for you. The best places for shopping, are the Sukowati Market, Tanah Lot, or maybe the known Krisna Souvenir Shop. Pick one that located nearest from your area.
More Reasons Why Bali is The Best for Your Holiday
Here are more reasons why you should go to Bali Indonesia:
There are many beaches you can go with beautiful view
There are many cultural things you can worship there
Bali girls and boys are hot, traditionally hot
There are many traditional food to shake you tongue
Sunset, there are the most beautiful thing you can stare
You wouldn't regret tanning your skin in the nature
They have many temples to learn and enjoy
They are arts, magical
You wouldn't miss the nightlife, tho
You will love every beats of Bali
You will go back to Bali and you don't want to go home!
Those are reasons why you should go to Bali before you die in one of your free times. With those reasons that really make some sense, taking a trip to Bali wouldn't be a bad idea. Even though Bali island considered a mainstream holiday package, but there some things here that can't be found on the internet reviews. Maybe it's time for you to seek them for your own self.