Hello again, meeting you in this great afternoon to talk some more about attractions in Indonesia. Like always, we want to explore, again, all the areas in East Java. After visiting the things to do in Pasuruan, we want to go to the North Side of East Java, the city of Sidoarjo to be exact. This city of Sidoarjo is actually an industrial city where people reproducing the materials to be a great product. But even though it considered as an industrial place, it still has its greatness in the way of tourism.
Anyway, for you who don't know, this town was going viral because of the "mud" disaster back in the day. Those days were so chaotic, all the people panicking because of the disaster. But now, there's no chaos to be found. The place itself became a tourist attraction now. Anyway, there's a lot to do in this city, like the big neighbor city that has some great things that you can see on Surabaya attractions , the city of Sidoarjo also has something to give for you. Here they are :
1. The "Mud Attraction"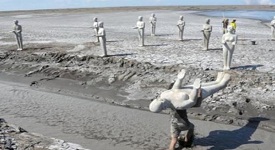 For the starter of this list of things to do in Porong. Sidoarjo, we have our top spot on Porong, the Lapindo Mud Tourism. Well, this is the natural sight that you can see directly, the thing that cause mass panick back in the old days. It's still growing until now but it's for safer now than the condition before.
Usually you should park your car or your bike before going up to the attractions. In this spot, you can see the hot mud frountain from afar. You can also bring your bike to the high ground to see it, to avod the parking ticket. Up there, there's some snack sellers like bakso or batagor to accompany you.
Entry Ticket : Rp2.000,- (usually they referred this as a donation)
Opening Hours : Always opens
2. Dwarakerta Park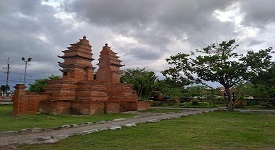 Next in things to do in Sidoarjo is Dwarakerta Park in Porong. Then, this park will always filled with so many people, either by the youngs or the olds. But now, because of the "thing" that happened, many people start to leave the area because affraid of the hot mud disaster.
That cause the place more empty now, and only used as resting place by some travelers who want to go either to Malang or Surabaya. But there's also some snack vendors, to make all those travelers more comfortable. But beside as the resting area, this place is also great for some photo sessions.
Entry Ticket : No entry ticket
Opening Hours : Always opens
3. Jayandaru Monument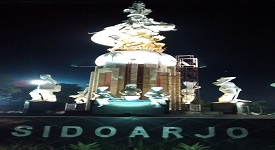 Different from the park above, this Jayandaru Monument is located in the heart of Sidoarjo city, that's why it's still growing up until now. Just like the monument in things to do in Batu, in this Park, there's some modification here and there, making this monument looks great and beautiful.
The monument also places in on of the busiest city plaza. Many people around or tourist taking picttures with this monument as an icon of Sidoarjo City. You should do it too when visiting Sidoarjo, and making your trip more beautiful than ever. It's located on Jenggolo street by the way. It's absolutely the great things to do in Sidoarjo.
Entry Ticket : No entry ticket
Opening Hours : Always opens
4. Siddhi Amerta Shrine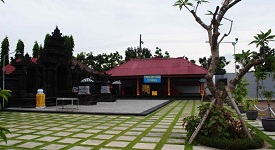 After the monument, we go to one of the Hindhu Shrines in Sidoarjo. This one, called Siddhi Amerta Shrine. Like all the shrines in things to do in Balinese temples, this Siddhi Amerta Shrine also has the same vibe as those shrines in Bali. The people build this place graciously, making anyone feel comfortable while doing some exploring in this place.
They placed the rocky tiles after the grass, making the beautiful zig zag lines. The view around is so great and also instagrammable. But it's not recommended to take much photos of it, since it's a religious spot that used to pray and worshipping. Please take a good care and bring good behaviour when visiting the holy places like this one.
Entry Ticket : No entry ticket
Opening Hours : Always opens
5. Citragarden Park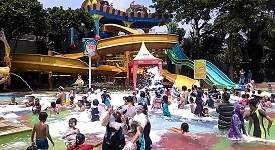 In the fifth place of things to do in Sidoarjo, we have this Citragarden that located in Buduran with us. This park is really great for vacationing in the weekend, after all day long working and studying. You can take your whole family with you and have fun together.
Your kids will be satisfied by how interesting the place is, plus you can also chill out with your partner by drinking, eating, and relaxing whle watching your kids. Such a great way to relax, right? Especially with the kids around.
Entry Ticket : Rp30.000,-
Opening Hours : Opens everyday from 8 am – 5 pm 
6. Sidoarjo Great Mosque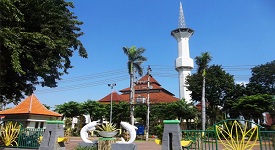 Finally, the time to show gratitude to God is coming. After enjoying all the stuff in Sidoarjo, don't forget to say thank you to God, by praying in this beautiful Great Mosque in Sultan Agung street, if you're a moslem. It'll be good experience to take some prayer in this wonderful mosque.
They took a really good care of it, and make sure the mosque can be a comfortable place for all the people out there. You can take a bit look at how gracious the architecture is. And then, you can have your peaceful time with God Himself.
Entry Ticket : No entry ticket
Opening Hours : Always opens
Other Things to Do in Sidoarjo East Java
You think 6 of them are enough to make you satisfied? Well here's some more!
Mpu Tantular Museum, great way to learn some more about history!
Pari Temple, the first majestic temple you can find in Sidoarjo
Sumur Temple, beautiful gem located in Porong Sidoarjo
Suncity Water Park, best place for vacationing with family!
Mangrove Tourism Manyar, feel the naural beauty that only available in Manyar
And that't it our topic for today, the things to do in Sidoarjo East Java. Like all of you can see, the city has so many unique things to do, including the mist bizarre one. You can either visit that one first, then visit the other, or you can do it otherwise. Surely, this city of Sidoarjo is one of the wonderful things to do in East Java. See you later!