Purwokerto is a town located in Central Java Province. In addition to having a beautiful tourist attractions, Purwokerto also has a variety of typical cuisine that appeals to taste. You do not have to worry about the bill because the price is quite affordable. Let's see what to eat in Purwokerto Indonesia!
1. Pecel Bunga Kecombrang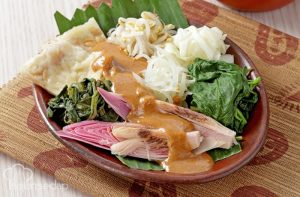 One of the traditional cuisine that must be tried in Purwokerto is Pecel Bunga Kecombrang. In addition to its unique and delicious taste, eating Pecel Bunga Kecombrang also gives a cultural experience. The signature of this Pecel is slices of pink Kecombrang flower among other green vegetables.
There are various vegetables used to make Pecel Bunga Kecombrang, namely kale, mustard, bean, sprouts, cucumber, lettuce and slices of Kecombrang flower. The sellers of Pecel Bunga Kecombrang can be found at Pemuda Street (towards Purwokerto Station), traditional markets and traditional food stalls. The sellers are also available in several tourist attractions such as Baturaden. The price is below Rp. 10,000 per serving. Anyway, if your tongue can take Pecel Bunga Kecombrang, you should also try Plecing Kangkung which is one of things to do in Mataram Lombok.
2. Chicken Soto Jalan Bank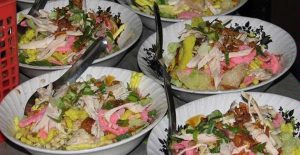 Chicken Soto owned by Haji Loso or better known as Chicken Soto Jalan Bank is a mandatory culinary destination for anyone visiting Purwokerto. The presentation is really appealing. A serving of Chicken Soto consists of rice kupat, bean sprouts, crackers, vermicelli, slices of chicken, slices of leek, slices of celery and peanut sauce.
The taste of Chicken Soto Jalan Bank is fresh and savory. If you want a sweet taste, just add sweet soy sauce. Many artists and state officials took the time to try Chicken Soto Jalan Bank while visiting Purwokerto. Chicken Soto Jalan Bank is at R.A. Wiryaatmaja Street. Opening hours is 10 am-9 pm. Price per serving is Rp 15,000. Another chicken dish that is worth a try is Betutu Chicken which is definitely one of things to do in Bedugul Bali.
3. Soto Kecik Sokaraja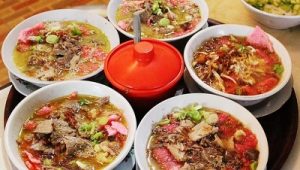 Soto Kecik Sokaraja is Purwokerto's unique culinary that should not be missed. Soto Kecik Sokaraja has a clear soup and contains bean sprouts, leeks, slices of meat, a sprinkling of colorful crackers, and a sprinkling of fried onions. If you like offal, then you can also choose it.
The specialty of Soto Kecik Sokaraja is the ketupat and the peanut sauce. The ketupat is sliced and doused with soup soto. The peanut sauce can be mixed with soup soto or served separately. Soto Kecik Sokaraja can be found in Sokaraja, a small town east of Purwokerto. It's about 8 kilometers from downtown Purwokerto. Price per serving is Rp 15,000.
4. Young Coconut Meatball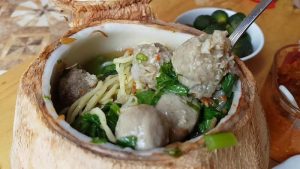 What to eat in Purwokerto? Young Coconut Meatball is a culinary that is rising in Purwokerto. Its trademark is the meatballs served inside a young coconut shell complete with coconut flesh. The Young Coconut Meatball consists of two fine meatballs, one quail egg meatball and two vein meatballs.
Young Coconut Meatballs is also served with yellow noodles, vermicelli, mustard, caisim, bean sprouts, fried onion and celery. The texture of the chewy meatballs and the sweet taste of the young coconut flesh provide a delicious taste sensation. Young Coconut Meatball can be found at Warung Bakso Tugu Monas (BTM 212), Karang Kobar Street, North Purwokerto. Opening hours is 10 am – 8 pm. Price per serving is Rp 18,000.
5. Pekih Meatball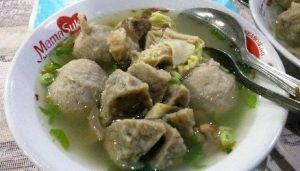 Pekih Meatball is probably the number one meatball in Purwokerto. The menu is flank meatball, egg meatball, vein meatball and plain meatballs. There are also vermicelli, yellow noodles and some types of crackers that you can order to accompany the dish of meatballs.
Pekih Meatball is always crowded with customers. Nevertheless the service is fast and friendly. Pekih Meatball is located at Pekih Street, near Purwokerto Square. Opening hours is 9 am-9 pm. Price per serving is Rp 14,000.
6. Lumpia Bom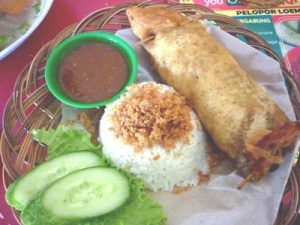 Purwokerto's Lumpia Bom (spring rolls) is different from spring rolls in general. Lumpia Bom has big size with a length of 25 cm. The way to enjoy it is also unique, it is dipped in chili shrimp pastes. It can also be dipped in super spicy sambal bajak or medium spicy sambal italiano.
Lumpia Bom is not just a snack, but it could be a side dish to eat. Lumpia Bombs can be served with rice, sambal, kremesan and salad. There are 8 options for the content of Lumpia Bom, namely chicken, beef, meatballs, sausages, beef liver, mushrooms, squid and shrimp. Lumpia Bom can be found at H.R. Boenyamin Street, in front of Purwokerto's Jenderal Sudirman University. Price per serving is around Rp 10,000. Btw, you should take the time to try Semarang's Lumpia. It's one of traditional food to eat in Semarang.
7. Lanting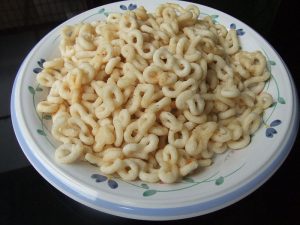 Lanting is a typical snack of Purwokerto which is often bought as a mandatory souvenir. Lanting is made from cassava and has a delicious savory taste with a crunchy texture. In addition to the original flavor, you can also buy Lanting with spicy flavor of green chilli or red chili.
The manufacturing center of Lanting is in Pekuncen Village, about 15 – 20 minutes from downtown Purwokerto. To get Lanting you can buy it at the center of souvenirs in downtown Purwokerto. Lanting is sold at affordable price, which is only Rp 10,000.
More delicious cuisine to eat in Purwokerto
8. Tempe Mendoan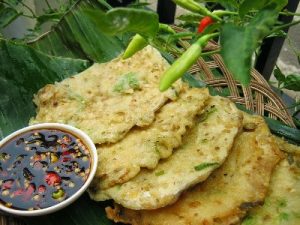 Tempe Mendoan is a snack which is also a must-have souvenir. Purwokerto's Tempe Mendoan has thin slices and savory taste. It will taste more delicious if it is eaten with a spicy soy sauce.
The making of Tempe Mendoan begins with the selection of soybean seeds, cleaned and split in half, then placed on a banana leaf and fermented for two days. After that the fermented soybean is mixed with flour and spring onion, then fried. In Sawangan, near Purwokerto Square, there are many sellers of Tempe Mendoan. The price per pack is Rp 15,000.
9. Fried Getuk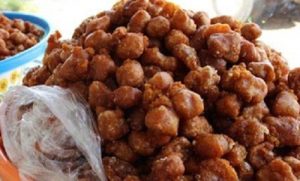 Fried Getuk is a typical Purwokerto snack to try. Fried Getuk is made from cassava and has a sweet and slightly savory taste. Usually Fried Getuk is served with coffee or tea. But people say another field then another grasshopper. Did you know that biting roasted corn accompanied by coffee or tea is one of things to do in Puncak?
Fried Getuk initially has only one flavor which is original, but now Fried Getuk has a variety of flavor such as jackfruit, durian and chocolate. The making of Fried Getuk is still using the traditional way, 100% hand made. It's not hard to get Fried Getuk. Along Soedirman Street, Sokaraja, there are shops specializing in Fried Gethuk as souvenirs. The price per pack is Rp 10,000 – Rp 25,000.
10. Pak Kasdi's Ice Durian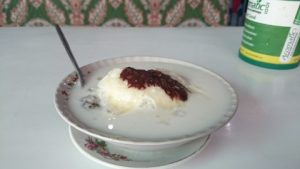 Pak Kasdi's Ice Durian is a legendary culinary in Purwokerto. It has been established since 1969 and is famous for its fine and delicious durian meat. In addition Pak Kasdi's Ice Durian also uses coconut milk, Javanese sugar and a little white milk.
The taste of Pak Kasdi's Ice Durian has not changed since the first time so many customers are loyal. Pak Kasdi's Ice Durian is located at Gor Satria Purwokerto Street. Opening hours is 10 am – 8 pm. The price is Rp 9,000 – Rp 23,000.
Culinary tour is a fun adventure. You just need guts and to be open. So, come to Purwokerto and have fun because you do know what to eat in Purwokerto.