After talking about some wonderful attractions that the province of East Java has, now we'll go to the next province in the Java island, located in the center of it, called Central Java. It also has some of the best attractions available, like things to do in Brebes.
But not only that, there are several regions in here that have their own unique places, lithe the places that can be found in things to do in Wonosobo. Now, we want to talk about the attractions inside the city of Semarang. This time, we want to hunt the best places to enjoy during the night. All included in the list of things to do in Semarang at night below :
1. Lawang Sewu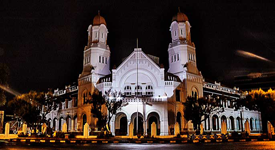 As for the first one on the list of things to do in Semarang at night, we want to introduce you to this colonial building that famous for its scary stories and myth, the Lawang Sewu. Maybe in the day, the place ain't look so scary or terrifying. But in the night, things can change unexplanably.
You can't find a place like this in some provinces in Central Java, like things to do in Cilacap, that's why coming to this place is a must, at least once. There, you should find a guide after paying the entrance ticket for about Rp10.000,-, who can tell you about the stories of the place. Careful, during the night, maybe you can witness the "nocturnal activities" in here. Be sure to always be careful at anytime.
Location : Pemuda street, Sekayu
Tips : Always be careful and always follow to guide. Don't wander around, it's so easy to get lost in here
2. Kota Lama, The Old City of Semarang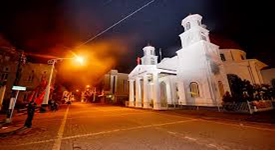 Like every body knew, there's this things to do in Old Town Jakarta in very far area of Jakarta. For you who live in provinces like East Java or Centra Java, you can seek another alternative, with the name of the Old City of Semarang, or you can call it as the Kota Lama.
Well, many said this place is the Little Holland. No wonder why, because you can know the answer after seconds when visiting this place. All the buldings still have their own Destch architecture which is so contrast with the modern building around. Still, it should be fun to visit it durin the night.
Location : Letjen Suprapto 22 street
Tips : Always bring a camera
3. Tabanas Bukit Gombel Park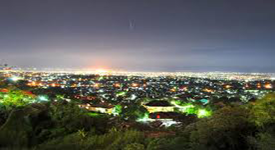 The next place can be considered as the romantic place for you couples, who want to come to a little and not fancy looking spot, but always has its benefits. The place has the name of Tabanas Bukit Gombel Park, a location that favorable for a cameramen out there.
With only paying for parking ticket about Rp2.000,- or so, you can your lover can come here and enjo the full view of Semarang city from above. With all glittering lights of the lamps, the Semarang city looks so amazing. Don't forge to capture the moments in here.
Location : Setia Budi 12 street
Tips : Usually there's also the event for seeing meteor rain, sometimes in a year
4. Pahlawan street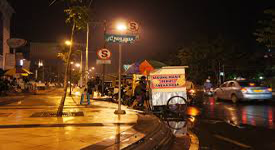 Going inside the Semarang city, you can notice some of the famous streets in here. One of them is this Pahlawan street, famous for its monument in the center of the road. The thing is, the monument is not only the thing that you should look for.
But, there are another good benefits that youca get when going to Pahlawan street. Firstm there are some angkringans here, which is the place for chatting and enjoying goreng while having a good time with coffee. Also, there are some restaurants that you can chose as a alternative.
Location : Semarang, Central Java
Tips : At least bring some money to get snacks
5. Simpang Lima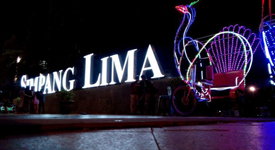 One of thebest things that you should get if you're visiting one region, is to visiting its point of interests. Included as one of it, there's a city plaza that always exists in some places in Central Java like things to do in Magelang.
In Semarang, there's also a plaza called Simpang Lima, which is the gathering spot for all people of Semarang. There are some play things in here for kids, and also a very good and well maintained environment for all. At least, with the Rp2.000,- worth of parking ticket, the benefits that you'll get are much greater.
Location : Pleburan, South Semarang
Tips : This is a fun place to come with lover, friends, and family.
6. Banjir Kanal Barat River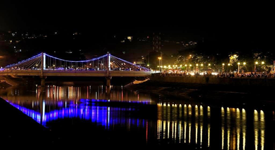 If dating on a riverside is considered realy romantice, then you should come here with your love one to a place in Semarang called Banjir Kanal Barat River. Well, the view in here is just usual view of a river, complete with the street lamps located near.
But, in certain times, there will be a lamp festival which is really good to see, and a rare one. Usually there will be some boats that decorated with beautiful lamps and they look so great. It's like visiting Disney Land, but still inside Indonesia. 
Location : Gedung Batu Timur 203 street
Tips : Come here around May to see the Lamp Festival
7. Pecinan Area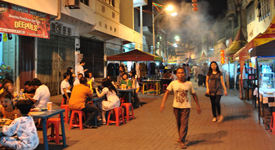 Last of them, is the Pecinan area. If you're hungry, or maybe want to look for souvenirs for the people back home, you can come to this Pecinan Area of Semarang. Like the usual Pecinan Area, in here you can find so many stalls that hav a great menus of food.
There are some halal foods of course, so you don't need to worry about the foods. You can always ask the clerk first, before actually ordering the foods. Well, like mentioned above, beside stalls, here are some souvenir shops in here too, which has a considerably cheap price for the tourists.
Location : Beteng street
Tips : You can always bring some money to get anything you want
Wait, the seven places aren't the only attractions on our list. As usual, we want to provide the nesxt best places in another list that also included inside the article of things to do in Semarang at night. You can see the complete of them below :
Central Java Great Mosque
Pondok Kopi
Pagoda Budhagaya
Kauman Mosque
Sam Po Kong Temple
Tugu Muda Semarang
Ronggowarsito Museum
Old City 3D Trick Art Museum
Mandala Bhakti Museum
And there goes our list of things to do in Semarang at night. Even though the city itself looks so great and fun during the day, but, there are some places that bring their own unique aura, especially for the creepy places like Lawang Sewu, and the other. Maybe it's a little scary for some one. But, you of course can proceed to enter those haunted places, but remember, you should be careful as always.