Singkawang in West Kalimantan is full of heterogenity, both ethnic and its culinary. Since colonial era, Singkawang has been the meeting point between Melayu and Chinese in Borneo Island. The history went even further way back. This makes Singkawang culinary is strongly influenced by culinary tradition of Melayu and Chinese.
Compared to culinary in Java which many of them have cassava and sticky rice as the base ingredients, you will find many variant of foods made of noodles and flour in Singkawang. More variant of spices are also commonly found in Singkawang culinary. Here's the list of 8 Singkawang yummy foods to tease your palate.
To know mode about culinary in Java, read East Javanese Cuisines to Eat.
Beef Meatball and Chicken Noodles
Meatball and chicken noodles are actually common street foods easily found in any region in Indonesia. But Singkawang has them in different way. There's a meatball and chicken noodles place that are famous for tourists in the middle of Singkawang.
The place is located in Pangeran Diponegoro Street no. 68, Darat Sekip, Melayu, Singkawang Bar, Kota Singkawang, Kalimantan Barat.
Aside from its easy-to-find location, the place offers many variations of menu with quite cheap prices. Price of a bowl of meatball and chicken noodles starts from IDR 16.000. With no more than two dollars, you can enjoy the taste of soft meatball and chewy noodles mixed with special spices of Borneo Island.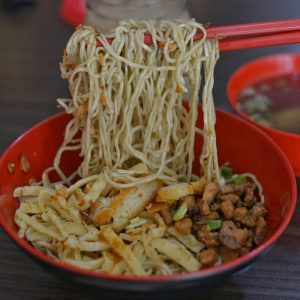 Asuk in Singkawang local language means 'uncle'. It is a combination of kwetiaw (flat noodles) and yellow noodles. The food is strongly affected by Chinese tradition.
Flat noodles are mixed with vegetables, bean sprouts, chicken meat, beef, and seafood. Jeruk kunci, a kind of local lime, used as dressing on top of it gives the mix fresh taste aside from the spices.
Famous place to eat me tiaw asuk is at Yos Sudarso Street in Melayu, Singkawang Bar. Kota Singkawang, West Kalimantan. The place sells me tiaw asuk at the price around IDR 13.000. If you like noodles, you may want to check the list of Indonesian Noodle Food.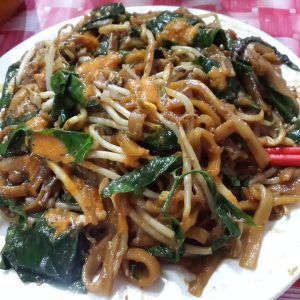 Bakmi Kering or Singkawang Dry Noodles
Dry noodles is usually called yamien, considering the broth is served separately from the noodles. In Singkawang dry noodles is another local food you have to try. Many recommend dry noodles of Haji Aman at Yos Sudarso Street no.11, Melayu, Singkawang Bar, Singkawang, West Kalimantan.
They offers the price of IDR 15.000 per serving. You might notice that the address is not so far from the previous mentioned food stall. Singkawang is rich of culinary places so it is normal to have famous food stalls or restaurants exist next to each other.
While you are traveling in Singkawang, don't forget to try Things to do in Singkawang along with its culinary trip.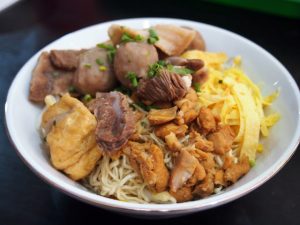 It is a bowl of porridge, but not the porridge you may think of. Instead of using rice, Bubur Gunting is made of small cuts of cakwe (some kind of fried bread). Sweet mung bean broth is poured on top of the cuts and then served while the porridge is still warm.
You can add special sambal made of chili and garlic to give some spicy flavor. There are many porridge stalls all over Singkawang. You can eat the porridge either for breakfast, lunch, or dinner since you can find many open stalls at the morning until the middle of the night.
One of the popular porridge stalls in SIngkawang is located at P. Antasari Street no.58-56, Pasiran, Singkawang Bar, Singkawang City, West Kalimantan. They usually sell the porridge at the price of IDR 5.000 per bowl.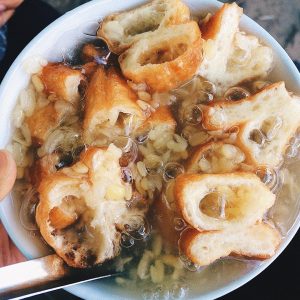 Another delicious porridge (bubur) worth trying in SIngkawang is Bubur Paddas. It is one of popular street food that is always looked forward to taste by foreign tourists. Many think that Bubur Paddas will taste hot and spicy, but instead the flavor is more of sour and savory without spiciness at all.
The sour flavor comes from lime as the topping. The porridge itself is made of corn, kangkung, bean sprout, fried nutt, and small anchovies. You can find Bubur Paddas practically everywhere in Singkawang, just like Bubur Gunting. They usually sell the porridge at IDR 5.000. It's super cheap!
Find many other cheap local foods here Cheap Street Food in Jakarta.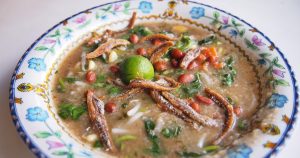 Fruit salad of Thai Pui Ji ia a popular fruit salad stall in Singkawang. Many kinds of fruit such as bengkoang, mango, tropical guava, pinneaple, and others are cut and mixed on a bowl then give fried peanut sauce as the dressing. Ebi (small cuts of shrimps) are added as topping to give a bit of salty flavor.
A bowl of fruit salad is served with melinjo crackers so the fruit salad is not only tasted fresh, but savory too. Thai Pu Ji fruit salad can be found at Salam Diman no. 8, Condong, Melayu, West Singkawang, Singkawang City, West Kalimantan. The price starts from IDR 15.000.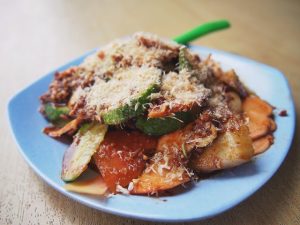 Bubur Tahu (Tofu Porridge)
It's porridge again! This time is made of soft tofu. But actually it is not tofu, but the ingredients are the same with tofu, without being shaped to a square we used to see.
In Pasar Turi, Singkawang, bubur tahu is common food for breakfast. The soybeans are rich of protein. Not a heavy meal and easy to digest. IDR 5.000 is usual price of a bowl of bubur tahu.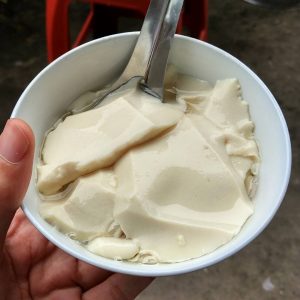 We arrive on the highlight of 8 Singkawang yummy foods to tease your palate. It's Choi pan! Made of rice flour, choi pan contains of many variants of fillings like bengkoang, chives, bamboo shoots, mung beans, and many more.
The popular choi pan place is at the Traditional House of Tjhia Family at Budi Utomo Street no.45, Condong, Singkawang. They serve the choi pan with fried garlic and sesame oil as topping and special sauce for dipping.
You won't be satisfied with only one serving, though. IDR 1.000 is standard for a piece of choi pan. There are some places which sell in package too. Find out many other Chinese-Indonesian Food for your next trip.