Malang is located in East Java Province. The city is famous for many travel destinations such as Museum Angkut, tourist villages, and plateu of Batu which offers cool weather to relax far from big city. At least there are 12 top things to do in Batu Malang for you to try with friends or family.
If you happen to visit East Java, spending some time in Malang is mandatory. Especially to have a taste of its famous street foods. Many food stalls are scattered on the roadsides in Malang. Some of them have already gained popularity because of their delicious and unique taste. Here are 7 street foods in Malang That You Must Stop By while traveling to Malang.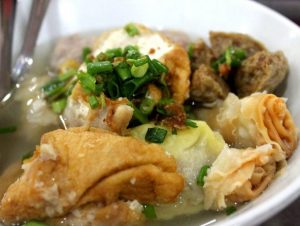 Bakso or meatball is common street food in all over Java, especially in Central Java. But Malang in East Java has its own unique style of bakso. Usually a bowl of bakso consists of meatballs, small cuts local vegetables like cabbage and sprouts, noodles, and broth rich of meat flavor.
In Malang, you will meet bakso only with meatballs and noodles. The broth is less rich than the usual bakso. Instead of vegetables, bakso Malang uses local produced fried tofu to give varian texture to the mix. You can find bakso Malang almost everywhere in Malang city.
Read also Top 5 Indonesian Cities with Best Street Food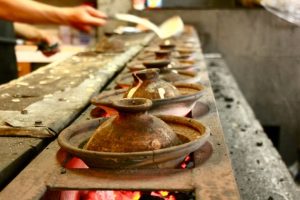 Plateu of Batu in Malang is famous of its cool air. People who are not used to cold weather will have a bit difficulty to adjust the body temperature. One way to warm the body is to eat warm food. Surabi is one of the recommended street food in Batu, Malang. Surabi is a food made of rice flour then grilled on a small sunken skillet to make a round shape.
It is served right from the grill with banana leaf. Surabi usually has varian flavor by adding fruits, nutts, or syrup on top of the grilled rice flour. You eat the Suraby by dipping it to special sweet sauce. In Malang, the Surabi is rather small. You can find a popular place that sells surabi at HOS. Cokroaminoto Street in Batu, Malang.
Surabi is also a fampus street food in Bandung. See the differences here 7 Culinary Spots in Bandung You Should Visit if You are Foodie Lovers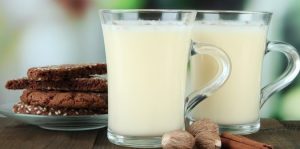 Another street food to warm your body while visiting Batu, Malang is STMJ. It is an abbreviation of Susu (milk), Teh (tea), Madu (honey), and Jahe (ginger). Literally it is not a food but a traditional beverage.
But the thick texture formed from the mix of those four ingredients can fill your stomach just enough. You can find STMJ everywhere especially in Batu. But if you happen to be in the city, you should stop by at STMJ Pak Sentot at Bareng Kulon Street. The place is open from 6 pm to 11 pm.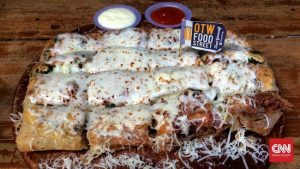 Compared to other street food, Martabak OTW is rather new and has modern vibe. It is located at Bondowoso Street no 20, Malang. Martabak OTW is a place that sells martabak, a traditional pancake consist of eggs and leeks.
Nowadays there are more variation of sweet martabak with strawberry, chocolate, nuttela, and many other fruitty flavors. In that place you can also order some traditional beverages like ginger tea and ronde.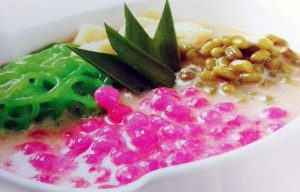 It is also a fulfiling traditional beverage. A mix of green beans, nutt, ginger or fruit syrup, and bread is poured with thick coconut milk. It is served in two variants: warm or ice. There are similar beverages in some of the towns in Java.
Angsle itself is made with the purpose to warm the body in the cold night of Malang. If you are looking for legendary Angsle, you can visit Zaenal Zakse Street in Jodipan, Blimbing Area in the city of Malang.
For other local foods to enjoy, you can also read Let's Try These Tasty 4 Local Foods in Medan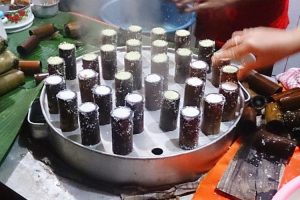 Puthu Lanang is a traditional food made with old recipe that is passed down for generations among the people in Malang. It is made of rice flour mixed with shredded coconut.
Usually brown sugar is added into the mix to give sweet flavor before they are steamed inside small bamboo sticks. After steamed, the putu is being pushed out from the bamboo with a short wood and served with banana leaf. Come to Jaksa Agung Suprapto Street to find an old putu place that has already operated since 1935.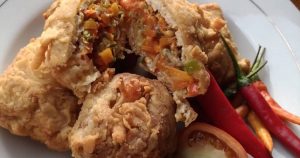 Tahu Bledek is a tofu-based food. Inside a sliced tofu, a mix of vegetables and chili powder are put in. Then the vegetables contained tofu is covered with flour before it is fried. Compared to other similar food, Tahu Bledek is much more spicy since it contains chili powder.
"Bledek" is a Javanese language that means thunder in English. The fried tofu itself brings sensation of being strucked by a thunder right after you have your firts bite. Find your thunder tofu at Mayjend Wiyono Street no 22, Malang.
Indonesia has super rich variety of street food. Wherever you are visiting, trying local street foods is a must. Malang is just one town you have to stop by while traveling in East Java. 7 street food in Malang that you must stop by will help you to stat your culinary trip. Don't forget to also visit 15 hidden beach paradise in Malang while you are at it.