Raja Ampat in West Papua is definitely the place to visit before you die. Why? Because there you can take a peek of how heaven should be. Raja Ampat is famous for its beautiful landscape with many small islands scattered on the ocean surface. With the water reflects the blue sky above, they form magnificent scenery.
Among Diving Sites in Indonesia, Raja Ampat holds the gold medal. You can't claim yourself as a prominent diver before visiting Raja Ampat in West Papua. Some spots offer prettier underwater scenery than others. Here is the list of 5 diving spots in Raja Ampat, West Papua that you must visit before you die.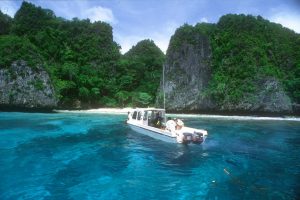 Dampier Strait is a wide area filled with variety of interesting diving spots located between the island of Waigeo and Batanta. The strait separates the mainland to Papua's bird head shaped island. International divers agreed to choose Mike's Point as the must-visit location when you come to Dampier Strait.
Mike's Point is an underwater historical location where in the past, U.S Air Force threw a bomb to the sea because they thought there was a Japanese ship on it. As a result, the explosion formed underwater caves and paved a path between the reefs.
The diver can explore the underwater of Dampier Strait until 30 meters below the surface. The colorful reefs and small fishes will welcome you right after you dive your body. The only thing for you to pay attention when diving in Dampier Strait is its strong deep currents. If you are not careful enough, the current will drag you to the ocean.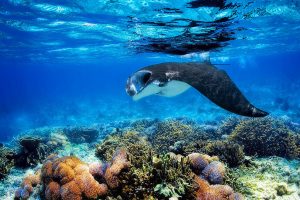 Others may refer Magic Mountain as Shadow Reef. Many said that Magic Mountain is the number one diving spot in Raja Ampat. It is located in Misool area at the southern part of Raja Ampat.
Large reefs are lined up below the water surface. The reefs become school for many small and colorful fishes. If you are lucky enough, you can meet the legendary Manta rays too! You can also read about diving spots in Sulawesi Island to have better knowledge about diving spot in Sulawesi.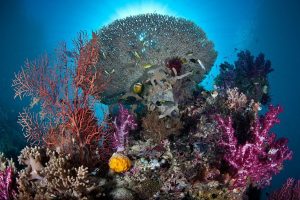 From Sorong to Cross Wreck needs about 15 hours trip. It's located far from the main island and considered as deep diving spot. The islands surrounding Cross Wreck are filled with wild forest and many said those islands are the inhabitant of Cendrawasih, the legendary endemic bird of Papua.
At the depth of about 18 meters, the divers can witness an old shipwreck. The ship was owned by Japanese marine that sinked in the World War 2. But that is not the only shipwreck you will spot.
Many ships were sinked in this waters if you brave enough to explore toward the open ocean. The Japanese shipwreck is the easiest to spot. It already becomes the inhabitant of families of octopus, leaf fish, devil fish, and mantis shrimp.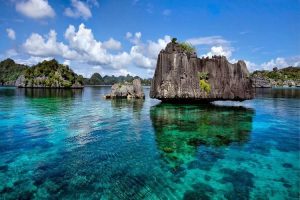 Chicken Reef has strong surface current. Located at Cape Kri, Chicken Reef has unique shape. It looks like chicks if seen from the above. Diving into Chicken Reef opens the opportunity to meet sea horses and hunter sharks lurking on the reefs. The best diving time is during March to November.
If you prefer to scuba diving, these are 15 best diving spots for scuba diving in Indonesia you should try to visit.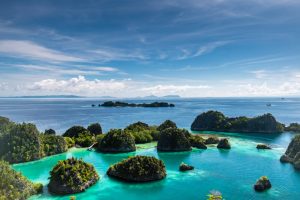 Blue Magic is located near Kri Island in Raja Ampat. The views you are gonna meet underwater are schools of fishes with magnificent sea floor within your reach. You will get to see some sharks lurking around between the reefs. And if you are attentive, you can spot the famous blue-ringed octopus that usually hides between the gullies.
You can reach Blue Magic right away after arriving in Waisai Island since the location is quite close. It's the best choice for diving especially if your budget is limited. But you need to be careful of its strong current.
To get to Raja Ampat is actually quite easy. Many resorts and travel destinations make the development of transportation to Raja Ampat is accessible. But you need to do thorough research if you want a cheaper route. Read Raja Ampat Accommodation.
Have you ever wondering why Raja Ampat is so expensive? From Sorong Airport, you will have to spend about 10 minutes on bus to get to Sorong Harbor. From there you need to ride on a ship which has only 2 boarding schedule to Waisai Island.
Once you arrive on Waisai Island, you can rent or ride public boat to hop on from an island to another, which where your budget will mostly be spent. But considering the beautiful view you are about to see, those are definitely 5 diving spots in Raja Ampat, West Papua that you must visit before you die.