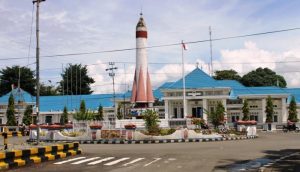 The charm of the natural beauty of Papua earth is no doubt. With the population is still a little and still many natural tourism potential that is still not exposed to make the earth more attracted the attention of tourists from both inside and from foreign countries.
Perhaps everyone nowadays has often heard of a very famous tourist attraction of papua such as the king of ampat. (Also visit: Things to Do in Raja Ampat Islands Indonesia)
Raja Ampat is an archipelago that has a group of islands and the sea is very beautiful. Already many people who travel on the island of Raja Ampat even crowned into one of the most famous tourist attractions in the world because it is still natural and very charming. But you also need to know that in papua not only in the area of Raja Ampat king who has beautiful scenery, currently still stretched appears is a tourist attraction in nabire papua.
Things to Do in Nabire Indonesia
Nabire is one of the districts located in eastern papua. Currently nabire regency has not been officially designated as a tourist area because of the tourism potential that is still not prominent. This is one of them caused by the lack of management, human resources that have not qualified and facilities and infrastructure that is still not adequate. But in fact the potential of nature tourism is very beautiful and charming to be a prime tourist attractions of the earth papua. ( Also Visit : Things to do in Sorong, West Papua Indonesia )
Here are some of the potential tourist attractions in Nabire Papua, The all best things to do in Nabire Indonesia:
Marine Tourism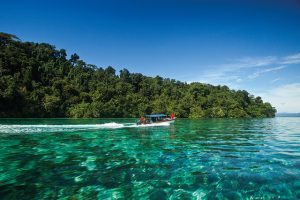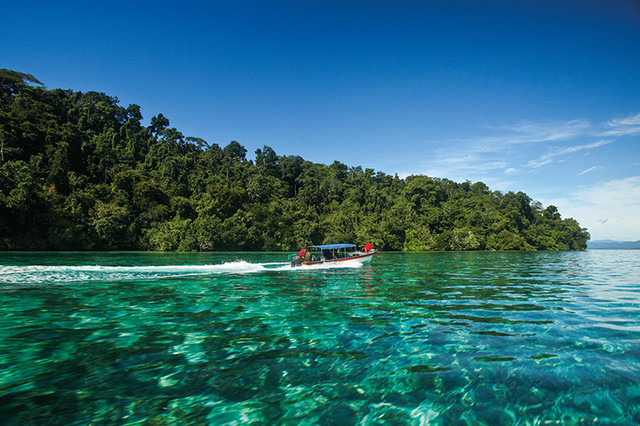 In nabire district has maritime potential that is very charming and not inferior to the islands in the area of Raja Ampat. Precisely in the bay of cendrawasih you can visit as one of the maritime tourism alrefnatif very amazing.
Inside there are various types of coral, fish, and other marine creatures that will make you amazed. Inside there is also a group of small white sandy islands such as moor island, mambor island, ahe island, pig island, hariti island, papaya island, nuburi island, nutaburi island, mango island, umbur island, nuhmarau island and anggarameos island.
Cendrawasih Bay has an area of about 1,453. 500 and almost 90% are waters. This bay is also a conservation area of the largest marine biota in Indonesia. at least in this bay you can see hundreds of types of mollusks and hundreds of other types of fish that are very charming and may have never seen before. Even if you are lucky, you can also be accompanied by sharks, turtles and dolphins as you swim.
This bay is also a place for research for whale shark species that have been done since the 90's cooperation of local government and an NGO from abroad. Visiting nautical tourism in nabire districts besides eliminating fatigue can also be used as a means of learning about marine biota which can also at the same time provide an understanding that they need to be protected and should not be undermined as is done nowadays in other places.
Coastal Tourism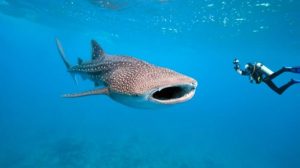 There are many things to do in Nabire Indonesia. Not many beaches are managed by the district government nabire, but the beach is very beautiful. But there are some beaches that have been well managed and can be used as tourist attractions and is a suitable tourist spot for young people, including: –
Gedo Beach – Gedo beach attractions you can visit as a place of solace and calm purpose to calm the mind. This beach is usually visited by those who want to hold an event on the beach in order to unite with nature. Still a lot of trees around the beach will make the atmosphere becomes more sahdu and will not be forgotten by you who come there.
Yamari Beach – The other beach is yamari beach, this beach is located in gedo teen park complex and is located approximately 5 km from nabire city center. Beach yamari have obak that is not too big and have black colored sand with texture very fine like flour. On the beach yamari many trees that grow so you do not have to worry about the heat. Under the tree also usually have a bench that you can make as a resting place. Management of this beach is not maximal, sometimes there are visitors who have to pay entrance fees but there are also visitors who do not pay it. Although the name is still in the park complex teenagers but yag come to this beach more families who want to picnic ria spent the holidays. 
Burate Beach – If you are taking a walk in the nabire district try taking the time to visit burate beaches. Burate beach presents a lot of beauty with a wave that is not too big so safe for those of you who want to swim at the beach.  (Also visit: Things to Do in Jayapura Papua)
Nusi Beach – The beauty of other beaches you can enjoy from nabire papua is onatai nusi. This beach is quite well managed by nabire regency. Sand beach black but it does not reduce the beauty of the sea water is still clear and clean. If you want to see the beauty of the underwater can also be done by snorkeling. The calm flow and clear water is perfect for snorkeling where you can see the beauty of the underwater like a variety of fish with striking colors. Seaweed and coral reefs are still beautiful. On the other side of this beach is a very beautiful and still quiet island, you can visit it by chartering a boat to the island of nusi.
Do not worry you can also stay there because there are already several inn built on the island. 30,000 person entry for beach access and this price will be worth the scenery you will get. ( Also Read : Things to Do in West Papua Indonesia, Diving, Beaches, Natural Islands )
MAF Beach – Called by the MAF coast because of its location adjacent to the MAF (Mission Aviation Fellowship) Airport. This beach has black sand but the water remains clear and clear. This beach is pretty close to downtown and close to the airport so for those of you who from outside nabire can easily visit this beach. the nabire community itself makes this beach as a temoat for picnic and family tourism. MAF beach crowded when morning and evening, the currents are not great to make MAF beach safe for those of you who want to swim feel the coolness of papua water. The location of MAF beach itself only ranges from 300 to 400 meters from downtown nabire.
Irio Beach – Another beach you can visit when you come to nabire district is irio beach. Not much different from other beaches that have been described before but this beach will give you a variety of fun and tranquility and memories to remove tired. What a beautiful  things to do in Nabire Indonesia! 
Nature Tourism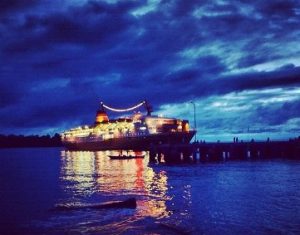 In nabire district has the potential of nature tourism is quite beautiful and worth to visit. In the district nabire has a very famous lake that is the lake mamae located in the bay district kimi nabire.
This lake has a historical story that can make you interested and natural beauty that is still natural and beautiful. Selaiin lake, other natural attractions in nabire district there is also a very beautiful turtle waterfall, fishing pond located in the village kalisemen wanggar with typical fish papua.
You can also visit Kalibumi dam located in the village area bumiayu wanggar and you can also climb the mountain because in nabire district there is a beautiful mountain cluster for you nature lovers.
Cultural Tourism
Culture in papua nabire district is still very strong with indigenous culture so it is very interesting to learn. In nabire district also some time always held a very interesting cultural festival and presenting a variety of original art nabire such as musical instruments, songs, food and other cultural results. so in addition you are happy to participate in the event you also can while learning to art culture in this district nabire.
Swimming Pool
If you want to swim in the nabire district besides the beach, you can also take advantage of the swimming pool located in the 753 arvita nabire battalion complex which is also open to the public. Swimming pool is visited by many people of nabire and surrounding communities. ( Also Read : Things to Do in Wamena Papua)
Well, that's some tourist attractions in Nabire Papua you can visit if you have the opportunity to visit nabire district. Currently Papua is promoting its natural tourism potential because it's natural beauty of papua is not indisputable anymore.
There are many things to do in Nabire Indonesia. In Nabire there are also many inns that you can rent when you get there. For transportation problems you can rent a car vehicle as a vehicle that you will use when surround the beautiful district nabire. Do not forget to use a trusted travel agent and best yes so that your holiday trip more enjoyable. A few articles this time and thank you for reading it.