Have you ever heard about a city named Banjar? It's located in West Java province that is most notably known for the campsites in West Java. The city itself isn't as big as Bandung, but it's vital since it's actually a gateway of West Java's southern passage.
Most trucks and vehicles would pass the city for businesses, making it one of the crowdest cities around West Java. But, despite its condition that's full of people, Banjar still has an outstanding beauty of natural attractions that can be found easily. Without further ado, here's some examples of things to do in Banjar West Java :
1. Lake Leutik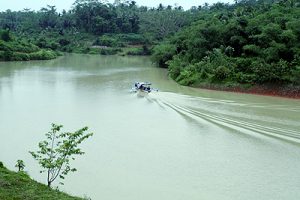 Location: Cibeureum village
Entrance Fee: Free
Even though you won't find beaches in West Java around Banjar, you can still meet the other beautiful attractions like Lake Leutik. It is a small lake that has existed for decades, but its existence was only developed later in 2006. The plan was to support the tourism aspects in this area like a souvenir kiosk, outbound facilities, canteens, rowing boats and water bikes.
Because the road conditions are quite good to be traversed, this area is also one of the favorite places for jogging or just sitting and relaxing while enjoying the view.
2. Lake Mandalare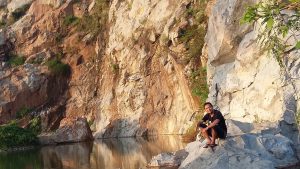 Location: Mandalare village, Pataruman
Entrance Fee: Free
The lake is actually quite popular on social media, but strangely no one has given a clear name for this cool place. The good news is that this pool already has a nickname, namely Mandalare.
Its name comes from a village in Pataruman Subdistrict, Banjar Patroman Regency, West Java where this lake is located. This village itself is actually pretty green, dominated by hills, plantations and rocky areas.
3. Citanduy River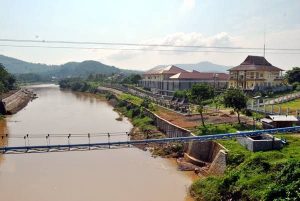 Location: West Java
Entrance Fee: Free
A very long river that goes across the wide province. With a length of 178.40 km (111 miles) this river divides the three regencies located in the same province, namely Ciamis, Tasikmalaya and Cilacap.
Even though it is not a commercial tourist destination, there are also many young people hanging out on the edge of this river because it has good views. At some points on the banks of this river, the locals also built beautiful gardens to make the scene better.
4. Cibonte Waterfall
Location: Cijambu village, Cibeureum
Entrance Fee: Free
The next attraction is another call location called Cibonte waterfall. Located inside the area of a far-from-crowds village, Cibonte has become one of the best waterfalls in West Java worth visiting.
But there's a thing to notice though. Because the popularity of this place is still minimu, better road access is the thing you can't hope for. All is still naturally built with tricky tracks that require some amounts of effort.
5. Panganten Waterfall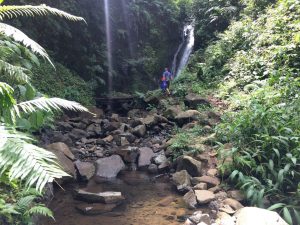 Location: Sukamukti village, Pataruman
Entrance Fee: Rp7.000,- + additional parking ticket
Another waterfall to notice is Panganten waterfall. This one has a more fortunate fate than Cibonte. Due to the strategic location, the waterfall is often visited by passing people. Pangandaran main highway is always so crowded, that's why this attraction is never empty of visitors.
As you may expect it, a calming and refreshing atmosphere is what to seek. Green environment is such a huge stress reliever from your busy daily lives. Come along and breathe in the cool air.
6. Pajamben Valley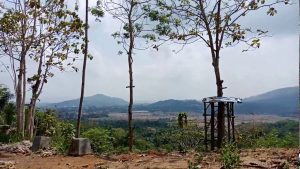 Location: Binangun village, Pataruman
Entrance Fee: Free
Valleys or mountains often related to hiking or mountain biking. But in this valley, you can't feel the extreme sports in West Java experience. Instead, you'll be treated with the amazing view of Banjar city.
Pajamben valley was originally developed for that purpose, to become a main attraction for sight viewing. Platforms were made for the tourist to either rest or take pictures of the surrounding panorama.
7. Cadas Gantung Natural Pool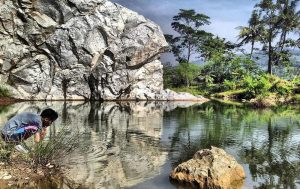 Location: Rejasari, Banjar
Entrance Fee: Free
According to its location, this mountain is included in part of Mount Sawal so it's not strange that you can find the views of vast rice fields, rock mining cliffs, rubber plantations, and of course a fairly large pool of ex-excavated rocks namely Cadas Gantung
Located only a few kilometers east of the center of Banjar City, Mount Mandalare has been a favorite tourist spot for young people since the 90s. The pool itself is clear enough to see, but not suitable for fishing.
8. Taman Cinta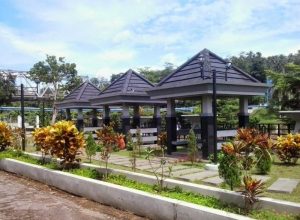 Location: Banjar City
Entrance Fee: Free (with additional parking ticket)
Basically a place called "Love Park". Intended to be built as a gathering place for people of Banjar. But it's wrongly used by teenagers as a dating location. This place is one of the favorite destinations of Banjar youth for hanging out with friends.
Beautiful scenery as well as complete facilities making this park always crowded with visitors. Unfortunately, this park is often ruined by several vandalism acts.
9. Lapang Bhakti City Park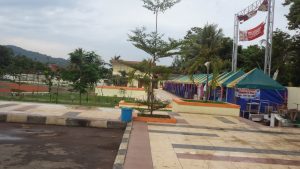 Location: Mayjen Didi Kartasasmita st., Banjar
Entrance Fee: Free (with additional parking ticket)
The next park is Lapang Bakti City Park. Due to its location right on the city center, the park itself is more developed and maintained than any other parks around Banjar. Making it as the most suitable place for family vacation during the weekend.
Neat place is not the only thing to look after since the place is also equipped with so many useful facilities. Jogging tracks, sports facilities, and kids playgrounds are only some from many.
10. Pulomajeti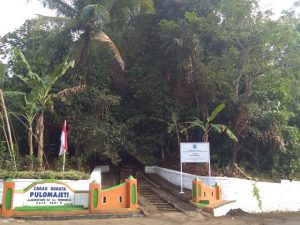 Location: Siluman Baru, Purwaharaja
Entrance Fee: Free (exclude transport expenses)
Last one on our list is a place that's not less beautiful as the things to do in Bandung called Pulomajeti. Pulomajeti itself is a small island in the middle of a swamp that is located in Siluman Baru village, Purwaharja which is a sacred site for those who believe.
Due to the belief of its sacredness, Pulomajeti often used as a place of worshipping. It is said that Pulomajeti was one of the royal relics sites of Sundanese Lands in the Ancient Period.