There are many things to do in West Java, a province in Indonesia that is well-known for its fascinating natural scenery that ranges from beautiful beaches to fascinating waterfalls.
Visiting the waterfalls in West Java can never go wrong especially if you are trying to seek for a refreshing holiday after all of your busy works. It is because the waterfalls are really fascinating that they could refresh your mind a second after you see them.
In West Java, waterfall is called as curug. That is why when you want to ask the local people near the waterfalls, calling the name of the waterfall as curug will be a help.
There are numerous fascinating waterfalls in West Java with their own uniqueness and ambience. As a consideration, here is a list of 7 fascinating wonderfalls in West Java that would definately refresh your mind.
1. Cikaso Waterfall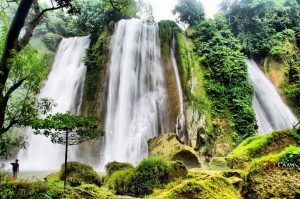 Cikaso waterfall is also known as Luhur waterfall. It is one of the best waterfalls in Java island that you need to visit when you are in Cibitung village, Sukabumi regency, West Java.
The waterfall is unique as it is formed by three units of small waterfalls that adjoining together forming Cikaso waterfall. Each of the waterfall is named from left to right as Curug Asepan, Curug Meong, and Curug Aki.
The height of Cikaso waterfall is approximately 80 meters with 100 meters width because of its three waterfalls streams. It is surrounded by shady trees, making a peaceful and calming ambience.
You can go fishing and swimming in this waterfall. However, you need to be careful as the waterfall is quite deep. To enter the waterfall, you only need to pay IDR 5,000 as the entrance fee.
When you have arrived on the entrance gate, you will need to walk 300 meters through rice fields to reach the waterfall or rent a boat by paying IDR 10,000.
2. Awang Waterfall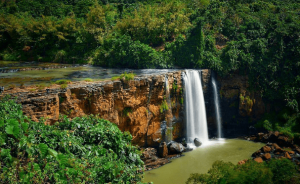 Awang waterfall is about 40 meters high and 60 meters wide. Its is located in Taman Jaya village, Sukabumi regency, West Java. The stream of the waterfall comes from Ciletuh river.
Awang waterfall is known as the mini version of Niagara falls from Sukabumi since the appearance is quite similar and the stream of the waterfall is very heavy.
Awang waterfall is fascinating as it has natural rock walls that is reddish and brownish in colors. On rainy season, the waterfall will have heavy stream and makes it looks so fascinating.
You will need to drive 1.2 kilometers from asphal road through rocky road but of course the beauty of the waterfall will pay everthing off.
You need to pay around IDR 3,000-10,000 to enter the waterfall and extra charge of IDR 3,000-5,000 for parking if you bring vehicles.
3. Prince Waterfall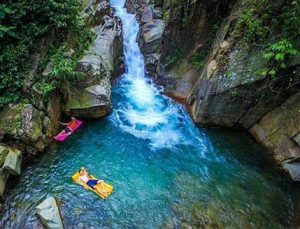 Located in Bogor, West Java, Prince waterfall that is locally known as Curug Pangeran is one of the places that must be on your things to do in Bogor list.
If you wish to have a quiet holiday in a peaceful yet fascinating waterfall, taking Prince waterfall into your list is a good pick. It is because Prince waterfall is relatively rare to be visited.
To reach the waterfall, you will need to walk about 500 meters. All your effort will be soon paid off as soon as you get there. The waterfall is wonderful and fascinating. The scenery will absolutely wash away all of your exhaustion.
You need to pay an entrance fee of about IDR 15,000 to enter Prince waterfall.
4. Cilember Waterfall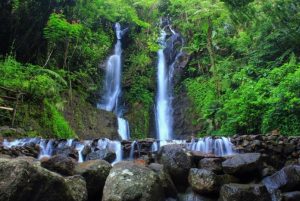 Cilember waterfall is a prominent waterfall that is located at Puncak street, Cilember, Bogor. The location is quite close from Jakarta making it very famous as one of refreshing natural waterfalls near Jakarta.
The waterfall is popular as a camping ground where you can take your family and kids. It is because the facilities provided are quite proper. There are restroom, parking area, camping ground, and even camping equipment rentals. So you don't really need to worry when you want to take your kids there.
If you plan to camp or just enjoying the fascinating view of the waterfall, you can bring your own snacks and food as a complement. Of course you need to always remember keeping the environment clean.
It opens 24/7 and you are charged IDR 20,000 per person. Taking Cilember waterfall into your holiday list will be a great choice for escaping the stressful work.
5. Malela Waterfall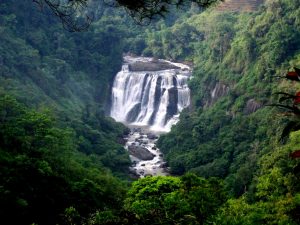 Malela waterfall is located in Cicadas village, West Bandung regency. The water of Melela waterfall comes from the river on the northern side of Kendeng mountain.
The waterfall is 70 meters high with 5 water streams that look so fascinating. It is surrounded by forest and if you are lucky, you can see hundreds of monkey macaca pasciscularis playing around the waterfall.
Malela waterfall is just like a hidden paradise that acquires effort in order to reach it. If you want to go there, you need to put an extra work as it is not very accessible.
You will need to walk for 30 minutes from the place where you park your car. for sure, all of your effort will be paid off by the beauty and the refreshing water of Malela waterfall.
It opens 24/7 and you will be charged IDR 5,500 on the entrance fee.
6. Cikondang Waterfall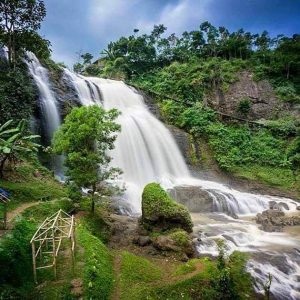 Cikondang waterfall is a 50 meters high and 30 meters wide waterfall that is located in Sukadana village, Cianjur regency, West Java.
The fascinating atmosphere does not only come from the waterfall itself but also from the green surrounding of the waterfall. Around the area of the waterfall, lies beautiful rice fields and tea garden which make the air becomes so refreshing.
Just like the other hidden paradise, you will need to pull extra energy to arrive at the waterfall. Cikondang waterfall opens 24/7 with IDR 5,000 as the entrance fee and parking fee of about IDR 3,000 for motorcycles and IDR 5,000 for cars.
7. Leuwi Hejo Waterfall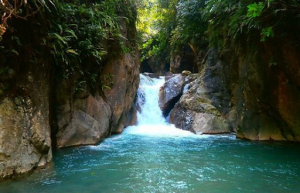 Besides Prince waterfall, visiting Leuwi Hejo waterfall is also one of the top things to do in Bogor. Located in Wangun Cileungsi village, Bogor, West Java, the name of Leuwi Hejo waterfall is quite popular.
The name Leuwi Hejo came from Sundanese language whereas Leuwi means pool and Hejo means green. The name does really reflect the appearance of the waterfall itself as it is very fascinating with greenish water.
It opens everyday from 8 AM-5 PM. You will be charged IDR 5,000 for the entrance fee and another parking fee of IDR 5,000 if you bring motorcycle or IDR 10,000 if you bring a car.
Those are 7 fascinating waterfalls in West Java that you can take into consideration for your next holiday. So, which one do you want to visit first?