There are many things to do in Malang, a regency in East Java province, that range from exploring hidden beach paradise in Malang and waterfalls in Malang to visiting its modern tourist destinations.
Batu city in Malang regency is a good choice to pick as your next destination since there are many things to do in Batu city with both natural and modern attractions that could fill your holiday agenda.
One of the most prominent attractions in Batu city is Angkut museum, a transportation museum that exhibits more than 300 collections of vehicles from all around the world that were used from time to time.
Located in the area of 3.8 hectares on the hillside of Mount Panderman which air is very refreshing, Angkut museum is very popular that it has become one of the best museums in East Java that you definately need to visit.
It was inaugurated on March 9, 2014 by East Java Group as its developer. To this day, Angkut museum is the first museum in Southeast Asia that carries all modes of transportation as its sole concept.
The museum was built to provide educations about the vehicles used around the world and to appreciate all inventors of vehicles who have helped the civilization.
Any modes of transportations are available in this museum. From duplicate of carts pulled by cows, old-fashioned motorbikes and cars, helicopters, to electric cars, all are here.
Angkut museum opens everyday from 12 PM-8 PM. The ticket price is IDR 70,000 on weekdays and IDR 100,000 on weekends. You will be charged a camera ticket if you bring Polaroid, DSLR, Digital Camera, Handycam and such, except for your smartphones.
Not only showcasing its collections indoor and outdoor, Angkut museum also decorated its building into some zones of where the vehicles came from. For instance, when you come to the Gangster Town taken from Broadway, America, you will find retro design and retro cars dominated by Ford from 1970s. These decorations are very unique and picturesque.
Besides the Gangster Town, there are other zones and attractions that you can surely enjoy when being there. Here is the ultimate guide of what you can do in Angkut museum as the first transportation museum in Southeast Asia.
1. Looking at the Classic Transportation in the Main Hall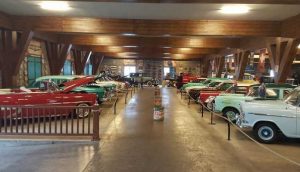 The main hall is the first area that you will enter as soon as you enter Angkut museum. This is the best place for classic cars and motorbikes lovers as there are any kinds of classic vehicles that came from all over the world.
There, you can notice that the classic vehicles are focusing on their artistic point making them look very ellegant and expensive.
2. Broaden Your Knowledge about Transportations in the Education Zone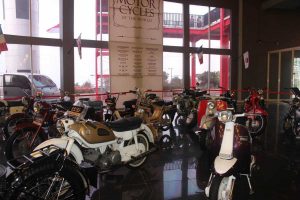 The education zone is still situated in the main hall. It is called education zone as it tells about the history of transportations development from time to time along with their inventors.
You can see the duplicate of carts pulled by cows, bicicles, motorbikes, trains, and the latest mode of transportation; electric cars. Since it tells about the history, this is the reason why it is perfect for you to bring your whole family and kids so that every one can learn about it.
3. Taking a Look at the Presidential Helicopter and Car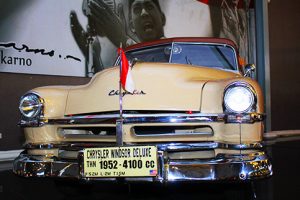 On the second floor of the main hall, you will find the presidential helicopter that was owned by the first president of Indonesia, Ir. Soekarno. The name of the helicopter is Bell 47J Siwalet which was a result of the negotiation between President Soekarno and the US Government.
You can also find the presidential car used by Ir. Soekarno that is still in a very good shape and condition. You can learn this antique car specifications and take your best pose beside the car.
4. Looking at the Gangster's Vechicles in Gangster Town Zone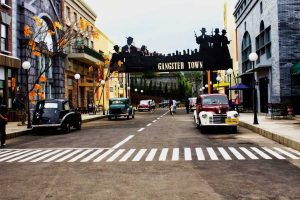 In the Gangster zone, you can see an area and buildings decorated with the old America country or retro style. This is a duplicate of New york and California cities that were known as gangster and broadway area back at the time. You can see many retro America antique vehicles that are still working properly.
5. Witnessing the England's Vehicles History in Buckingham Palace Zone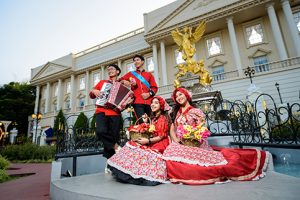 The zone is named the Buckingham Palace as it is decorated similar to the Buckingham Palace in England. In this zone, you can see and learn many kinds of vehicles in England from time to time as well as seeing the development.
6. Shopping in Nusantara Floating Market Zone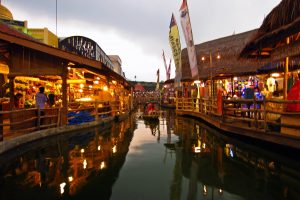 Nusantara Floating Market is the last zone that you can enjoy in Angkut museum. The zone is design as a floating market where the shops are floating on water but you need to walk to the shops if you want to buy souvenirs. You can rent a boat for IDR 10,000 if you just want to go around the market.
There are many selections of traditional snacks that you can buy there. Every corner of the market is so pictursque that you will enjoy every moment that you have there.
Other than the mentioned attractions, there are also other attractions like China Town zone, Runway 27, F1 Simulator, Flight Simulator, Eiffel Tower zone, VR, and many more.
There are also special shows such as fashion show, cosplay, and dance that you can enjoy everyday at 12 PM-12.30 PM and at 6 PM-6.30 PM.
You can see that Angkut museum is not only offering a complete education but also entertainment in one place. That is why it is the best place to go with your family or loved ones if you want to be educated and entertained at the same time because learning can't be better than this.
Besides Angkut museum, East Java Group also has Batu Secret Zoo, a zoo which is a part of Jatim Park II that is one of the best zoos in Indonesia that you will surely love.
In case you want to try other attractions operated by East Java Group, you can by their magic "Sakti" tickets that are valid for several days.
There are Sakti Package that is valid for 2 days for IDR 375,000 and Super Sakti Package that is valid for 3 days for IDR 450,000.
By having the ticket, you have access to other East Java Group attractions that include Jatimpark I, Batu Secret Zoo, Eco Green Park, Angkut museum, and Batu Night Spectacular which located in the same areal of Batu city.