We can't deny that now, Malang Raya region where Batu City and Malang Regency are the part of it has excellent tourist attraction in this Country. The tourist attraction already have a national standard or maybe even an international standard. As there are many Things to Do in Malang, Indonesia
For the district of Malang City itself which is the second largest city in the southern part of Java Island after the city of Bandung is special because it is in the cool highlands. there are at least 12 nicknames of this town besides of course the nickname of Paris van Java and one of them is City Tour.
talking about travel in Malang, try to leave aside the tempting variety of tourist attractions and quite well known. Given the cool region, this time let's look at the waterfall tourism in this region. Here are 16 sites in Malang waterfalls are stunning :
1. Coban Putri Waterfall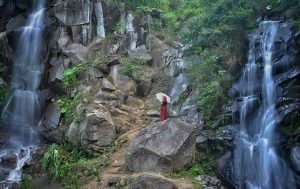 Waterfalls in Malang, precisely in the area of Batu is also rich of waterfall tour. One of the waterfall is Coban Rondo Waterfall. Located in the Tlekung Village, Junrejo District, Batu. The location in about 5km to the southern of Batu's Park, not far from scout camp Coban Rais. Or need 30 – 40 minutes from the center of Malang City.
This waterfall has 10 – 35 meters high and wide about 3 meters. Dense rocks that became the foundation of the fall of water from this spot looks very unique.
Although not as famous as the other waterfall, until now, this spot mostly visited by local tourists around Batu City, this spot haeautiful natural scenery, with the river water as clear as the mirror and safe, because the flow isn't swift and only has a depth of about adult's thigh.
This place is named Coban Putri (Princess Waterfall) because of history that tells that Ken Dedes Princess, the consort of Ken Arok, king of Singasari Kingdom. It's said that the princess not only bathe in the bath of Songgoriti, but also in this place. Therefore, this place is called Coban Putri. However, there as also an opinion that the name of Coban Putri came because the flow of the water is similar to the hair part of a princess. So, this is the beautiful waterfalls in Malang you will absolutely love.
2. Sumber Pitu Tumpang  and Ringin Gantung Waterfalls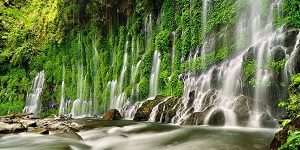 There are two waterfalls named Sumber Pitu in Malang, one of this is located in Tumpang District. Because of that, this waterfall called Sumber Pitu Tumpang. The waterfall's location also known as Umbulan Pitu that located in Duwet Krajan Village, Tumpang District, Malang.
The view of this waterfall is very beautiful with the flow of water running gushing promising beautiful panorama, and also the lush grass covering the area around the waterfall like the land of dreams. It is said that there are seven springs located adjacent to the cliff so that it's called Sumber Pitu Waterfall.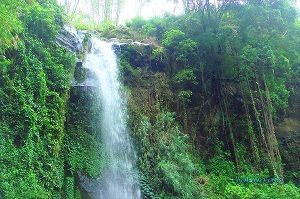 If you visit this location, you can also enjoy the view of Ringin Gantung waterfall which is not far from Umbulan Pitu location, flowing from the height of 40 meters. This waterfall is named like that because there is a "Pohon Beringin" that grows in the west side of the waterfall.
Very Exotic! On the northern cliff of Ringin Gantung, Umbulan Pitu poured clear water as well as swift on the sidelines of green plants lush cover cliff wall.
Uniquely, the water debit is not affected by season and weather, so you can enjoy the beauty waterfall even during the dry season. People around the waterfall believe that water of Sumber Pitu is linked to Mount Bromo. There are even those who make this location as a place to perform rituals, and assume that water is radiated holy water. 
3. Sumber Pitu Pujon Waterfall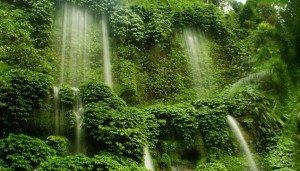 It is approximately 2 hours drive from Sumber Pitu Tumpang waterfall, there is Sumber Pitu Pujon waterfall located in Tulung Rejo Village, Pujon Kidul Village, Pujon Subdistrict, Malang Regency.
To enter this location, you need to spend ten thousands rupiahs each person. Same with Sumber Pitu Tumpang, this waterfall is also very unique with several points flowing from one cliff. When you see this waterfall from far distance, the shape of the flow is similar to exotic giant curtains.
Not different with Tumpang waterfall, the cliff that overshadowes the fall of water is also filled with dense green plants. If you ever visit Cloud Forest, an artificial natural vehicle in Singapore, then the view on this waterfall looks similar to that, only that we have here is a natural not artificial. Well, you may also visit Waterfalls in Indonesia #The Highest and Most Untouchable Spots  
4. Coban Nirwana Waterfall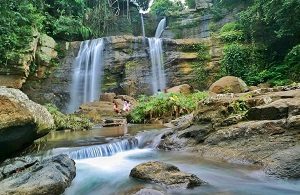 This stacked waterfall has become one of the main attraction between the backpackers and social media users thanks to the beautiful spots to snap on around. If you want to go here, then please pin up the exact location. It's in Gedangan Village, Gedangan District, Malang Regency. Which it's also in between of Gedangan District and Sumber Manjing Wetan District.
If you started your trip from the downtown, you need to drive for 90 minutes or around 50 kilometers away from downtown. You don't have to pay to get into this site, but you can give some donations which it will be used to manage the site nice and clean. Since it's a nature site, better prepare your stuffs since there won't be any additional facilities. Pack extra meals and extra clothes, it will be very helpful.
Actually this waterfall doesn't have any official name. Back then, this site called as Coban Mbok Karimah as it's the name of the respective elder. But then people renamed it as Coban Nirwana. Since it's located in secluded area, it's best for you to keep asking people around when you're already nearby. Well, you may also visit Waterfalls in Surabaya
5. Coban Talun Waterfall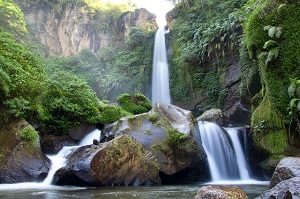 Another breath-taking waterfall in Malang is Coban Talun. Located in Tulungrejo Village, Bumiaji District, Batu. From downtown, you need to drive for 1.5 hours to get into this site. There is another option of you don't have your own vehicle, by using the public transportation. You may ask people around for the right public transportation since you need to change for around three times.
Beside it's 75-meters tall waterfall, the big rocks around the waterfall just make it even more amazing. If you get here in clear weather, you'll be able to see the beautiful rainbow in this waterfall and you sure don't want to miss the best shot here. But when it's rainy season, it's best to not visiting this place since it will be dangerous for you, because of the probability of flood.
To get in this place, you need to pay for Rp 5.000 each person. From the ticket booth, you need to walk again for around 50 meters to get into the waterfall. Also you need to add Rp 2000 for parking your motorcycle and Rp 4000 for parking your car. Well, you may also visit Famous Waterfalls in Bali Indonesia
Well, there are more beautiful waterfalls in Malang you will absolutely love!
More Beautiful Waterfalls around Malang
If you're not satisfied with those five sites, there are another 26 amazing waterfalls that you can visit. There are waterfalls in Malang:
Coban Gintung
Coban Tumpak Sewu
Coban Ciblungan
Coban Jahe
Coban Trisula
Air Terjun Banyu Anjlok
Coban Glotak
Air Terjun Telaga Tiga Warna
Air Terjun Goa Naga Gintung
Coban Baung 
Coban Rais
Coban Tundo
Coban Pelangi
Coban Rondo
Coban Kethak
Coban Gintung
Air Terjun Sumber Pitu
Air Terjun Sumber Pitu Pujon
Air Terjun Ringin Gantung
Coban Cinde
Coban Manten
Coban Tengah
Coban Siuk
Coban Parang Tejo
Coban Kodok
Coban Grojogan Sewu
The most important thing is make sure your physical condition and equipment are all set before exploring all of the waterfalls. Since most of the site are located in secluded area, you need to make sure your feet are fit enough to walk for quite a while. Overall, be ready to get amazed by the fascinating view of the waterfalls. Also visit Places To Visit in Bali Indonesia
Thus, let's travel Indonesia and do not go back home cause it's freaking beautiful!