Exactly, Every nature lover wants to visit to the waterfalls. East Java has many waterfalls and interesting attractions. So that, East Java is often visited by tourists. Countless how many waterfalls in there. But if you want to visit to waterfalls, you should notice climate and condition around waterfalls. Because there are many natural disasters that happened in Indonesia, start from landslide, flood and many more. These are some waterfall attractions In East Java for your holiday.
Madakaripura Waterfall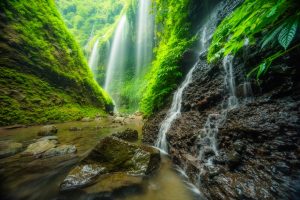 The first waterfall in East Java is Madakaripura waterfall. You have to visit there. This waterfall height is 170 meters and it is the highest waterfall in East Java. It has an unique shape, too.
This unique shape make many people want to go there. Its location is in the area of Mount Bromo Tengger Semeru. People in there are believed that this waterfall was a place for meditation of Duke Gajah Mada.
Because of that, if you visited this waterfall, you can remember services from Duke Gajah Mada. Also visit more Surabaya Attractions and feel the beauty inside and out.
The Waterfall of Mount Bondowoso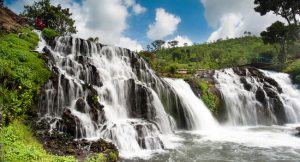 Another waterfall in East Java is the waterfall of mount Bondowoso. There are three waterfalls in there. They are Kali Pai waterfall, Mini Niagara waterfall and Blawan waterfall.
Its location is in Sempol, Bondowoso. Because of it has beautiful view, many tourist want to come there and visit these waterfalls.
So, this place is always crowded when the holiday has come. Meanwhile, there are more places you can try here such as Romantic Restaurants In Surabaya for Perfect Dating.
Nglirip Waterfall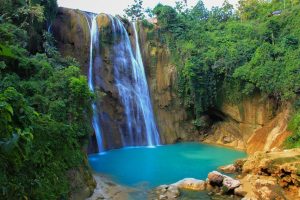 Nglirip waterfall is another waterfall in East Java. When you were here, you will be surrounded by some myths around Tuban, East Java.
One of popular myth in this waterfall is you will get mate easily. That is right or not, you will not be disappointed when you visited there.
Because this waterfall has pure water and there is a cave that added its exotic.
Thus, you may also want to visit Famous Waterfalls in Bali Indonesia #1 Must Visit
Grojogan Sewu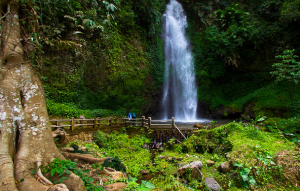 You can visit Grojogan sewu in East Java. It has name Grojogan sewu because there are many waterfalls in there. This waterfall location is in Punung, Pacitan, East Java.
If you notice this waterfall, it is similar to Karanganyar waterfall in Solo. Its beautiful view is as same as waterfall in Karanganyar Solo. Its height is 6 meters.
Based on people in there, Grojogan Sewu is never dry although today is in dry season. Because of beautify from this waterfall area, visitors will get quiet,  comfort and happiness. So, this waterfall is very fit for you who wants to go far away from the daily routine that consumed your time and mind. You may also read things to do in Pacitan. 
Tancak Waterfall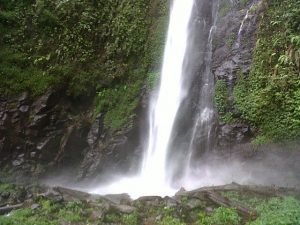 When you were in East Java, you can visit Tancak waterfall, too. This waterfall is suitable for your interesting spot.
For you who has hobby to climb mountain or love nature, you can do you activity to this waterfall. Its location is around 15 km from Jember. Exactly, it is in Suci, Panti, Jember.
Before you get there, you will be brought for tracking or doing trip trough plantation. You should pass this track around 2 kilometers. Although you have to walk for long distances, your trip will be paid after seeing the view of Tancak waterfall that was a delight. You may also read things to do in Jember.
Tumpak Sewu Waterfall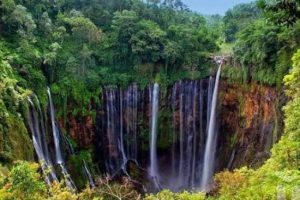 You will love this beautiful waterfalls in Surabaya Indonesia. Tumpak Sewu Waterfall is a waterfall which should not to be missed, when you are in East Java.
Its name is unfamiliar, but this waterfall can be your new attraction in Eat Java. It has just opened. Its location is in Sidomulyo, Pronojiwo Lumajang. Many people called it with Virgin Waterffall because it has been touched by many people.
This waterfall has wide span and it is so high.
See also: Things to do in Blitar
The Waterfall of Tetes Cave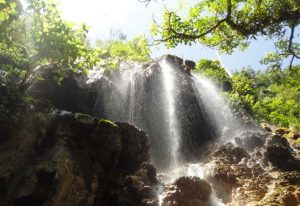 Another waterfall in East Java is the waterfall of Tetes Cave. It is in Dukuh Krajan Drops, Sidomulyo, Pronojiwo, Lumajang, East Java. It is as same as another waterfall, there is a myth from this waterfall.
The myth is whoever take a bath under this waterfall will stay young and meet mate easily or he will find his mate after taking bath under this waterfall.
Related articles:
Putuk Truno Waterfall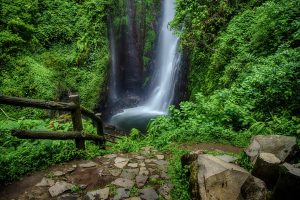 Another interesting waterfall is Putuk Truno Waterfall. Its height is around 45 meters from Prigen, Pasuruan, East Java. In this waterfall, you can see its pure water and exotic view around this waterfall. People in there said, this waterfall is not never dry, although dry season has come.
In this location, you will find another waterfall. It is Kake Bodo Waterfall. The government has built facilities in Putul Truno waterfall. So no wonder, if there are many tourists who came here in weekend, They come with their family, girlfriend or friends to spend their holiday. You will be relaxed by the beautiful waterfalls in Surabaya Indonesia.
Related articles :
Sumber Nyonya Waterfall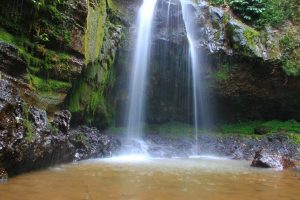 There are many beautiful waterfalls in Surabaya Indonesia. Another interesting waterfall in East Java is Sumber Nyonya waterfall. Of course, you don't feel familiar and weird with this waterfall name. Its location is in Dukuh, Mount Sari, Pasuruan East Java.
This waterfall is influenced how many women in that village can't get descendant. Based on the research, many people consumed water from this waterfall. Whereas the water of this waterfall contain silver. Water that contain lead, if it was consumed everyday, it was not good for healthiness. It can cause infertility for women.
This waterfall's height is around 6 meters. This waterfall can be interesting attraction for tourists who came in Pasuruan East Java. You have to travel many miles to get there. But, don't worry, you will see the beauty of nature in Indonesia, so this trip will be lighter. Moreover, you go there with your friends. Because of that,, you should do this trip with your best friends. You may also read things to do in Pasuruan.
The Nature Attractions in East Java
Besides waterfall attractions above, There are some interesting nature attractions in East Java. These are some nature attractions in East Java :
Mount Bromo Malang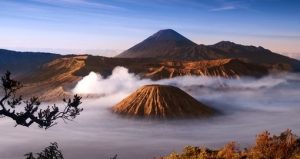 An interesting nature attraction that you have to visit is Mount Bromo in Malang. Mount Bromo is a famous mountain in Indonesia. Because of that, when holiday come, many tourists come to this mountain.
When you visit to East Java, your holiday doesn't complete without visiting to this mountain. You can see sunrise on the top of Bromo. You have to stay in the home stay around Bromo or you can camp in Mount Bromo. In there, you can ride a horse, tracking with car, do sand boarding with skateboard. That skateboard is laid on the sand, then you hold a rope where it was tied to the car. So, don't forget to visit this mountain when you were in East Java. You may also read best places to visit Indonesia and things to do in Mount Bromo. 
Ijen Bondowoso Crater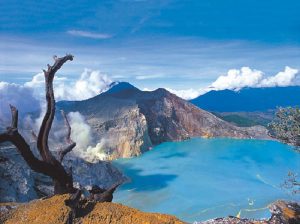 Another interesting nature attraction in East Java is Ijen Bondowoso Crater. This crater is in the Reserve of Ijen Park, East Java. For exactly, it is in Licin, Banyuwangi, Bondowoso. It is the largest crater in the world. Its height is 500 meters and its wide is 5,466 acres.
The beautify of Ijen Crater is famous until International. If you want to visit this crater, you should come in the morning or evening, because if you came in the night, you can get accident. There is a beautiful view in Ijen Crater. You can see sunrise and sunset in that crater.
Sempu Malang Island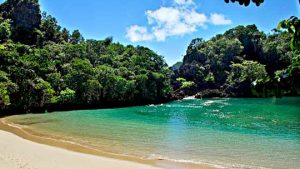 For you who want to go to unique attractions, you can come to Sempu Malang Island. Sempu island is a small island near Sendang Biru Island. This island is in Tambakrejo, Malang. This island is used as reserve with forests and beach. The lagoon of Sempu Island is Segara Anakan Lagoon that add appeal of that island. You can swim and camp with your friends. Whatsoever your activity in this island, don't damage its ecosystem. You may also read things to do in Malang.
Thus some waterfalls in East Java. Nature attraction will realize you about God's creation. As human, we have to take care its beautify and preservation. So, Don't damage them, ok.