Surabaya is one of the big cities in East Java and it is also a capital of the province. That's why Surabaya becomes a place that is often visited by the people to enjoy their vacation. Besides the tour places in Surabaya, this city also has a lot of interesting restaurant to be visited, either by couple or friends. If you are looking for the a good restaurant to spend your time with your partner, here are the recommendation of romantic restaurants in Surabaya for you:
1. The Socialite Bistro & Lounge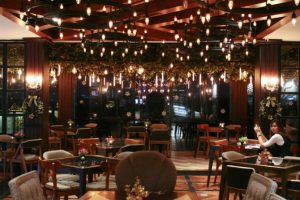 One of the romantic restaurants in Surabaya that you may visit when you want to have a dinner with your partner is The socialite bistro & lounge. It is located in St. Indarigi No. 36 Surabaya. This restaurant is placed in the fifth floor of the a building.
Even the restaurant is not very large but the visitor will be very comfortable with the nuance there. It is because the decoration of the restaurant is very unique, with lots of light on the ceiling.
Not only that, every table has provide candle so it is really suitable for taking your partner to have a candle light dinner.
Read: Honeymoon destinations Indonesia
2. Gallery Restaurant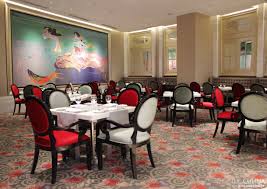 Gallery restaurant is also a good place to be visited by a partner. It is located in Ciputra world Surabaya. This restaurant has an interesting and comfortable interior. As for the concept in this restaurant is "all you can eat".
The food menu is also various, such as local cuisine menu, western cuisine menu, Japanese menu and also Chinese food menu.
The table and the chair are also arranged very well. Even the tables are given enough distances between the other so that will keep your private conversation more secure.
Read: Things to do in Palembang
3. Sky 36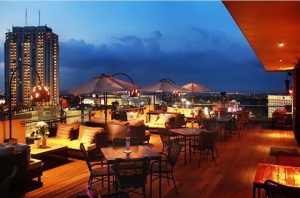 The concept of this romantic restaurant is kind of interesting, it is a rooftop bar concept. This rooftop dining in Surabaya can create a comfortable atmosphere for all the visitors.
The visitors are able to choose whether they want to have a dinner in indoor or outdoor. If you and your partner love to see the view of city light in Surabaya clearly, you may choose outdoor. But if you do not really prefer the outdoor, you may choose indoor.
This restaurant is often chosen by the ones who want to bring their partner for having a romantic dinner. So, if you are interested, just come and enjoy the food and also the moment in the 36 sky restaurant.
4. Angus House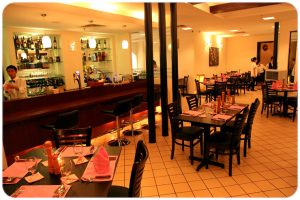 The other romantic restaurant in Surabaya is Angus house. In this restaurant, you will feel like back to 90s era, classic but still romantic. As for the best menu provided in this restaurant is a delicious steak. Beside that, there are also the other menu as you prefer.
This restaurant is located in the sixth floor of  WTC ,St. Pemuda 27-31 Surabaya and also the Eighth floor of Bank BRI building, St. HR Muhammad no. 41 Surabaya. What a romantic restaurants in Surabaya Indonesia!
Read: Things to do in Malang
5. Domicile Kitchen & Lounge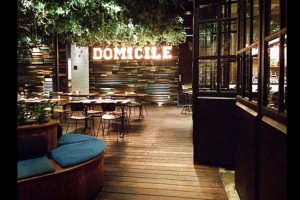 Domicile Kitchen & Lounge uses a romantic concept by its decoration and interior. The decoration includes the lights on the ceiling which is suitable with floor, table, and chair modern minimalist style. You also are able to choose which you prefer, outdoor or indoor.
You and your partner may come to this restaurant for having a good and romantic dinner with the secure privacy.
Read:
6. Platinum Grill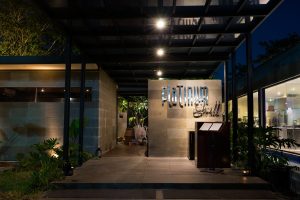 One of an interesting restaurant in Surabaya is Platinum grill. The most favorite menu in this restaurant is steak. Most of the visitors that come to this restaurant are couple due to romantic and comfortable nuance are provided there. One interesting thing in this restaurant is a large golf course.
The visitors may come at night because the night atmosphere tends to present more romantic moment for the couple.
Read:
7. Ambrosia Dine & Lounge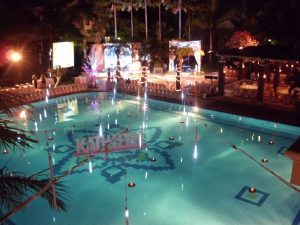 Steak is the most favorite menu that you can get in Ambrosia Dine & Lounge. This restaurant is not really far from Platinum Grill.
The nuance which is offered in this restaurant is a romantic and comfortable dinner. This restaurant also has a swimming pool.
So, it will be better if you and your partner have a romantic dinner which is close to the swimming pool.
The food price in this restaurant is a bit expensive. But, it is not compared to what you will get if you come to this restaurant.
You may also want to these beautiful places such as What to Eat in Semarang
8. Citilites Skyclub & Bistro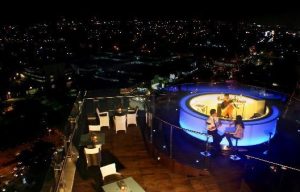 There are many romantic restaurants in Surabaya. The next romantic restaurant in Surabaya is Citilites Skyclub & Bistro. This restaurant provides a rooftop concept so it views the scenery of Surabaya city from the height.
The atmosphere there is absolutely comfortable for all the visitor and it is really suitable for a couple who want to have romantic dinner with city light from Surabaya.
The favorite food menu in this restaurant is western food. Besides that, the drink menu is also complete and vary.
9. de Seomatra
The r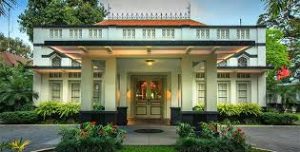 omantic concept which is used in de Soematra is often to be discussed. This restaurant is suitable for the one who wants to eat with his/her partner using romantic concept.
It is placed in an ancient building of Surabaya, de Soematra becomes one of the restaurant with a warm atmosphere. Not only that, this restaurant is also facilitated with furniture so the visitors will feel like having meal in home.
This restaurant is suitable for a honey-moon couple. The vintage concept is combined with the delicious menu will shake your appetite.
Read: Best Places to Shop in Surabaya
10. Palacio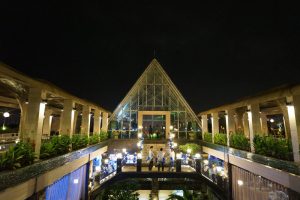 The next restaurant which has romantic nuance in Surabaya is Palacio. Palacio is often used as a location for arranging a wedding ceremony because it has wedding chapel which is really interesting.
The restaurant in Palacio is also very romantic as wedding chapel. In there, there is a place to eat which facing to chapel so the nuance will be more glorious and absolutely romantic.
For the couple that want to arrange a wedding in this restaurant is also able to eat in Palacio. Also read about 10 Romantic Honeymoon Places in Bandung
More Sweet and Romantic Dine in Surabaya
Here are the additional of romantic restaurants in Surabaya that are recommended for you:
1914 Surabaya
Monopole Coffee Lab
Libreria Eatery
De'Oak Resto and Bakery
Garden Cafe XXI Ciputra World
Restaurant The Maj Hotel Majapahit
Jamoo Sangrila Hotel
LOOP Surabaya
Surabaya North Quay
Historica Coffee & Pastry
Carnivor Steak & Grill
Homu Cafe
Kedai Tua Baru
Kedai Kopi Q-Ta
Orange Cafe
The Consulate
Kahyangan Resto
Vis a Vis French Restaurant
Le Cafe Gourmand
Restoran Citrus Lee
Read:
That's all the romantic restaurant that you can visit if you want to have a special moment with your partner. I hope it will be useful for you and happy vacation.