The honeymoon period is truly a remarkable moment, and will not be forgotten by every couple. The thought of spending time alone with your partner and maybe enjoy Honeymoon Destinations in Indonesia.
Without thinking about anything is relaxing in itself. In addition, the honeymoon period can also be the best time for you and you partner to spend some quality time together, before returning to the routine of work.
Bandung is one of the honeymoon destination for couples who come from various region, including those from outside of Bandung. As one of the tourist destinations in West Java, Bandung is very famous. Below is some of romantic destinations to consider and more Bandung Attractions.
1. Kampung Daun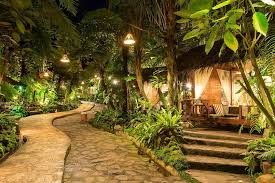 Kampung Daun is a very romantic place, especially for newly-wed couple. This place is located in Cihideung – Lembang, in the famous tourist destination area in Bandung. The atmosphere is cool, and the place is decorated with romantic thermal lights.
You and your partner can enjoy dinner while making beautiful memories. The Saung – a small house- look-a-like building – in Kampung Daun has a very interesting design, the size is adjusted to number of visitors. Yellow lights and torches located along the road, will make the feel even more romantic.
Some of the chef-recommended menu from Kampung Daun is grilled carp, liwet rice (a succulent rice dish cooked in coconut milk, chicken broth and spices), roasted rice, rice with oncom (a fermented food made from soybeans), and many other. You can also order snacks such as batagor, fried bananas, and many other. You can also enjoy traditional Indonesian drinks like Bajigur or Bandrek in addition to reguler drinks like coffee or juice. Just as beautiful as 12 Pulchritudinous Things to Do in Bali for Honeymooners
2. Villa Taman Bunga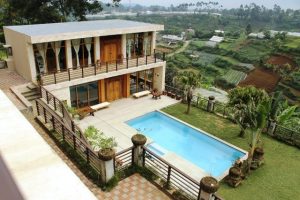 Villa Taman Bunga is one of the most romantic place to stay in Bandung. You can choose different types of villa to spend time with your spouse. Villa Taman Bunga is located in Jl. Kolonel Masturi, KM 9, Parongrong Lembang. You can reach this place by following the Cimahi lane, Lembang station, and the Pasteur highway.
There are several types of villas, differentiated by the number of rooms to share. From these villas you can enjoy the Bandung view, hills, and great atmosphere. If you feel bored staying in the villa, you can just simply take a walk to nearby destinations such as the Boscha observatory, Kampung Daun restaurant, The Peak, Iman Seniman, and Sapu Lidi Resort. The facilities and services from Villa Taman Bunga are very satisfying, guaranteed. Indeed, this is one of most honeymoon places in Bandung Indonesia.
3. Sapu Lidi Resort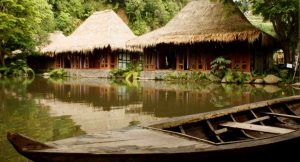 Sapu Lidi Resort is one of the alternatives of place to stay for honeymoon in Bandung, especially in Lembang area. This place provides a warm, romantic atmosphere, and very pleasant feel of nature.
You could spend time and relax by looking at the soothing rice fields and mountains. This place is located at Jl. Sersan Bajuti, Cihideung, Lembang, and is easy to reach.
Each room has a very distinctive natural feel, like a cool wooden floor, a palate roof, and a very interesting balcony. You can book any bungalow-shaped lodging, based on type. All rooms have private bathrooms, TV, gazebos, Wi-Fi, and swimming pool. If you feel bored, you can canoe around the lake. You can order Bandung's traditional dishes when you are hungry. 
4. Grafika Cikole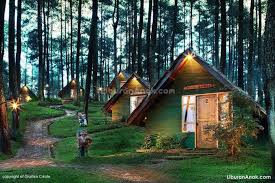 Hotel Grafika Cikole is a romantic and fun place for couples. All houses rented here are shaped like Hobit's house. All lodgings have a unique natural feel, like wooden construction, and view to grass and the pine forest. The loggings are equipped with facilities like TV, bathroom, shower, and breakfast.
This place is located in Jl. Raya Tangkuban Parahu KM 8 Lembang, on the main route to the Tangkuban Parahu Mount. The interesting thing to do in this place is walk in the forest and enjoy the refreshing air. If you feel bored, you can rent a tent, enjoy outdoor activities, and you can also have a romantic dinner at a restaurant near the area. Well, there are many more Things to Do in Bandung with Family
5. Imah Seniman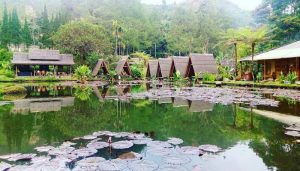 If you feel like enjoying nature's atmosphere, or trying the sensation of staying close to nature, you should go to Kampung Wisata Imah Artist. A tourist site located in the area of Jl. Kolonel Masturi No. 8, Lembang, Bandung.
This place offers a variety of interesting activities, like staying overnight by the edge of a beautiful lake, having a romantic dinner around the forest, fishing in the river, outdoor activities, and shopping at the village-style gallery.
You can take the lodging located by the edge of the lake, and is shaped in Javanese traditional house. Each furniture has traditional ornament on it. To spend time you could fish in the lake. All these facilities are provided by very friendly staffs. Windows and doors are facing the lake, and when night comes it gets more romantic. You could enjoy traditional Bandung dishes in the restaurant.
By day you could do some outdoor activities at the mountain area. All games and facilities can be rented at a very affordable prices.  Indeed, this is one of most honeymoon places in Bandung Indonesia. 
6. Jadul Village / Adapura Resort & Spa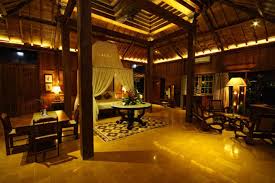 Jadul Village is a very romantic place to stay. It is located on Jl. Terusan Sersan Bajuri No. 45, Lembang, Bandung. This place has Javanese ornaments, and is very relaxing. There are different types of lodging you could choose, such as Gebyok, Jogol, and Limasan.
Each types has different facilities. Hearing the lodging names could make you feel like living in Central Java, when you are actually in Bandung.
All part of this hotel are open, and are overlooking the vast nature and the refreshing air. The wooden shaded Koi fish pond and lotus pond would make you feel like living in a great garden. During the evenings, you and your partner could enjoy special dinner and romantic atmosphere in the restaurant. All dishes are very affordable. Then, also visit to enjoy Fascinating Things To Do in Lembang Bandung
7. Villa Air Natural Resort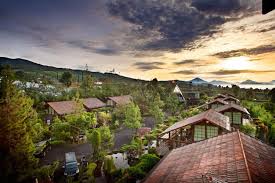 Villa Air Natural Resort is a romantic and beautiful hotel located in Lembang, Bandung. This beautiful place is not far from Tangkuban Parahu Mount and Bandung's city center. A calm and warm atmosphere can make all guest feel relaxed. Each lodging has a unique traditional ornamentation. In addition, this place is surrounded by a water park, which makes it more relaxing.
Facilities are offered according to the type of lodging. During your stay here you could go strawberry-picking, strolling around the tea garden, riding horse, walking around the Lembang area, and walking around the Taman Bunga. Surely this is a great place for honeymoon. This place is located at Villa Istana Bunga, Jl. Kolonel Masturi KM 9, Lembang, Bandung.
8. Valley Resort Hotel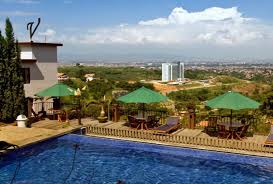 Another recommended choice for honeymoon is the Valley Resort Hotel. This very romantic hotel is located on Jl. Lembah Pakar Timur No. 28 Dago, Bandung. This resort is located right above the hills of Bandung. The refreshing atmosphere is what makes couples attracted to this place. The feel is very special, with the view of Bandung's dim lights. Each room is equipped with very special facilities.
To spend time, you could play golf in the mini golf course, play billiards and various other games. You could also ride horse, or ATV, or just stroll around the place. All of these facilities can be used by all guests for free. For dinner, you could have Bandung's dishes from the restaurant. 
9. Sandalwood Boutique Hotel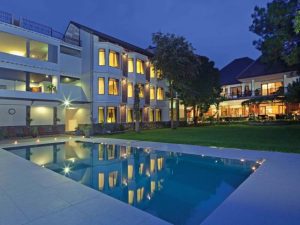 Sandalwood Boutique Hotel is a 4 stars hotel that you could consider as a honeymoon place. Located in Jl. Sesko AU No. 1 Lembang, this is a very special hotel. All types of room are designed with a larger size, traditional Javanese furniture, and have fully equipped amenities. Apart from that, the view of Bandung can be seen from the hotel's balcony.
If you feel bored staying at the hotel, you could walk around De'Ranch and Floating Market without having to pay additional costs. You could walk around with your partner, making a romantic memory. The most interesting thing about this place is the absence of AC In every rooms, but you should not worry because the air is already cool and refreshing. The ancient view, swimming pool, and the garden can make it even more romantic.
There you go, you can now choose you honeymoon places in Bandung with you partner. Create beautiful memories in every second of your new life. When you visit Bandung, don't forget to visit other tourist sites. Also, please be happy and visit all Places To Visit in Indonesia