Ciwidey is a district in Bandung and has a lot of natural tourist destinations. The fresh air of the mountainous area also attracts the visitors to visit the Bandung attractions and there are many things to do in Ciwidey Bandung, Indonesia.
Here are the natural tourist destinations in Ciwidey you should visit:
1. Kawah Putih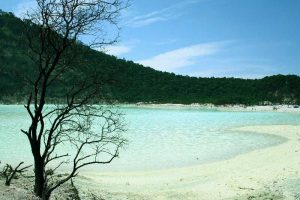 Kawah Putih is one of the most outstanding places in Ciwidey. We often see its landscape in television since it is often used as a filming location. Ciwidey's Kawah Putih is a crater lake that formed as the result of the eruption of Mount Patuha a thousand years ago.
Once, it was considered as a haunted place by the local communities that no one dared to pass it. Not until in 1837, a scientist named Dr. Franz Wilhelm Junghuhn traveled to the top of Mount Patuha where he saw a white lake with sharp sulfur scent.
The place is called Kawah Putih (or White Crater) because of the white color of the soil. Another unique thing is that the color of the lake that can change. The local government started to promote the place to be a tourism spot in 1987. Since then, a lot of visitors started to come to enjoy its magnificent landscape. The visitor is only charged Rp. 18.000 for a ticket to the place. It is open every day from 7.00 am to 5.00 pm. Kawah Putih is also used by many people as the location for their pre-wedding photo shoot because of its enchanting beauty.
The visitor from outside Bandung area can exit Kopo Toll to Sayati then to Soreang. From Soreang one can continue to Ciwidey and then directly to Kawah Putih. The visitor can also use the available public transportation to reach the place.
2. Situ Patenggang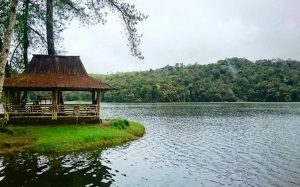 Situ Patenggang is another lake tourist destination situated in Ciwidey. The visitors can enjoy the gorgeous scenery and the plantations scattered around Situ Patenggang. The name of Situ Patenggang, which is situated in 1.600 meters above the sea level, cannot be separated from its legend.
The legend tells a story about Ki Santang and Dewi Rengganis. They loved each other but had separated until they met again in Batu Cinta. Dewi Rengganis asked Ki Santang to make a lake and a ship so they can sail together. The ship eventually turned into a heart-shaped island or Asmara Island. The story, however, is deeply attached to Situ Patenggang. There is a myth that says that anyone who circles the Asmara Island will have an everlasting love like Ki Santang and Dewi Rengganis.
Situ Patenggang is located in South Bandung, approximately 35 km from Bandung city. The visitor can reach the place with public transportation. The ticket is relatively cheap which is Rp. 18.000 in weekdays and Rp. 20.500 in weekend per visitor with additional charge for vehicles. There are also some accommodations like restroom, praying place, and a place to stay overnight.
3. Ciwalini Hot Spring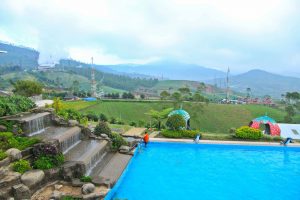 Ciwalini hot spring is situated in Walini tea plantation area in Ciwidey. In Ciwalini hot spring we will find two hot water swimming pools with different facilities. If we want to use the better pool, we will be charged for additional ticket. The hot spring is originated from Mount Patuha.
Besides relaxing in the pools, the visitors can also take a walk in the tea plantation. There is a welcome drink of Walini tea produced by PT. Perkebunan Nusantara VII. The place also offers many attractions such as ATV, go-kart, flying fox, trampoline, and motocross.
See also spots near Bandung:
4. Ciwidey Strawberry Plantations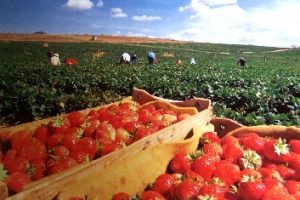 Another famous tourist destination in Ciwidey is its strawberry plantations. Ciwidey has several strawberry plantations located near Kawah Putih, Situ Patenggang, Rancabali, Pasir Jambu, and many more. The visitor will not be charged an entrance fee to visit the plantation, but merely has to pay for the strawberries.
The strawberry's price ranges from Rp. 35.000 – Rp. 50.000 per kilogram. The visitors can also take their children to the lovely plantation to teach them about strawberry plant and how to harvest it. What a beautiful things to do in Ciwidey Bandung, Indonesia.
5. Cimanggu Tourist Park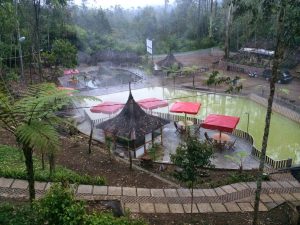 Cimanggu Tourist Park is actually located in Rancabali area but is considered as the tourist destinations in Ciwidey. This destination that has 17-22 degree Celsius temperature can be easily accessed with private or public transportation such as bus. The destination provides a relatively large parking area.
Cimanggu Tourist Park, or also known as Green Hill Park, has a protected tropical rainforest with various wildlife. The place is populated with cajuput, baros, kihujan, saninten, rasamala, pasang pinus, etc. The fauna that can be encountered are wild chickens, mouse-deers, black panthers, deer, crows, spotted doves, and many more.
The visitor not only can take a walk through the forest scenery, but also can enjoy many attractions it offers like Cimanggu hot spring, play ground, and outbound. The visitor can try flying fox, kayak, high rope, ATV, rafting, or horse riding with a professional guide. For those who want to stay overnight can camp or use family villa accommodation. The entrance ticket to this destination is only Rp. 20.000. Also, you can enjoy Things to do in Sentul which is near Bandung.
6. Ranca Upas Camping Ground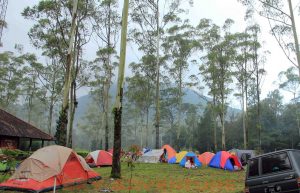 In Ranca Upas camping ground there is a deer conservation managed by Perhutani. There are several camping sites in this 215 ha area. Other available attractions are Tegal Kawani outbound, restaurant, fishing pond, and ATV. The place manager also provides the tents that can be rented.
The visitor can also use a restroom with hot and cold water. Anyone who wishes to enjoy the nature not by camping then can rent the available villa. It has 3 rooms, a furnace, a kitchen, a restroom, and hot water. The price to rent the villa is Rp. 800.000 per night. The visitor who wants to visit Ranca Upas camping ground can use the private or public transportation. 
7. Rancabali Tea Plantation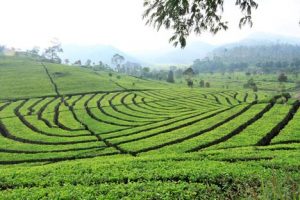 The next tourist destination in Ciwidey is Rancabali tea plantation. The tea plantation can be found along the way to Situ Patenggang. There are the captivating tea plantation and small waterfalls at the side of the plantation.
The Rancabali tea plantation is situated in 1.628 meters above the sea level that make the temperature quite cool. There are also Orthodoks and CTC factories that process tea and kina commodity in the area.
The exquisiteness of Rancabali tea plantation makes the place popular as a pre-wedding photo shoot location. We can also visit tea factory near the plantation to see and learn about the tea processing.
8. Ciwidey Valley Resort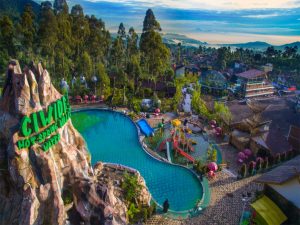 What's more things to do in Ciwidey Bandung, Indonesia? Ciwidey Valley Resort is a tourist destination in Ciwidey located in Barutunggul Ciwidey km 17 district Rancabali. The place offers lodgings, glamping (glamour camping) Legok Kondang, hot spring baths, a restaurant, and free car that will pick the visitors.
The provided lodgings are cottages with two types: family and standard. The standard type can hold 2 to 4 people, while the family type can hold up to 4 to 6 people. There are total 20 standard cottages and 3 family cottages. The rooms are equipped with air conditioner, flat screen television, wifi connection, etc.
Those who wish to camp can try the glamping, which is a modern camping style that prioritizes the conformity in the nature. The occupant will have spring bed, television, wifi connection, hot water, and tent with various types. All of those will cost from Rp. 1.000.000 to Rp. 3.000.000. In order to visit Ciwidey Valley, the visitor has only to pay the entrance fee for Rp. 10.000, including a free soft drink, while the swimming pool ticket is Rp. 40.000.
More destinations in Indonesia: