Hello guys, here we go again with another great list of things to do in Indonesia. Of course, we all know the city of Yogyakarta. Like mentioned in things to do in Yogyakarta, you can try so many different things in here by visiting aa of those interesting locations. But in this specific article, we're not gonna talk about the other city in Central Java like things to do in Pekalongan. Otherwise, we want to tell you about the district inside the area of Yogyakarta called Kotagede.
For you who don't know, this district of Kotagede is located near the Palace or Kraton Yogyakarta. You can find the area easily by looking at the map applications or maybe you can ask the people around the Kraton Yogyakarta about it. Anyway, here's the places you should go when visiting this area, all included in the things to do in Kotagede Yogyakarta below :
1. Gembira Loka Zoo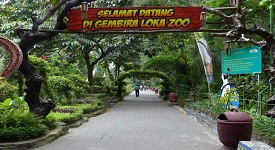 To begin our list today, we want to introduce you to the best zoo in Yogyakarta area, called Gembira Loka Zoo. Maybe some of you already famil with this zoo. If you happen to travelling, or just decide to live around Yogyakarta for a few days, this is the great place to spend your time.
You can find this spot in  street of Kebun Raya. The price ticket is also not so expensive at all, with paying some of money, you can enjoy all the wonderful facilities inside the zoo of Gembira Loka. You can invite some friends to join you, or you can enjoy the whole park with your own family. It'll be a great day.
Opening Hours : Opens everyday from 07.30 – 17.00
Entry Ticket : Rp30.000,-
2. Prenggan Tourism Village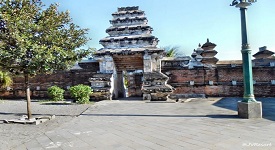 The next one on our list is the Prenggan Tourism Village. This village is filled with the old architectures that have the thick Javanese aspects. This can be a great tour for the tourists, either the domestic or foreign tourists. The place is the best for photographers.
If you want to know about whereabout of this place, this place is located in the area of Prenggan of course, still inside the area of Yogyakarta. You can easily find those antique houses, just like the things to do in Solo. If you want to learn some more about the Javanese culture , then this place is really fit you.
Opening Hours : Always opens
Entry Ticket : No entry ticket (Maybe some donations)
3. Karang Park Kotagede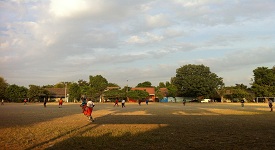 In the third place we have the Karang Park, or you can also see it as a field than a park. In this park usually the people around use it as a place to do some sports, like soccer for example. You can try to join them if you want , or just wait and look at them for a few hours before have the field for yourself.
The other thing to notice, usually there's some vendors selling some stuff to eat in the beautiful evening, like batagor, or maybe bakso. The food is really good companion to spend your time with your friends here. Such a good memory is a thing you must get.
Opening Hours : No opening hours
Entry Ticket : No entry ticket
4. Kotagede Great Mosque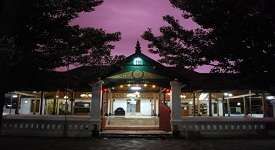 Of course, the journey ain't complete without the spiritual accompaniment. After hanging around in several locations inside the area of Kotagede, you can calm yourself in this peaceful mosque of Kotagede. Just like the mosque in things to do in Kudus, this one is also has the unique Javanese architecture that you can take a look at, even from outside.
The mosque even looks more beautiful during the night. Even though it looks so simple without anything big or anything special, the simplicity of this mosque is actually the big deal of this place. Many people feel so much comfort when resting in this mosque.
Opening Hours : No opening hours
Entry Ticket : No entry ticket
5. Ansor Silver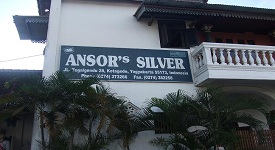 The next one is the Ansor silver, the silvercraft producer center. Well, nothing much to say about this place except how great the creations are. You can take a look at some of them that showed right after the entrance door. It's really good thing to see those wonderful hand made silver craft.
You can also buy some of them if you want, for a price of course. Like the silvercraft producer in things to do in Gianyar Bali, this Ansor Silver also produce the stuff like the necklaces, rings, or earrings made from silver. Well, it's worth to check it out.
Opening Hours : Opens everyday from 08.00 – 18.00
Entry Ticket : Parking ticket only 
6. Legi Market Kotagede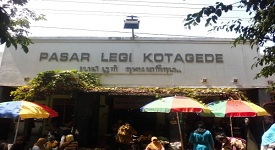 After all of those places mentioned above, we have this traditional market of Kotagede area, named Legi Market. In this Legi Market, you can find so many things with such a low price. You can see the clothes, the jackets, up to the vegetables and the other traditional foods of Yogyakarta.
The locations of this place is in the street of Mentaok Raya, you can't miss it. Like all the traditional markets in things to do in Wonosobo, you can find the traditional sweets in here. So even though the place looks so crowded, it has so many great things inside that you must discover.
Opening Hours : Opens everyday from 05.00 – 18.00
Entry Ticket : Parking ticket only
Other Attractions in Kotagede Yogyakarta
Beside the locations mentioned above you explore some more by exploring these spots :
De Mata Trick Eye 3D Museum, great place with a lot of fun!
Plaosan Temple, better check the historical place too, right?
De Arca Museum, this place is also filled with thousand histories!
The Kings Tomb, here lie many great kings of Mataram Kingdom
That's the places inside the area of Kotagede Yogyakarta that are so amazing to check out. Well, Yogyakarta isn't always about the Kraton or the beach, there are so many things waiting for us to discover them one by one. So, it's your best chance to get them all in this holiday, especially in this end of year. Better prepare some stuff first before taking a long journey in the Kotagede Yogyakarta. See you around!