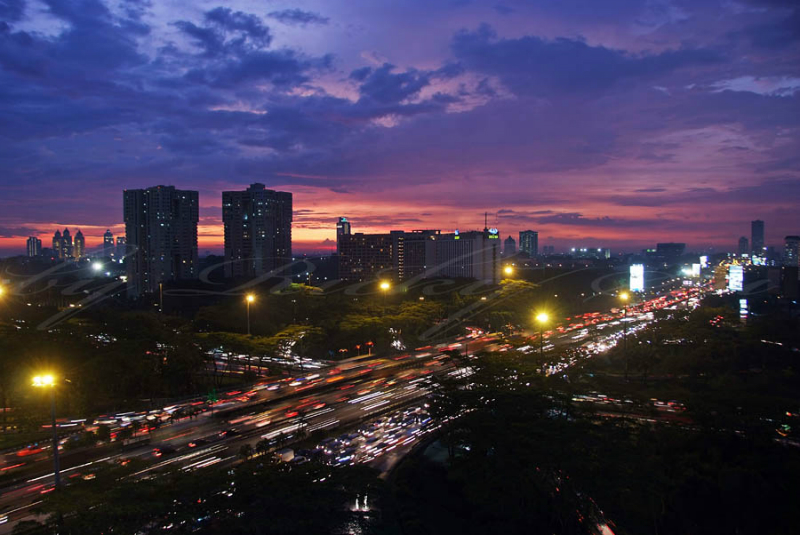 Jakarta is the center of government and economy in Indonesia. The atmosphere in this city is very competitive, everyone is struggling to succeed and achieve their dreams. But life also needs balance. Hard work alone will not guarantee happiness, it is necessary to take time to rest and relax. For example doing romantic things with your partner. Surprisingly, Jakarta has good places worth visiting together. So guys, let's find out the romantic things to do in Jakarta Indonesia.
You may check these articles :
1. Exploring Jakarta Old Town
Do not spend your weekends just window shopping at the mall. Try to go for a walk with your partner to explore Jakarta Old Town. The historic European-style buildings give the romantic atmosphere of the past. You two can rent bicycles (cost Rp 20,000 / 30 minutes) to surround Jakarta Old Town area. Make sure you stop by in the Fatahillah field, the most instagramable spot in Jakarta Old Town. The field is the most perfect location to take pictures because it faces directly into the beautiful old buildings.
After cycling, you can do museum hopping together. There is Bank Indonesia Museum (admission Rp 5,000), Bank Mandiri Museum (admission Rp 5,000), Fatahillah Museum (admission Rp 5,000), Wayang Museum (admission Rp 5,000), and Museum of Fine Arts and Ceramics (admission Rp 5,000 ). If you're tired of visiting the museum, you two can rest in one of the cafes here. The cafes in Jakarta Old Town have a stylish design of the past. It's really unique and amazing, makes you love to linger.
How to Get There
Jakarta Old Town is located at Taman Fatahillah Street, No.1, Pinangsia, Tamansari, West Jakarta. There is no admission to enter Jakarta Old Town area. Opening hours is 7 am – 10 pm. While museum hours is 9 am – 3 pm.
Visit this : Things to Do in Old Town Jakarta
2. Walking in Cattleya Park
Walking in the park with your partner is the easiest romantic thing you can do. In Cattleya Park, which covers about 3 hectares, you can walk hand in hand along the path while enjoying the beauty of the flowers. Dense trees provide a shady atmosphere during the day. There is also an artificial lake that makes more beautiful the layout of Cattleya Park. You can also picnic and chat on the well-kept green grass. The neat and clean Cattleya Park is well worth a visit.
How to Get There
Cattleya Park is located at S. Parman Street, Tomang, West Jakarta. It's free entry. Opening hours is 7 am – 9 pm.
Read this : Things to Do Near Monas
3. Walking in Suropati Park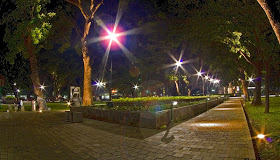 The park has always been the number one choice for romantic and cheap dating. Suropati Park, which is the pride of Jakarta residents, is perfect for you and your soulmate.
In Suropati Park you two can enjoy the beauty of the flowers, the green of the trees, the beautiful fountains, the statues of the ASEAN artists, the fresh air and the peaceful atmosphere amid the hustle and bustle of the city. You two can also feed the pigeons as in the San Marco field, Venice, Italy. In the evening Suropati Park is more interesting with the lights that adorn the corners of the park. There are also street vendors selling fried rice, noodles, satay, tofu, etc.
How to Get There
Suropati Park is located at Taman Suropati Street, Menteng, Central Jakarta. It's free entry and opens 24 hours.
You might like this : Things to Do in Bogor
4. Watching the Sunset in Setu Babakan
In any part of the world, the sunset always brings a feel of peace and romantic. The orange sky, the light of the sun slowly fading away and the afternoon breeze are best enjoyed with a loved one. Who would have thought this includes romantic things to do in Jakarta, more precisely in Setu Babakan. Setu Babakan is an artificial lake with an area of about 32 hectares and its water comes from the Ciliwung River. Around the lake there are trees that make the environment look green and beautiful.
To get around Setu Babakan you two can rent a water bike (cost Rp 7,500 / person). Pedaling together while occasional joking must be fun. After that you can take a walk on the artificial island in the middle of Setu Babakan. There is a suspension bridge connecting this artificial island with the edge of Setu Babakan. As the sun sets, find a strategic place under the tree. No need to talk, just enjoy the moment with heart and love.
How to Get There
Setu Babakan is located in Srengseng Sawah, Jagakarsa, South Jakarta. It's free entry. You only need to pay parking fee. Opening hours is 6 am – 6 pm.
Also read : Spots in Lake Toba Sumatra
5. Dinner at Segarra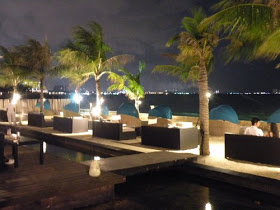 A romantic dinner is a must do with a loved one, at least once a year. Segarra, which has a seaside view, according to many people is the best romantic dining place in Jakarta. Here you can see the scenery of Ancol beach, enjoy the beauty of the sunset and feel the sea breeze. There are several options for table in Segarra. To get the maximum romantic atmosphere, order a table that is located on the sand with a special sofa for two.
This table is at the front so that your view is directly to the sea, not blocked by other visitors. This table is also quite far from the tables beside it, giving you more privacy. But please note, for dinner at this table Segarra apply a minimum order of Rp 500,000 (food prices starting from Rp 30,000). You better make a reservation before going to Segarra so you get the best table.
How to Get There
Segarra is located at Lodan Timur Street, No.7, Ancol, North Jakarta. Phone (021) 64710101. Opening hours for Monday – Thursday is 12 pm – 2 am, Friday – Saturday is 12 pm – 4 am, Sunday is 7 am – 2 am.
You may check these articles :
6. Dinner at Jetski Cafe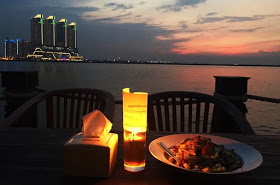 You and your partner want a romantic dinner at sea? Come to Jetski Café which is situated right on the dock. Choose an outdoor table so you two can look directly into the Jakarta Bay, feel the sea breeze, admire the beautiful sunset, and see ships passing by. With the ambience of the sea, certainly Jetski Café has many instagramable spots.
The menu presented by Jetski Café is quite diverse. There are seafood, western food, Indonesian food, pizza and snacks such as fried bananas and fried cassava. The food prices start at Rp 45,000.
How to Get There
Jetski Café is located in Mutiara Beach, Blok R, No. 57, Pluit, North Jakarta. Phone (021) 6683318. Opening hours for weekdays is 4 pm – 10 pm, weekends is 8 am – 1 am.
You might also like this : Best Beaches in Jakarta
7. Hanging Out at SKYE
City light scenes always mesmerize. If you want to spend time with your partner while looking at flickering urban lights, come to SKYE that has the concept of rooftop. Accompanied by a soothing night breeze you can see the glitter of skyscrapers that symbolize the progress of Jakarta. While chatting you can order light meals and drinks.
SKYE also provides indoor space for dinner. Normally outdoor is just for hanging out. SKYE has various menus with food prices ranging from Rp 40,000. Please note that SKYE has a strict dress code. Visitors are not allowed to wear T-shirts, shorts, sneakers and sandals. So dress up a bit formal.
How to Get There
SKYE is located at M. H. Thamrin Street, No. 1, BCA Tower, Floor 56, Central Jakarta. Phone (021) 23586996. Opening hours is 10 am – 2 am.
Check this : Things to Do in Depok
8. Dinner at Café Batavia
Do you want a romantic dinner with the atmosphere of ancient Jakarta? Come to Café Batavia. From the outside you can already feel the past. The building of Café Batavia was built in 1805 by the Dutch government as the administrative center of its trading company, the VOC. The interior is a classic style with thick colonial nuance.
Photographs of historical figures are displayed neatly adorn the walls. Its warm lighting supports the creation of a romantic atmosphere.
While having dinner, from the window you can see the beautiful view of Jakarta Old Town. Café Batavia also features live music from jazz, bossanova to blues. The menus presented at Café Batavia are Indonesian Food, Chinese Food, and Western Food. The price of food, on average one person pays Rp 150,000-300,000 for one meal. Indeed, there are many more romantic things to do in Jakarta, Indonesia.
How to Get There
Café Batavia is located at Pintu Besar Utara Street, No. 14, West Jakarta. Phone (021) 6915531. Opening hours for Monday – Thursday is 8 am – 12 pm, Friday is 8 am – 1 am, Saturday is 7 am – 1 am, Sunday is 7 am – 12 am.
Read this : Things to Do in Tangerang
9. Visiting Taman Mini Indonesia Indah (TMII)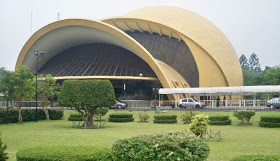 Spending time with your partner is a fun and romantic activity. Taman Mini Indonesia Indah (TMII) is a great place for outdoor dating from morning to night. There are many things you two can do in this 150-hectare amusement park.
In Anjungan Daerah you can see traditional houses, traditional clothes and traditional weapons from 33 provinces in Indonesia. Next, TMII has about 18 museums, ranging from transportation museum to stamp museum. Museum hopping with a loved one must be a memorable date. Entrance tickets for each museum vary, ranging from Rp 2,000 to Rp 25,000.
If tired of walking around, you two can ride a cable car that crosses artificial lake. In this lake you can see the miniature of the Indonesian archipelago. After that you can watch educational movie at Keong Mas IMAX Theater. And last don't forget to take pictures in the Pancasila Fire Monument which is a TMII icon.
How to Get There
Taman Mini Indonesia Indah (TMII) is located at Taman Mini Street, East Jakarta. Phone (021) 8401687. The admission is Rp 15,000 / person. Opening hours is 7 am – 10 pm.
You might like this : Things to Do in Bekasi
10. Visiting Planetarium Jakarta
Looking at the stars in the sky will be romantic if it is done with a loved one. However, it is not easy to do that in the sparkling city of Jakarta. But don't worry, you and your partner can visit Planetarium Jakarta. Here you two will be taken flying into the night sky, looking at the stars and sky objects, and exploring the vast outer space.
The show at Planetarium Jakarta uses sophisticated multimedia equipment so that the effects of light and sound are really fascinating. You are like being in a flying saucer that is wading through the galaxy. Unfortunately the show is only about 15 minutes.
How to Get There
Planetarium Jakarta is located in Cikini Raya Street, No. 73, Central Jakarta. The admission is Rp 12,000. Show hours for Tuesday – Friday is 4:30 pm, for Saturday – Sunday are 10:00 am, 11:30 am, 1:00 pm, 2:30 pm
You may visit these places :
Ok guys, now you know the romantic things to do in Jakarta Indonesia. Come, make a date and have fun in Jakarta Indonesia.
You may check these articles :