As a tourist, of course we want to do shopping for a bit. Like after enjoying things to do in East Java, we need to some enjoyment by having a good time in our favorite place. To be honest, there are so many choices  you can pick for shopping, either traditional market or the modern one.
But, the bigger the city is, there are much choices to be hold. Like in this city for example, beside having the wonderful attractions you can find in Surabaya attractions , the city has more options for you to find the best places for shopping. All included in our list of best place to shop in Surabaya below :
1. Darmo Trade Center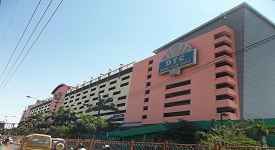 The first best places to shop in Surabaya is the Darmo Trade Center. Located in ine of the crowded street in Surabaya, reaching it requires a little bit effort. In here, you can buy the daily needs with such a cheap price, even the lowest price possible.
Like it's name, you can start trading with the sellers, and negotiating to get the best price for your thing. Even though you're not up to negotiations, the price is actually cheap already. But then, this place is once again being the best place for shopping for people in all economic levels.
Location : Wonokromo Street, Jagir
Opening Hours : Opens everyday from 9.30 am to 6 pm
2. Pusat Grosir Surabaya (Wholesaler Center)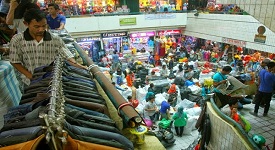 Like the name it has, this is the Wholesaler Center of Surbaaya, so you can expecting to find what you seek for in a very very low price. There are so many good things to choose here, like the purses, clothes, jeans, and the woman's bag.
Everyday the place is so crowded and busy, so it's a rare thing to fin this place empty or maybe quiet, becuase the people always come to this place every hour to get their needs. If you want to get the less crowded situation, you better start to come here around its opening hour, around 8 to 9 am.
Location : Dupak Street 1, Gundih, Bubutan
Opening Hours : Opens everyday from 8 am to 6 pm
3. Jembatan Merah Plaza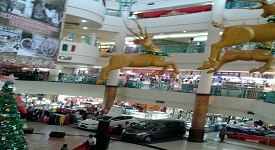 Almost the same like the place above, this Jembatan Merah Plaza is actually a good place for shpping women's things, like clothings, bag, and the other. This shop center is actually focused on the garment industry, and that's why you can find some of the stands about garment in this place.
A good and the best place to shop in Surabaya for tailor and cloth producer. Maybe if you have a hobby of making clothes, you can start hunting your "ingredients" in here, because there are so many motives and colour to pick. You can find jewelry in here as well, with  the best price of course.
Location : Taman Jayengrono 2-4, South Krembangan
Opening Hours : Opens everyday from 9 am – 7 pm
4. Atom Market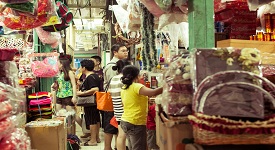 Aside from the places above, this Atom Market has different speciality. You can find the same feels like being in a place somewhere in things to do in North Jakarta, especially the souvernir market. Yep, you can find so many souvenirs in here.
The thing is, mainly you'll find the traditonal snacks of Surabaya in here. There are so many of them, starting from the chilhood snack, up to the Chinese traditional snacks. All you can find in here, so if you looking for the best place for shopping souvenirs or snacks, here's the best place to shop in Surabaya.
Location : Bunguran street 45, Bongkaran, Pabean Cantian
Opening Hours : Opens everyday from 10 am – 5 pm
5. Genteng Baru Market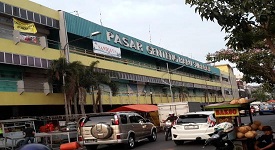 Just like shops in shopping destinations in Bandung, in Surabaya you can also find a very unique traditional market. If he usual traditional market only sell the meats, eggs, and other daily needs, this Genteng Baru Market also offer some little shops in the front for selling the Surabaya's souvenirs. There are a lot of them in the form of foods, clothings, and so many other.
Here you can choose, you want to do souvenir shopping only, or maybe checking the inner side to buy some dairy products. Of course, while you staying in Surabaya, it's not so bad to cook one or two foods to actually press the budget for buying some foods outside.
Location : Genteng Besar street, Surabaya
Opening Hours : Opens everyday from 10 am – 5 pm 
6. Hi-Tech Mall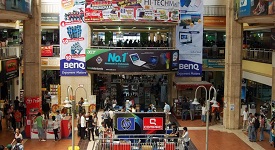 Sadly not included in list of largest shopping malls in Indonesia, this Hi-Tech Mall is indeed a famous one in Surabaya. The mall is big enough to fill with so many electhronics. Maybe you can guess from the name of this mall, the high technology mall for the people of Surabaya.
You can't find the clothing stores, or the other that you can find in an ordinary mall. But, you can find almost all the thing that related to electhronics. If you seek for VGA card, there are a lot of them here. If you're looking for a phone, laptop, maybe a PC components, here's the best  place for hunting them all.
Location : Kusuma Bangsa street 116-118, Tambaksari
Opening Hours : Opens everyday from 9.30 am – 9 pm
After telling the six best places to shop in Surabaya, we want to introduce you to some other best places that also worth mentioning. And here's some of them :
Semarang Street, a small portions of street that has a lot to give
Royal Plaza, of course, this famous mall in Surabay musn't be forgotten
ITC Surabaya, the International Trade Center for your family!
Blauran Market, another wonderful place to hunt some souvenirs.
Those are the places you can visit for getting many things that you need in here. All of them have the prices that always competing each other, so it may be good to check the price first on each place before actually buy the goods. But don't worry though, they always come with such a low price that everyone can afford, and so the tourists. So, be sure to prepare only a small portions of money before exploring those places.