Do you have a plan to spend your holiday in East Java? Ngawi can be main purpose that give you a million best things to do in there. That things are guaranteed exciting places and you will never forget them.
There are many ecotourism that are loved by local tourist. If there is no reference about the best of tourist locations in Ngawi, East Java, these are some recommended places to be your destination in Ngawi.
More Enchanted Places in East Java, Indonesia:
Thus, let's check all the greatest things to do in Ngawi, East Java, Indonesia below!
1. Bride Waterfall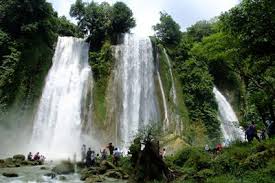 This tourist location can be found in Ngrambe. You can go to Bride Waterfall that located in a village named Hargomulyo. This waterfall has two branches and their heights are 20 meters. Tourist will never be disappointed with this place because its atmosphere is very full of peace and spoil its visitors.
Even, our view will be cooled with every beautiful views around this waterfall. Every visitors will really feel fresh because there is a bamboo forest in this location. For a couple who come to this place is believed that they can be life long mates. The infrastructure to the waterfall has been well, but visitors have to walk around 1 km to this location.
Ticket to the waterfall Rp. 2,500 per visitor
The visitor have to be careful because its street is slippery, especially in rainy season. For you who drive a motorcycle or car has to be careful, too, because its street is fluctuating.
See also : Spectacular waterfall in Indonesia
2. Jamus Tea Plantation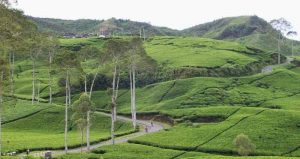 For you who love peace and cool place with green and tropical nuance, Jamus Tea Plantation is one of the best places in Ngawi to spend your holiday. Its location is in the north of Lawu mountainside. Every solitude, freshness and beautify in this tea plantation is no two places in Ngawi. From Ngawi, the tourists can go to the southwest around 40 km for reaching this place.
For reaching this great tea plantation, you can visit to Sine then step your foot in village named Girikerto. Under the management of PT. Candi Loka,this tourist attraction is very famous with Jamus mineral water and its tea. Beside of tea factory, the visitors can find Borobudur Hill, swimming pool for children, campground, Japan cave, and Sumber Lanang.
The visitors will be charged Rp. 10,000 per head to enter into this tea plantation. It is so cheap to get a myriad of knowledge.
See also : Things to do in Puncak
3. Pondok Reservoir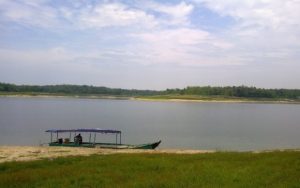 Another tourist sites that will give a different experience in Ngawi is Pondok Reservoir in Bringin. Come to the village named Dero and this reservoir will be showed beautiful hills and water panorama in front of your eyes. For you who love fishing, this reservoir can be a right place for angler mania.
You can find many varieties of fish in this reservoir, such as milkfish, tombro fish and tawes fish. If you were lucky, the tourist who like fishing, can participate in fishing event. The visitor can try to enliven this event with many anglers from Ngawi.
The visitor can enter into reservoir with paying Ticket only Rp. 2,000
You may also read things to do in Cepu.
4. Srambang Waterfall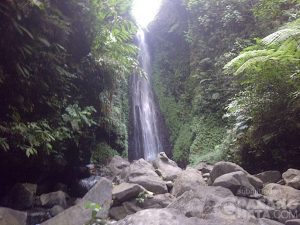 Beside Bride Waterfall, Ngawi has another tourism site that is beautiful and fun, like Srambang Waterfall. Its location is in Girimulyo, Jogorogo. Exactly, this waterfall is in the north of mount Lawu. In this place, we can feel its beautiful and luxuriance from the shade of pine trees.
There is in the middle of pine forest, that is meant tourist can enjoy this pine forest and waterfall at the same time. Air freshness in this place is very satisfy, although the visitor has to walk one kilometer for this spot. Every visitor has to prepare physical condition, so he can perpetuate every nature beautify in Srambang Waterfall. It is believed that every people who wash face or take a bath in this waterfall will be long life and always stay young.
The visitor have to pay Rp. 5,000 to enter and enjoy Srambang Waterfall.
That cost includes vehicle park for visitor who bring a vehicle.
You may also read Famous waterfall in Bali. 
5. Van Den Bosch Fort (Pendem Fort)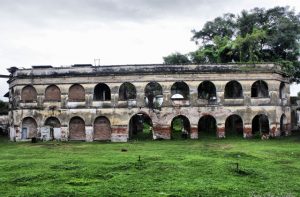 Not only fascinating natural tourism in Ngawi, historical tourism in there will fascinate every tourist with the collection of relics colonial era. Its location is in the meeting point between Madiun and Bengawan Solo river, the visitor can find this fort in Ngawi, Pelem. This Pendem Fort is a fort that was built by Dutch East Indies government. It finished on 1845.
Once upon a time, the resident from this fort was the Dutch army. They are around 250 personnel with rifle weapon, 60 cavalries in the Van Den Bosch company, and there are 6 cannon fires. There is The grave of Muhammad Nursalim who was a follower of Diponegoro prince, too. That was happened because he was caught and brought to Van Den Bosh Fort by the Dutch.
Van Den Bosch Fort open from 8 a.m to 5 p.m
The ticket is Rp. 5,000 per head
The visitor who bring a car need to pay parking Rp. 3,000. For motorcycle, they only pay Rp. 1,000 for parking.
6. Soerjo Monument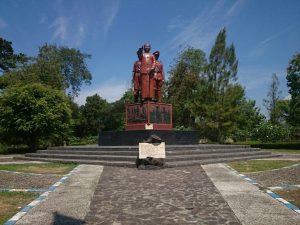 Another historical building in Ngawi is a monument. Soerjo Monument was built special to remember the first governor of East Java. Its location is in the main road side of Ngawi Solo.
The location of Soerjo Monument is very shady because it is in the middle of forest where every tree is very dense and tall.
The facilities in this monument are rest area, restaurants, bird market, toilet, mosque, statue of Governor (Soerjo), various of birdhouse, teak craft, and children playground. The visitor hasn't pay to enter this area or free.
You may also read Interesting places to visit in Jakarta. 
7. Teleng Waterfall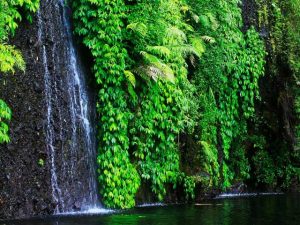 Well, there are many exciting things to do in Ngawi, West Java, Indonesia.
There is another waterfall that can be a destination in Ngawi. Teleng Waterfall has beautiful view with amazing purity nature.
This waterfall is in Ngrayudan. It is not only for taking a photo, a soul which miss freshness and peace can come to this place directly. Our body will be really fresh.
All of beautiful view in Teleng Waterfall can be enjoyed unlimited without paying ticket.
See also : things to do in Tawangmangu
8. Trinil Museum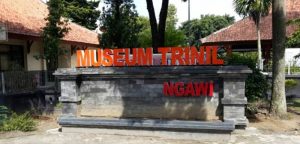 Historical tourism lovers will be not satisfied, if they didn't come to Trinil Museum. This museum is only 12 kilometers from Ngawi.
You will  be not disappointed if you come to this museum, because there are many historical collection of ancient human life. It was found by Eugene Dubois, an archaeology from Netherlands in 1892, every this historical fair will add visitor knowledge. There are the elephant and ancient bull fossil, too.
The visitor has to pay ticket Rp. 5,000 to enjoy collection from Trinil Museum. Besides that, This place also offer Bengawan Solo river view.
You may also read things to do in Klaten.
9. Tirto Nirmolo Water boom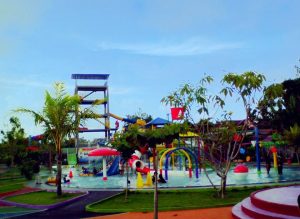 Visiting to Ngawi, there is a great water boom that will add fun during holiday, it is Tirto Nirmolo. Its location is easy to get there because it is in the street side.
You can go to Paron, or village named Tempuran. Recreation will be more joyful and fun with many vehicles for children and adult such as water boat, flying fox, electric car, electric train, boom-boom boat, boom-boom car, family pedicab, 3D and cable car. Besides that, visitors can enjoy culinary in this water boom.
Tirto Nirmolo Water boom open from 8 a.m to 5 p.m
The entrance ticket is Rp. 12,500 per head from Monday to Saturday, Rp. 15,000 on Sunday and national holiday.
The entrance ticket is not included vehicle costs. Visitors have to prepare Rp. 5,000 – Rp. 20,000 for every vehicle.
For scrimp, there are silver package Rp. 27,500 per head or Gold package Rp. 33,500 per person.
10. Hargo Dumilah Bath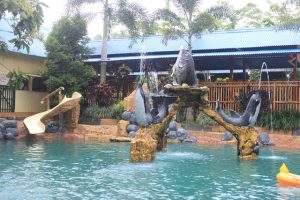 For tourism who want to get fun holiday and relaxation, there is Hargo Dumilah Bath in Ngrambe.
Visitirs have to come to Setono, 30 kilometers from South Ngawi. It is in the mount side of Lawu, it has water source from mount Lawu.
After you enjoy the freshness of view and water in this bath, don't forget to come to a restaurant with mountain and village nuance in this bath area.
Try variety of meatballs and fish that they become mainstay menu in that bamboo restaurant. 
11. Tawun Park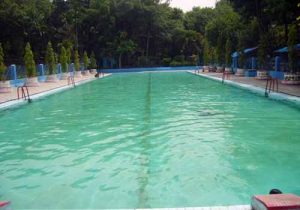 Holiday with family will be more complete if you enjoyed this park, too. It is in Kasreman, Dusun Tawun, 6 kilometers to east from city center.
Children will love this place because there are mini zoo, recreation park, swimming pool, and turtles pool. Adult are not regret to come here too because there is an artificial lake for anglers.
Related articles :
12. Jati Gembol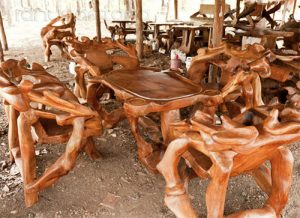 Tourists who like unique craft from Ngawi, especially Gembol Jati craft, may come to this place. Its location is in Ngawi, Mantingan, Widodaren and Bringin. This place is very recommended to add knowledge of craft and culture.
Gembol jati has been changed by craftsmen become a thing which has high value. That is the reason why antique collectors are interested with it.
Not only local collector, but foreign collector also like Gembol Jati craft in Ngawi.
You may also read what to buy in Yogyakarta.
Thus things to do in Ngawi. They are not only cool our heart, but they can add knowledge of tourists. Take your time to travel in those locations during your holiday in Ngawi.