Christmas day is a holiday, and hey, everyone loves that. Far away from the stressful of your work and enjoy the momentum of time relaxing by yourself and your beloved ones. Holiday can be spent in a lot of ways. You can enjoy it in a flower garden, or relaxing scenery of a rain forest, or even engaging experience of a mountain hiking, all by yourself, with a spouse, or even with your kids. Yes, there are many Places To Visit in Bali
But, for the holiday at the end of the year, it's better to spend it for your family. If you have kids, you need to also think about them. Do you want to go hiking and bring your kids? Of course not. You need a holiday that can both be fun to you and be fun to your kids. And for the family-related holiday, Bali is one of the best places to go. So, here is animal parks in Bali Indonesia you must visit:
Bali Safari and Marine Park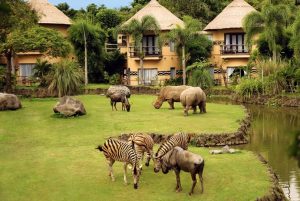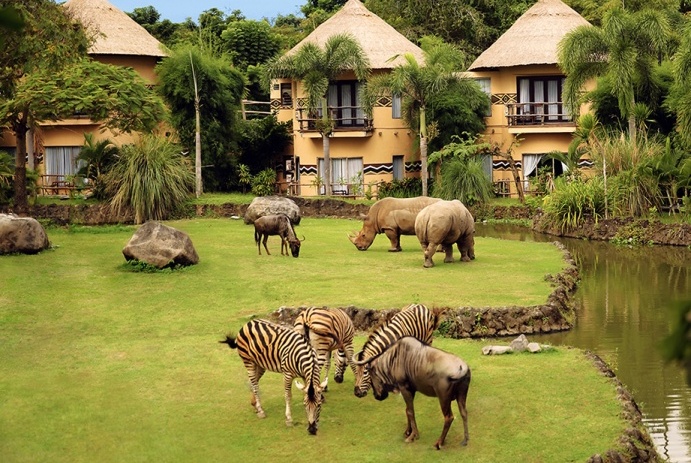 Enjoy playing with animals? You can do that in Bali Safari and Marine Park. It has an abundance of enjoyments for you and your relatives.
The park has around 400 animals from 80 unique species huddled from far away region of Africa to the wonderful endemic creature of India to the amazing domestic animal from Indonesia itself. This is one of the best things to do in Bali on Christmas with your family. Well yeah, Places To Visit in Indonesia
Here, you can thrill yourself with an elephant riding, relax with animal shows, and rejuvenate your soul with a huge relaxing aquarium.
The opening hours start at 9 AM until 5 PM on weekdays and 8.30 AM until 5 PM on weekend and holidays so you can utterly loosen up your muscle after a year of stressful work!
To get there, you can rent a shuttle service from many different pickup spots throughout Bali which you can see on their official website.
There are eight packages for the Safari and Marine Park, pick these up according to your needs:
Breakfast with Lion including Elephant Back Safari: IDR 1.500.000 per person. This package includes a breathtaking 30-minute of elephant riding, animal show, and an animal encounter. You can also enjoy one trip of safari journey. It has breakfast included at Tsavo Lion Restaurant where you can daunt yourself breakfast with lions.
Jungle Hopper: IDR 720.000 per person. Don't want to thrill yourself on an elephant ride? You can choose this one. It includes a one trip safari journey, animal show, freshwater aquarium visit, waterpark for your kids, Bali Agung Show with a silver seat, and a refreshing afternoon tea at Uma Restaurant.
Dragon: IDR 990.000 per person. It basically covers everything in Jungle Hopper package but rather than an afternoon tea, you can enjoy a free lunch at Uma Restaurant. A worthy exchange, right?
Adventure: IDR 570.000 per person. It fits if want to only enthrall the adventure of safari journey with the lowest price possible. It covers a one trip safari journey, an elephant show, and a visit to the freshwater aquarium.
Elephant Back Safari: IDR 1.125.000. This package includes an unlimited safari journey throughout the day (not just one), plus an express line so you don't need to worry about the queue. It also includes a 30-minute elephant ride, freshwater aquarium visit, Bali Agung Show, and obviously, the animal show. A free souvenir is included too in the package.
Leopard: IDR 1.440.000. A gold seat on Bali Agung Show? Leopard package covers that. It also includes all Elephant Back Safari package has to offer plus a waterpark access, free lunch at Uma restaurant, and a one time photo for your family. But you only get 10 minutes of elephant riding, though. If you want to get more for the elephant enjoyment but still want to have the leopard package bundles, see the next one. Also: Honeymoon Destinations in Indonesia
Rhino: IDR 1.890.000 per person. Everything leopard package has to offer plus a 30-minute elephant ride and a platinum seat of Bali Agung Show, rather than a short 10-minute and a gold seat.
Night Safari: IDR 990.000 per person. Intrigued to see the exhibition of animals at late night? Night safari covers that for you. It includes a welcome drink, walking safari, one trip of night safari journey, free BBQ dinner at Nkuchiro Restaurant, Africa fire show (a must see!), and wildlife encounter. As the name suggests, you can only enter after 6 PM.
Bali Bird and Reptile Park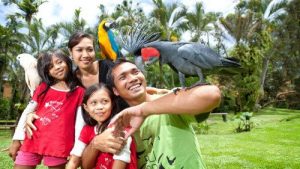 Here one animal parks in Bali Indonesia. Bird, everybody loves one! But paired with a reptile? Err, why not! Another best thing to do in Bali on Christmas is to enjoy the love of bird and reptile on Bali Bird and Reptile Park.
Hundreds and even a thousand of birds roaming around throughout the park, who doesn't want that? There are about 250 different species for an exciting adventure. Walking in the midst of rambling birds will entertain you and your kids will surely love them! You can touch them, pet them, and even feed them. They're tamed, don't worry about them pecking your kids! Even if they beak, who doesn't want to be touched by exotic birds? (Also: Things to Do Near Bali Airport (Ngurah Rai) Indonesia )
For the reptile, your kids perhaps don't want to mess around with them, especially the Komodo Dragon. However, who knows that your kids are the next Indiana Jones and keep seeking for a daunting experience all over the places.
It opens at 9 AM and closes at 5.30 PM, you have more than enough to enjoy yourselves there.
There are four packages available to choose:
Entrance Ticket: IDR 385.000. A single person ticket for your own self. It covers the most basic package of every bird show available. It's valid for the entire day.
Chattering Lory Package: IDR 1.080.000 for two people. It includes bird shows and feeding sessions.
Parrot Family: IDR 1.970.000. A package for a family of four, two adults plus two children. Free lunch and feeding sessions are included for the family.
Early Bird Entrance Package: IDR 780.000 for two people. This package includes basic entrance ticket but only valid for five hours. You'll get a free T-shirt and a free breakfast.
Those are two best things to do in Bali on Christmas to animal parks in Bali. If you have finished them, perhaps you want to try Kemenuh Butterfly Park or Ubud (Sacred Things to Do in Ubud Monkey Forest, Bali Indonesia. Enjoy your holiday!