When travelling somewhere, of course we want yo buy something related to the area. Each area in Indonesiaas its own unique souvenirs or some gifts that you an get either for youself or maybe for some people in your home.
Some areas like things to do in Kintamani and Yogyakarta have some things worth looking. What to buy in Yogyakarta Indonesia? We go to the second one, the things that included on our list of what to buy in Yogyakarta. Beside having some good attractions, you can also get some of these beautiful souvenirs :
1. Batik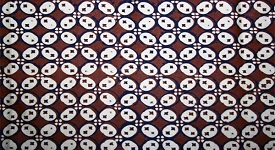 The first thing on what to buy in Yogakarta is Batik. Batik, one of the Indonesian wonders that already famous in this world. With so many different motives, Batik is a the first must buy thing in Yogyakarta, especially for the Batik Jogja. You can find this one as in the things to do in Malioboro or maybe the nearest clothing store not far from there.
Some other Batik are printed, even thogh they have different pictures and motives. But Batik Joga is the hand made on, made by the small tool called Canting. To get one, you can go to the Batik store in here called Mirota, it's the famous Batik store in all the areas of Yogyakarta.
Where to Get Them : Clothing Store, Batik Store
Average Price : Rp100.000,-
2. The Blangkon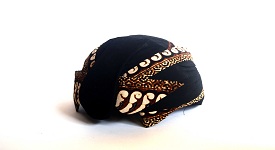 Wondering the next thing on what to buy in Yogyakarta? The thing is called Blangkon. You can complete your Batik set with this Blangkon. Blangkon is the traditional hat that used in some events or ceremonies. If you already traveled to Yogyakarta, you should remeber seeing this Blangkon in some parts of the city like Keraton or maybe some mosques.
The Blangkon is made from the Batik fabric, that's why you can see a set of Batik shirt and a blangkon somewhere that ahs the same motives. It's not so hard to find one in Yogyakarta. You can easily find one in the souvenirs shop and aslo the art stores. You can also find some in the attraction areas in things to do in Cilacap.
Where to Get Them : Souvenirs Shop, Traditional Market, Art Galleries and Stores.
Average Price : The price ranging from Rp20.000,- to Rp50.000,-
3. Silver Crafts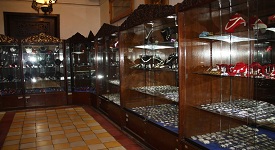 What to buy in Yogyakarta Indonesia? Also, for the women travellers, they can find the beauty in this Yogyakartan silver craft. There are so many stores that sell the silver crafts, and usually they made them their own. They're both the seller and the producer of the silver crafts.
For example, you can find the beautiful silver crafts in some areas in Yogyakarta, like things to do in Kotagede. That area is located about 5 kilometers from the city center. Not only buying the silver crafts there, you can also see directly the way of making them. You can also order one of the silever crafts and see or documenting how they make it.
Where to Get Them : In some districts in Yogyakarta. The Silver Craft center is in Kotagede, Yogyakarta.
Average Price : Rp100.000,-
4. Wayang (Puppet)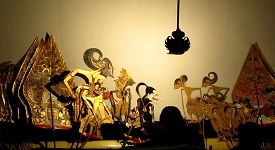 The next thing in what to buy in Yogyakarta is the Wayang, or in English named Puppet. This is not the ordinary puppet you mainly found in America or Europe, because this Wayang is a flat puppet that made from a leather, mainly cows.
There are some Wayang shows in Java, especially in the East and Central Java region. Usually they held the show all night long. So no wonder, people gathering around at night, and go home at dusk. The story is usually related to the Mahabarata story, which contains a lot of interesting characters that Indonesian people know.
Where to Get Them : Some arts shop in Yogyakarta or the street artists
Average Price : The price based on the leather quality and the decorations. Ranging from about Rp15.000,- to the best one Rp150.000,- or more.
5. Shirt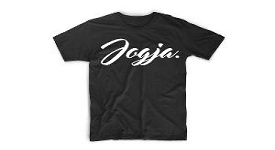 What to buy in Yogyakarta Indonesia? The main thing that people always look at when travelling to some places is the shirt. Especially for the modern people, shirt is always can be used in daily activities. So, it's a good choice to spend some money on shirts, the Yogyakartan shirt.
Usually many sellers in some attraction spots sell the shirts that has the Yogyakarta signs on them. But of course, you caa get the better quality ones in the souvenir shops. On damous brand of clothing in Yogyakarta is Dagadu. Better check them for yourself.
Where to Get Them : Souvenir Shop at town or at some attractions in Yogyakarta.
Average Price : Rp100.000,- 
6. Traditional Pottery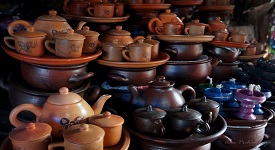 The last thing in what to buy in Yogyakarta is the Pottery. Beside the usage as the cooking equipment, the pottery is somewhat useful to decorate some rooms in your house. Yogyakarta also has some of its traditional pottery, made with the best quality as possible with the hand made technique.
You can find some examples of the potteries in the traditional markets in Yogyakarta, but if you want to look at the best area that always produce the best potteries, you should go to the famous Kasongan vilage. There you can find some pottery that you can choose.
Where to Get Them : Kasongan Village and traditional markets.
Average Price : Rp75.000,- or more.
Other Things to Buy In Yogyakarta
Beside those six things to get in Yogyakarta, you can also seek some other options like these stuff to buy while you having some vacations at the wonderful city that has more things to do in Yogyakarta. So here is the list of the foods you can get in Yogyakarta that you can buy as a souvenir :
Monggo Chocolate, the original chocolate madein Yogya city with a nice flavor
Yangko, little things that havesome sweet taste, really good for kids
Tasuba, the combination between tofu and bakso (Tahu and Bakso)
Fried Grasshopper, packed in plastc, the fried grasshoppers ready to serve.
So those are the ten souvenirs and foods, 10 in total to buy in Yogyakarta. Make sure that you have some spare times to go souvenir hounting during your trip in this city. It's not a commont hing to buy some stuff in Yogyakata, because they are so unique and only can be found exclusively in here. So, be sure to not wasting your time to only visit the attractions, it's time to buy some stuff !