Hello, back again to All Indonesia Tourism.com. You do know what we're talking about, right? The best Indonesian attractions! This time, we want to cover up some interesting places around the country aside from things to do in Pandawa beach Bali Indonesia, which is the hidden beach paradise in Malang city in East Java province.
Do you know Malang city? The city is the second biggest city in the province, only after Surabaya that famous for its best chinese restaurants in Surabaya. People are usually coming to Malang city for the beaches located nearby, because the city is located in the area between low and high lands. Here are some of the best ones you can visit:
1 – Licin Beach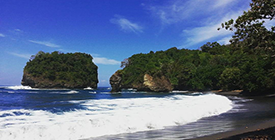 The first one in our list of the hidden beach paradise in Malang is a beach called Licin. So from the name, you can understand that the meaning behind the word "Licin" is basically slippery. So, is this beach just about a slippery beach? Is that all? Of course not, there are some things you should notice here.
First, the beach doesn't have the white sand. Instead, it has the black sand, a soft and somewhat heavy black sand. The beach is also covered with some big stones that said to be originated from the Mount Semeru eruption many years ago. While walking along the beach, make sure to be careful not to slipping.
Location: Lebakharjo of Ampelgading, Malang city
Entrance Fee: Free
2 – Banyu Anjlok Beach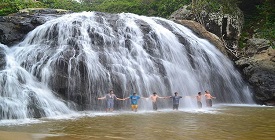 Let's face it, the infinity pool that we commonly found in the five-star hotels is not everyone. Not everyone can have much money to spend on that. That's why, visiting a beach, that may be included as one of the hidden beaches in Indonesia that has the same feature as the infinity pool can truly be a great alternative.
One example is this Banyu Anjlok Beach in Malang. This beach is so special because it has what was called as the natural infinite pool. This pool is like a mini-dam, built so perfectly by mother nature. Plus, it has the direct view of some mountains right in fron of the pool, making it one of the best pools in the world.
Location: Lenggokono Malang
Entrance Fee: Free
3 – Ngliyep Beach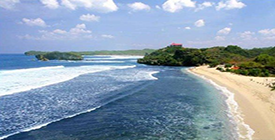 And then there's a beach that really famous for its sand, the Ngliyep Beach. The white sand is always favorable for some people. That's why, this place is like nevery empty with people. With each day passing, more people are coming in. So it may be the reason why the ticket is a bit expensive to pay.
However, The cost really suits the beach, even it's incomparable to what the beach can give to you. Ngliyep beach has some interesting spots you can visit such as the love hill, which is a place for couples and a small island called Gunung Kambang that you can visit trough the bridge from Ngliyep beach.
Location: Donomulyo, Malang
Entrance Fee: Rp15.000,- plus Rp5.000,- for parking
4 – Batu Bengkung Beach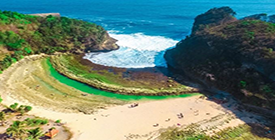 Aside from Batu Anjlok beach above that may be included as one beach in East Java Indonesia attractions, there's a beach with a similar name called Batu Bengkang beach. If the Banyu Anjlok beach can give you a glimpse of a perfect infinite pool, then Batu Bengkung beach has a special jacuzzi for you. Only the main difference is how it was made.
The jacuzzi in Batu Bengkung beach is perfectly natural. It wasn't made by any human or tools. It was created in the first place, right on this beach. But, you can only witness and try to bath in the jacuzzi during a special time, the tide. The water from Hindian Ocean are breaking the coral walls and falling down to the jacuzzi.
Location: Not far from Ngliyep Beach
Entrance Fee: Rp5.000,-
5 – Mbehi Beach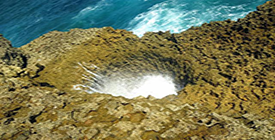 The next beach in hidden beach paradise in Malang is the one called Mbehi beach. Doesn't ring a bell? The name of it is rather too strange from everyone, even for the people who live inside Malang city. It's indeed a hidden gem of Malang, because the location may seem unreachable beyond the thick conservation forest.
But, with proper preparation, one can pass the forest to be able to enjoy the beauty of Mbehi Beach. On this beach, you can find strange yet amazing phenomenon, the water crater. If the usual craters are found in the mountains, you can find similar lookin one on this location. Usually, the water from the sea surface are splashing through the hole.
Location: Sumberbening Beach, Bantur, Malang
Entrance Fee: Rp5.000,- plus Rp10.000,- for a guide if you want to trekking
6 – Balekambang Beach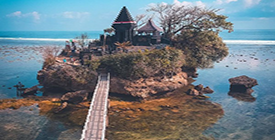 The sixth beach, which is not less beautiful than beaches in Kuta is Balekambang beach. Of all the beaches we have mentioned above, maybe this one is the most visited. Located a bit far from the city, but the road is very easy to pass on. All the roads are developed well and nice, so any vehicle can drive safely to the location.
Many said that Balekambang beach is the Javanese Tanah Lot. The reason behind this statement is because there's a temple there, located on an individual island that is also reachable via the small stone bridge. It's Amerta Jati temple, located on Ismoyo island. People are usually using it to pray and to celebrate specific ceremonies like Suroan.
Location: Srigonco, Bantur, Malang
Entrance Fee: Rp5.000,-
If you're a fan of this website, you do know that we usually reserve a special list, the small one, that containing all the other locations that haven't mentioned earlier. Now we want to give nine different beaches for you in hidden beach paradise in Malang such as :
1. Bajulmati Beach
2. Goa Cina Beach
3. Lenggoksono Beach
4. Modangan Beach
5. Sendang Biru Beach
6. Sipelot Beach
7. Wonogoro Beach
8. Nganteb Beach
9. Bantol Beach
So that's the topic about hidden beach paradise in Malang. Well, some of the beaches mentiond above are not 100% hidden. They were, but not anymore. People who already visited them are always promoting them via sharing their photos on social media. Even though those places are getting crowder each year, but that doesn't mean that it worsen by that condition.