What to Do in Balekambang Beach : Amazing Things You Can Do
After telling you the whole story about awesome beaches you can visit in Malang inside the article we've created earlier, hidden beach paradise in Malang, we noted that Balekambang beach is an awesome one. That very beach is long known by the people of Malang and the surrounding cities like Surabaya, Blitar, etc.
Why many people are calling this the best one in Malang city then rather than things to do in Bangil East Java, because the beach is still very natural and awesomely developed under the right management. Plus, there were many things you can do in here, even more now thankfully. So we here want to explain about the beach some more in this article of what to do in Balekambang Beach. Let's start with the first info.
Balekambang Beach Location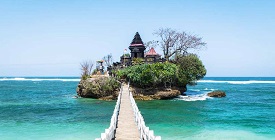 Before talking about the information of what to do in Balekambang beach, let us tell you about the location in the first place. Balekambang beach, which is said to be one of the best things to do in East Java is located along the street with the same name Balekambang in Srigonco, Bantur, Malang, East Java.
The location of the beach is right on the southern tip of East Java province, being one of many famous southern beaches that mainly known for their mystics. However, the tourism area of Balekambang is actually very old. It was first opened back in 1985 ago where the surrounding areas are still covered in wooden forest.
But now, we all can see together that it's a developed tourism spot located on the south side of the city. Mostly the beach is visited by domestic tourists, whether from Malang city or any other areas in Indonesia. Usually they come here with one purpose, to see how the Javanese Tanah Lot looks like. And they got home with a smile on their face.
Routes to Balekambang
Now, the information about a location is pointless without showing where to go and where to start. In this second section of the list, we want to tell you about the routes to Balekambang. Basically, there are two main routes that you can pick. The routes you need to take will look like this :
The first route : Malang city ~ Bululawang ~ Gadang ~ Kendalpayak ~ Gondanglegi ~ Pagelaran ~ Bantur ~ Balekambang beach
The second route : Malang city ~ Kepanjen ~ Gondanglegi ~ Pagelaran ~ Bantur ~ Sri Gonco Village ~ Balekambang beach.
Which one of the route you want to pick? Is it the first or the second? As you can see above, the second route may have lesser check points. But is it really good one? It depends on your interest. If you want to take shorter route with roads that still not smooth yet, then maybe the second route is the best for you. It's best to use vehicles that designed for this like jeep, strong SUV, and motor trail.
For the common vehicles, it's best to use the first one. It's slightly longer than the second, that's for sure, but the roads are clearly better for the vehicles. So any vehicle starting from the common motorycles or family cars can pass the route with ease.
There's a different route however, for the people who are departing from Blitar city. Because the location is way nearer than Malang city, they only need to go for Pagelaran and Bantur, then they can arrive to Balekambang beach. So it must be very easy for people in Blitar to visit this Balekambang beach.
Interesting spots to find
Just like the things to do near Bingin beach Bali, Balekambang beach does have some interesting points or highlights that can may interest people to come by. We would like to call them as the beauty points of Balekambang beach. There are some, such as :
1 – Why people are calling it Tanah Lot in East Java
When watching the beach directly, it's very easy to notice why people are calling it the Tanah Lot of Malang. The main reason is that it has a similar landscape and atmosphere. The island and a temple located on it even look like the same. During daily visits, many people are still coming to the temple.
2 – The beautiful face of Balekambang
This beach is also known for its beauty. It's stil looks good even though many years already passed. The management of the location with the of the locals give their best shot to provide what's best to the tourists.
3 – A not-lonely islands
There are also the islands you can visit here such as Anoman island, Wisanggeni island, and also Ismoyo Island. All of them are connected with the bridge that you can pass on. So it must be easy to visit them.
What to do in Balekambang beach
Aside from the things to do in Tanjung Benoa, Balekambang also has some interesting things to do for you, like :
1 – Religious Ceremony during Nyepi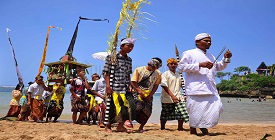 If you are one of Hindu people who live nearby, you can join in th holy ceremony of Nyepi on the Balekambang beach. You know, that temple on Ismoyo Island is still used until now as a place for praying and doing some special ceremonies like this.
The place became a great destination for all Hindu people who live in Malang city and its surroundings. Aside from giving the high religious value to Hindu people, the ceremony itself also can be witnessed by all the tourists there.
2 – Outbond Activities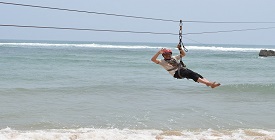 On this beach, you can also do some nice outbond activities. One example is flying fox, from the height of Simoyo island then back to Balekambang beach. You need to pass the bridge first if you want to try it.
Then, the cost of this sport is only Rp20.000,- for a few minutes of fun. If you want to enjoy some times here, then maybe camping is the right choice. Don't' forget to set the camp a little further from the beach lips.
3 – Taking pictures at the bridge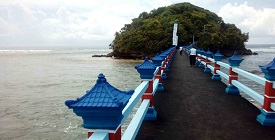 The usual activity that people do whil they're in Balekambang beach. Before doing any other activity related to water, usually the tourists will go for the bridge and then take some selfies in there for some times.
Many also brought their own cameras, wheter to capture the beatiful landscape of Balekambang beach or taking picture of special moments like pre-wed photos. No wonder the bridge itself is getting crowder.
4 – Watching the sunset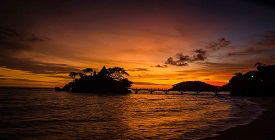 As mentioned above, people are coming to Balekambang to capture special moments. One of them is watching the sunset goes down in the horizon. Even a decent phone camera can capture this romantic moment.
Around Balekambang beach, there are some benches that you can sit on. Watchigng the sunset with more comfortable experience. Or, you can just sit on the beach lips, with the ocean water hitting your legs, and just enjoy the sunset for the day.
Balekambang, Beach Attractions, East Java