Hunting one province in Indonesia once in a while is certainly can be a good thing to do, especially during the holidays. There's one province in Indonesia, located in the eastern part of Java island called East Java. In here, you can see so many natural things that also contained within east java Indonesia attractions.
We alreday talked about the other city that also exists in this region of East Java, called Pasuruan. Pasuruan is like a connection between Malang and Surabaya city, also famous for its fantastic attraactions like in the things to do in Pasuruan . Inside that very city, there's one area again called Bangil. So what's inside this Bangil area? Let's find the answer on things to do in Bangil East Java below!
1. The Pines Taman Dayu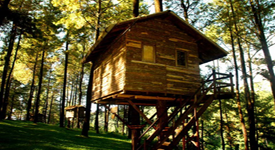 The first one on the list of best places in Bangil area for traveler is the Pines in Taman Dayu. The area of Taman Dayu is located near Tretes, just few kilometers from there. So what's inside this attraction of Pines?
Inside, you can find this area filled with so many pine trees. Also in the location, there's tent rental if you want do some camping in here. Beside the usual tent, there are some tree houses that ready to use by the tourists or travelers. The administration ticket for entering the place of Taman Dayu Pines is only Rp25.000,-
Location : Taman Dayu, Pasuruan
Tips : Always bring a jacket
2. Kakek Bodo Waterfall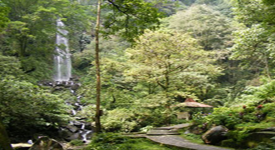 In the second spot, we want to introduce you to the other form of natural attractions, which is waterfall. Now, there are many waterfalls that can be found in the area of Pasuruan, one of them is this Kakek Bodo Waterfall, near Prigen.
Looks wonderful like things to do in Gresik East Java, Kakek Bodo Waterfall can be included as one affordable place to stay in Bangil, because it doesn't require a lot for the people to enter the venue. Overall, the place itself looks great, and the clear water condition is also good.
Location : Taman wisata street 541
Tips : Always be careful of your belongings
3. Cheng Ho Mosque
The next one location is called Cheng Ho Mosque. It actually exists in the business area of Pasuruan, which is included in an only way to go to the big city, Surabaya. Well, recently there are some events that held in this Chen Ho Mosque.
Maybe you can find any other mosque in things to do in Pacitan Indonesia, but surely it's gonna be hard to find the one that looks exactly like this. With its combination of Chinese culture and Islam, this place is resembling verywell the tolerance of Indonesia people.
Location : Petungasri
Tips : Don't do any kind of vandalization
4. Bangil Plaza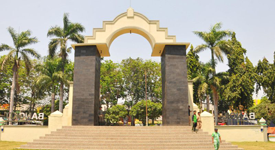 And Bangil also having its own Plaza called Bangil Plaza. Of course, this is the place for gathering of people and some communities around Bangil. Usually there's an music event in the area, but it's rarely happens within months.
Usually the people use this venue as a place for relaxation, because there are some trees in here that can cover them from the sun. And also, there's one mosque in here, the white majestic one near the area that always been used by the muslims around the Plaza.
Location : Bangil, Pasuruan
Tips : You can spare some money to buy snacks
5. Bhakti Alam Agritourism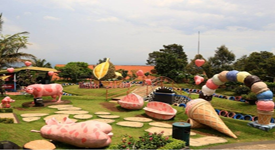 Moving on, in the location of Pasuruan, there is also one educational attraction that is fitting for everybody, calld Bhakti Alam. This one is basically agritourism with so many features that can differentiate between this and another.
There are so many kid rides in here, that's why this places is usually used as a place for field study or just as entertainment for the kids. The good things is, this place contains a lot of fruit which you can pick later. You only need to pay for about Rp30.000,- to enter it.
Location : Ngembal Village, Tutur
Tips : Kids will love this place very much
6. Safari Park II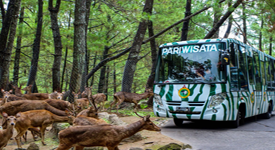 Built as another educational park in the Pasuruan area, the Safari Park II is always been a famous spot for the tourists who want to see the life of animals directly in front of them. You can easily notice this place because of the huge elephant's or mamoth's tusks on the gate.
Upon entering the place, you can pick one of the three options available, the Deer's, Rhino, and Elephant Ticket, starting from Rp90.000,-. That ticket includes some of the best features this place has, which you can see later when actually visiting this Safari Park. 
Location : Jatiarjo 1, Prigen
Tips : Always be careful
7. Purwodadi Conservation Park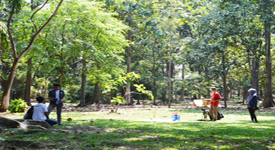 And of course, we will mention this place that is really getting its fame right now, one and only Purwodadi Conservation Park. Maybe you can find some similar locations in the things to do in Ngawi, but maybe this Purwodadi is the one that is really easy to access.
You can easily visit the place, because it's located right beside the main road. Either going from Malang or Surabaya, you just need to turn your wheel a bit to go for this location. It looks very good, and having very affordable entry ticket, only for Rp10.000,-
Location : Surabaya Malang highway 65th km
Tips : Be careful when visiting the corners of this Purwodadi Park
Other Locations in Bangil Pasuruan, East Java
Beside those locations, as usual we want to provide some other list that also has some options for you if you want to visit Bangil area in Pasuruan. So, without further do, these are the places that included inside the things to do in Bangil East Java, Indonesia :
Lekok Beach
Penunggul Beach
Tretes Tourism Area
Flora Hill
Gumandar Waterfall
Sumber Nyonya Waterfall
Tambah Bahak Beach
Blandongan Beach
Jawi Temple
So that's our list of things to do in Bangil area of Pasuruan, East Java, with the complete 16 of them all. Even though this Bangil is mainly known for its industrial area, but surprisingly enough it also has some locations to offer to you.
Almost all of them also having really affordable price, even some of them are free to enter. With that,  the fact that East Java still has a lot to offer still be true until now. Then, have fun enjoying those locations!
View of Bangil area from above
https://www.youtube.com/watch?v=FHM8-Rw98_Q