For People in Java Island, visiting various unique and interesting sights is not difficult. Even every day visitors from outside of Java and foreign tourists are visiting to enjoy the various tourist sites available in the area of ​​Java Island.
Each of the regencies and cities in Java Island has a unique tour that must be visited. Various tourist attractions usually offer its unique and stunning natural beauty as well as interesting history and legend to be explored.
Here are the unusual tourist attractions that must be visited by you in Java Island;
Lawang Sewu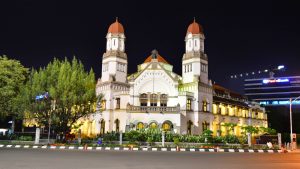 You may never thought about the unusual things to do in Java Island Indonesia. Lawang Sewu is a very old historical building located in Semarang City, Central Java. This building was built in 1904 and completed in 1907. Formerly this building is a Dutch office called Nederlands-Indische Spoorweg Maatschappij or NIS. Precisely on February 27 this old buildings that has become a museum is named by Het hoofdkantor van de Nederlands-Indische Spoorweg Maatschappij or Head Office owned by the Dutch.
This office evolved into a rapidly growing network of railway lines at the time. Currently this building continues to experience the stage of conservation and revitalization conducted by Heritage Conservation Unit and Buildings by PT Kereta Api Persero Indonesia.
If you're visiting Semarang, this destination should be also visited. Lawang Sewu itself means a thousand doors. In this old museum does have a lot of doors though not reach to number of thousand. But Lawang Sewu's name is already famous in Indonesia especially in Java Island community. The building has many windows that are very tall and wide enough so that the surrounding people consider it a door or Lawang.
Also visit some destination in Semarang such as :
 Goa Japan Bandung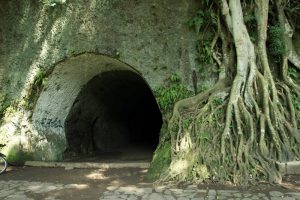 Let's travel more to the unusual things to do in Java Island Indonesia. In the Bandung flower city, has some unique tourist destinations as well as interesting and memorable mystery. One of them is Goa Japan Bandung that located in Forest Park Ir. Juanda, Dago Atas, Bandung.
The Cave is located precisely in the area of ​​West Java was built in 1942 in the middle of the jungle of the people's forest at that time and inaugurated on 23 August 1965 with the name of Taman Wisata.
By the second president of Indonesia, Soeharto, this place was renamed Forest Park Ir. H. Djuanda and inaugurated on January 14, 1985. This unique park opened to the public as a tourist destination in the city of Bandung. In this park there is a large cave with air vents at various points so that the air in the cave is not stuffy though a bit dark and creepy. You can also see 16 Unique Things to Do in Bandung That Worth To Visit or enjoy Top 51 Bandung Attractions (Hot Places & Natural Spots) while have a vacation here.
There are four hallways to enter the cave of Japan-Bandung. The second hallway and the third hallway is a trap as well as a place of defense of Japanese soldiers in the past. Before entering the first hall, be sure to bring a flashlight as a lighting device. In this cave the tourists will find the atmosphere of war like a shooting space, meeting rooms and even 18 bunkers that had been used as a prisoner of war. This place is perfect for the tourists who love the mystical things. 
The Church of Chickens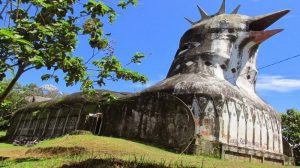 The most visited building when entering the area of ​​Magelang, Central Java is usually called by the name Chicken Church because of its unique building design and is similar to a chicken, even complete with its tails and head. Yet according to the history and the narrative of the building makers, this unique building was originally made by imitating the form of a dove.
To get to the top of this Chicken church, we have to walk on a shady path with various trees in Menoreh Hill area. The air around this tourist site is very cool because it's still in a lush forest area. A few years ago, this Chicken Church that hidden in the hills of Magelang becomes so popular and get many visits both from domestic tourists and foreign tourists. The beautiful scenery of this beautiful church continues to be visited by tourists, even known by various other unique names such as Bird Church, Dove Church, Pigeon Hill, etc. 
Alas Purwo National Park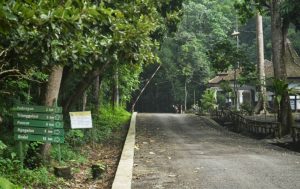 Now we come to East Java Province which also has interesting tourist, a National Park which is located in District Tegaldlimo and District of Porwoharjo, Regency of Banyuwangi East Java. The park itself is divided into four zones namely Sanctuary Zone, Wilderness Zone, Intensive Use Zone and Buffer Zone. In general, this area is included in lowland forest type dominated by bamboo forest, coastal forest and feeding ground.
The diversity of fauna in Alas Purwo National Park itself reaches 31 species that include Mammals, Aves, Pisces and Reptilia. Animals in this region such as Bull, Deer, Pig Forest, Kijang, Lutung, Monkey and Lizard. Even in this Park are identified a number of 236 types of land birds and water birds that we can encounter such as Chicken Forest, Kangkareng, Rangkok, Peacock and Cekakak Java. Not only that, there are 20 types of reptiles that can also be found in this tourist location.
What makes this place more unique as an unusual attractions are certain traditional events which by the surrounding community that belonging to the traditional Javanese society is still run until today. On a certain day when the full moon, the surrounding community come to the area of ​​Alas Purwo National Park to meditate. This place is even quite famous haunted since in the past many visitors lost in Alas Purwo area and many other mystery stories. What an unusual things to do in Java Island Indonesia!
Telaga Kedung Bening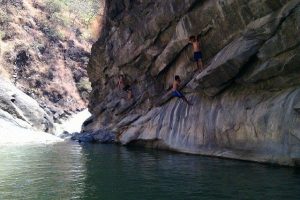 This beautiful tourist destination that has not been widely known but began to be crowded by tourists from various regions. Precisely the lake is located in Majalangu Village, Watukumpul Pemalang District, Central of Java.
Kedung bening is a water tourism destination in the form of a small lake formed by the erosion process of rivers and rainwater that forms a basin. During the dry season, this unique basin will form a lake those water changes color to a clear green because of the influence of mineral content reaction in it.
Tourists can visit this place for free. You can play and enjoying the water in the small beautiful basin of Telaga Kedung Bening, Watukumpul. Not only that, you can also try the adrenaline game like jumping on the rocks around this lake. Although it has minimal facilities, this place provides a parking area, mosque, rest area and bathroom provided for visitors. 
More Beautiful Things to Do Around Java Island
Well, here some other review for your holiday :
Meanwhile, there are many magical and  unusual things to do in Java Island Indonesia, that you must visit it sooner or later! Happy holiday and explore Indonesia for more!