One coolest city in Indonesia is Bandung city, that completed with its things to do near Bandung Airport. The city has so many things to provide for the visitors, from the breezy atmosphere until the existence of so many unique and interesting places. The mayor of this town even a really creative guy.
Visiting all the unique things to do in Bandung is one great experience everyone should have. Bwside just strolling around, it's better to buy some stuff in the process. Things that you think will be just fin will turn worse if you're not care enough about your own budget. And suddenly, all your budget left only with some small portions. So what are you gonna do about that? Going home? No! We here, come to help you with immediate first aid kit to your budget, wish some list of the free and affordable attractions Bandung city has. So, here it is, the free things to do in Bandung.
1. History of Bandung Park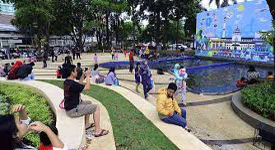 Better start with the first one, theme park called History of Bandung Park. In Bandung, there are several parks with their own theme like music, history, and such. And this one is the example of the historycal park at Bandung city.
This one locaton is really educative for the kids, especially the histories are exists on the relics on the walls. So they can also understand it easily without any additional explanations. Located in the city central make it more accesable than the other locations on the list. Beside, it's free!
Location : Aceh street number 53, Babakan Ciamis
Tips : Bring your kids here because the park is really useful for them.
2. Balaikota (Cityhall) Park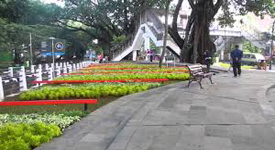 The second park is the Balaikota or City Hall Park located right in front of the city hall itself. One of the tips for travelling to Bandung is to save your budget. And coming in here is the right choice, because you don't have to spare any money to come here.
With the cool nuances, people using this place as a resting spot after work, or even after doing long journey from other cities. Beside, there's one attraction here called the Love Lock or Gembok Cinta that many teenagers love.
Location : Wastukencana 2 street
Tips : Bring your own drinks and snacks, and always put the trash in the trash can
3. Vanda Park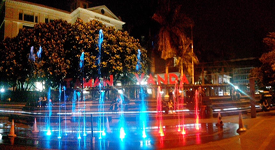 Next one is a park too, called Vanda Park. So what is the deal with this park. Vanda Park, which firstly named the Dollar Park is one favorable park that looks more beautiful during the night. In the day, the park just looks like the usual park in the city.
During the night, there will be some lamps and water fountain that can illuminate the light from the lamps. Overall this place is great for taking pictures of that fountain, maybe doing a selfie or two. And after that, this park is just good for resting
Location : Merdeka street 9
Tips : Don't forget t bring camera
4. Jomblo (Single) Park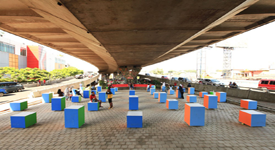 Looking for the free things to do in Bandung Indonesia? The Mayor really care about the existence of the single. And that's why he himself made this park for those people. You can see there are many chairs, but with single form, not fit for two. This place is ft for hangout with friends.
Completed with the foods from things to eat in Bandung, you and your friends can chill down in this park while enjoying or even trying the skate boar park, and also gym located in the park. It's fun thing to visit here, especially if you're a backpacker
Location : Taman sari street 66
Tips : Bring some friends in here for more fun
5. Photography Park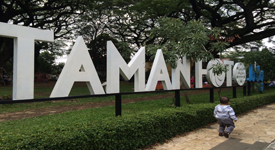 The government also facilitated the people who love and having passion of photography. And the park is finally finish to be the place for hanging out with fellow photographers inside the Bandung city. You can share some information with them , or tips that you have.
Usually there are always some comunities that hang around here to do the usual activities of their group like image hunting, trying new tools, and other. If you interested enough, you can also join them in several occasion.
Location : Kemuning street 4
Tips : Don't be shy if you want to join the groups.
6. Music Park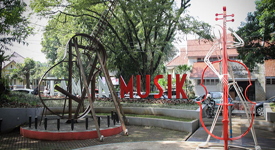 For the best park on the Bandung city, maybe this is the one, because it can provide so much entertainment to the people by some events that will provide them with high quality local bands in Bandung city.
Maybe you can visit this place after doing some shopping what to buy in Bandung Indonesia, and then just chilling out in the park. If you lucky, there will be an event that consisting of enjoyable music for your ears. Beside that, you can also enjoy some facilities like free wifi, and else. 
Location : Merdeka street
Tips : Alays be careful of the robbers while in this place
7. Pet Park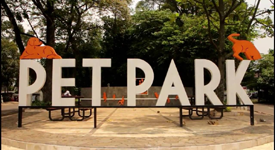 And for the pet lover in Bandung, the Mayor also provide for them a place for community gathering, called Pet Park. All the pet lovers will coming in here especially during Sunday, just for chilling out with the other pet lovers in Bandung.
Many people will bring their own pets, and then showing them to the other people. It's nice to see how good the relationship between the owners and the pets. If you're also one, be sure to check the place during weekend.
Location : Ciliwung street 14
Tips : Be sure to not hurting any pet in here
Even though some of the places maybe not free at all, but at least you can visit them with such a cheap entrance ticket, and that's interesting enough. But, your journey doesn't end there, there are some free things of Bandung lef on these list :
Gedung Sate
Braga Street
Asia Africa Street
Film or Movie Park
De'Ranch Bandung
Geology Museum Bandung
Dago Pakar
Maribaya Bandung
Keraton Cliff
And the list ends here on the 16 free things to do in Bandung city. All of them are considerably good places to visit during your trip, and will give you much experience and will satisfy your expectations, so don't be shy to come there anytime.
Always remember that budget is the most essential thing in your trip. With it, you can have almost everything in your place. So, be careful when you want to spend some money on souvenir or goods that you really like. And also, be sure to have the ticket for going back to your own area before purchasing any good.