As one place in the West Java, who doesn't know the name of Bandung City. The city that beautifully reflected with its Satay Building is maybe the best city in all areas of West Java. The reason is becuse it has a lot to offer, like things to do near Hilton Bandung.
A lot to offer in the way of tourism and also culinary, like the foods that you can see in things to eat in Bandung. Beside those nice foods, there are some choice of attractions that you can choose. And all included in our list of unique things to do in Bandung city, with complete attractions below :
1. Geulis Kahuripan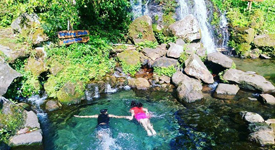 As the attraction that you can find in this area, which almost looks like the attraction in things to do in Ciwidey, you should go to the Geulis Kahuripan. By it's name of Beauty (Gelis), you can expect the wonderful spot that contains a lot of good things.
The location is hidden from the crowdness of the city, and that's a good thing because not so many people come here often. And thanks to that, the condition of this attraction is still maintained. For the entry ticket, you only need to pay about Rp10.000,- for be abe to enjoy all the things in Geulis Kahuripan.
Location : Ganjarsari Village
Tips : Better bring some friends here
2. Lembang Farm House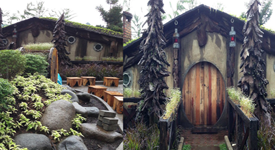 As the second unique things to do in Bandung, here we want to introduce you to another alternative for your holiday in Bandung city, called Lembang Farm House. As you can see on the picture we've putted in the corner, this is a beautiful area.
Beside as an option for the family vacation in the weekend, this Lembang Farm House also can be used as a place to have fun with newly married couple. With only Rp20.000,-, surely fun is theonly thing you'll get in here. What a wonderful honeymoon places in Bandung.
Location : Rembang street 108
Tips : Bring at least a camera to capture those beautiful moments
3. Keraton Hill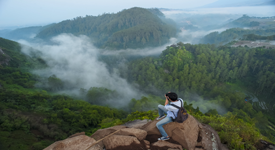 The next one is Keraton Hill, which is also included in our list of unique things to do in Bandung. If you want to do something more chalenging, either for yourself or your vehicle, you can clim up to the hill of Keraton.
Even thoguh the road is not that smooth, but the price you've paid for going in here will be off by seeing how gorgeus the place is. You only need Rp11.000,- to enjoy the hill freely. Better bring some camera to capture the view of Bandung city from above.
Location : Ciheregem Puncak Village
Tips : Wear a jacket or warm cloth
4. The World of Upside Down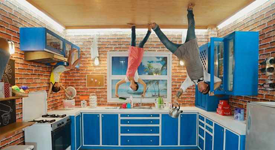 Another unique place, is none other than The World of Upside Down in Bandung, or in Indonesian you can call it as Duna Terbalik. For the name, you can guess that the place is not an ordinary place. In here, your feet will up on your head, and your head is in the potition of your toes.
In here you can take some unique pictures, of course guided with a helpful guide who can help you to do some poses, or being a camera man. You don't need to pay much though, with only Rp100.00,- and Rp50.000,- for kids, you can have some a funny and beautiful memories.
Location : H. Wasid Street 31
Tips : Come here early to try all the decorations freely
5. Sanghyang Heuleut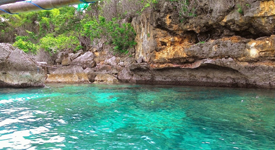 Beside the first attraction we mentioned above, the Geulis Kahuripan, we have another beauty to show to you. The name is Sanghyang Heuleut, a small lake that really has its natural beauty. Just the same as Geulis, this place is also hidden.
But, it's take not a long time for every one to realize its existence. The lake is here is lookign very good with its greenish and blusih colour. The entrance ticket is free, though, you need to take a serous effort to be able to get here.
Location : Rajamandala Kulon Regency
Tips : Come early to get the queitest condition and also don't forget to bring some foods
6. Amazing Art World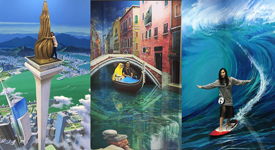 Another spot to take some unique and strange pictures, is in here, Amazing Art World. It's a 3D trick art attraction that exists in Bandung city, the North Bandung to be exact. This Amazing Art World was claimed to be the biggest 3D museum in Indonesia.
Is it true then? Yes it is! There are total 8 themes you can choose, starting from History Zone, up to the Dinosaur Zone. You can choose whatever you like, even you can try them all if you like. It's suggested to bring a camera with you. It's important. You need to pay Rp130.000,- to enter.
Location : Setiabudhi street 293
Tips : Bring a camera, phone camera is good enough 
7. The Lodge Maribaya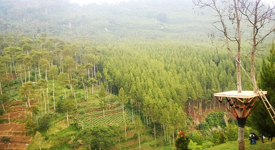 And then, for the last place in our big list, we have the Lodge of Maribaya. First time seeing this, we thought that this place is located in Batu, East Java. But nope, even though there's the attraction that looks perfectly the same is this, this Lodge Maribaya is located in Bandung.
Even thoguh the place looks calm in the picture, but there are some rides that will pump your adrenaline to the roof. Call it, the "flying" bicycle, the rope swing, and many more. To enter the place, it will cost you for about Rp20.000,- in weekdays, Rp25.000,- on weekend, and also Rp35.000,- during holiday.
Location : Mariabaya Timur 6th kilometer, Kosambi
Tips : Visit the place in the morning, to prevent the heat and also bad weather condition
To make our list more complete, we also want to introduce to you to these places which also included on our list of unique things to do in Bandung:
Bugbrug Waterfall, a hidden waterfall located in Kertarwangi village
Citmabur Waterfall, this one is located in Karang Jaya Village
The Elephant Village, basically totally fun place in one spot
Manglayang Forest, the exotic god sent
The Creative Village of Bandung
Bandung City Tour, would you have to take a ride for going around the city of Bandung?
Street Gourmet, the whole new level of meat restaurant
Pawon Cave, the challenging yet wonderful cave to be explored!
Village of Bamboo in Kolonel Masturi
So those are the places included in our list of unique things to do in Bandung. The city is indeed a fun thing to enjoy. Also, the great point is, there are so many attractions that family friendly, like the place you can see in things to do in Bandung with family. Vacationing in Bandung is one great experience.