Being a district in East of Java, Lamongan has a lot of awesome tourism object. The district itself located near to Gresik and Tuban, that also provided several beautiful beach and natural place to visit, there are also religion and historical spot that worth to see.
Here are all the beautiful things to do in Lamongan, East Java, Indononesia.
Van der Wijck Monument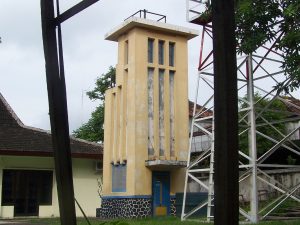 Surely you often hear about Van der Wijk, and for you literary lovers maybe even know about scholar and writer Buya HAMKA for his best novel that tells about a true story of a ship that experienced the disaster drowned in Brondong on coast of Java Island in 28 october 1936. Indeed in this time this ship is so luxurious and often regarded as the Indonesian version of Titanic.
The ship itself was owned by Koninklijke Paketvaart Maatschappij, a well known ship company in Amsterdam. It has been a very long time construction that made in Holland since 1921, precisely in Feijenoord Rotterdam. Buya wrote that interesting story of Van der Wijck and the monument which is now being one of the best tourist attractions in Lamongan is dedicated to the sinking ship.
Many travelers are still confused about the place precisely although actually it's not far from the Brondong Port Office. The entrance fee is only Rp 5,000 and gonna be Rp 6,000 on holidays. Also visit Things to Do Near Monas (National Monument of Indonesia) and Things to Do in Yogyakarta to have your cultural and historical tourism like this one of destination.
Goa Maharani Zoo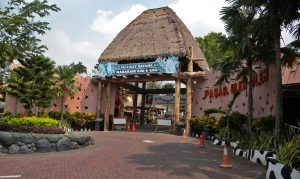 There are many things to do in Lamongan, East Java, Indononesia. It's still located in the district of Paciran, Lamongan. The Zoo-Cave has an area approximately 2,500 square meters and located very close to the marine tourism of Lamongan and unite place to the residence by a connected facility. This cave is not too long from the date of its discovery in 1992 with a distance of 25 meters for its depth if compared from the ground surface.
After the Bupati of Lamongan Muhammad Faried inaugurated in 1994, this cave became very popular form year to year. This place is very open to the public since morning at 8 am to 12 until 1 pm and 5 pm everyday.
If you want to buy a ticket with Marine Tourism of Lamongan, you must spend about Rp 100,000 on the weekend (on Friday, Saturday and Sunday), or the WBL holidays and big day. Meanwhile for usual the entrance fee is only Rp 70,000. For a special ticket to enjoy Maharani Zoo and Cave, visitors will be charged an entrance fee of Rp 60,000 on weekends and RP 40,000 for visitors who come on normal days between Monday to Thursday.
Marine Tourism Lamongan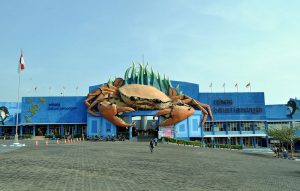 If you come visit to tourist destination in Lamongan, It's not perfectwithout obtained set your foot in Paciran Subdistrict to enjoy various fun rides in Marine Tourism Lamongan.
There are a variety of interesting things and activities that will make your holiday experience become more exciting, they are such as Pop Dangdut Music, Drop Zone, Fish Shoot, Greenhouse, Insectarium Cave, Crazy Car, Underwater Palace, Space Shuttle, Speed ​​Flip, Texas City, ATV, Pavilion Wali Songo, Hunting Park, and Pirate Palace. For those of you who come with your friends or family, this tourist location is very complete, especially the rides for the baby.
It's not just the attractions and rides mentioned above, which means there are a myriad of rides that can be found in this WBL and maybe we even will not be able to try all the rides in just one visit. For those of tourist who interested in this entertainment tour, WBL is open from half past 9 am to 5 pm every day. Especially for WBL tours only, money that can be issued if the visitors that come on weekends (Friday to Sunday), the WBL holiday season and big day is Rp 80,000 while on another days (Monday-Thursday) charged only Rp 60,000. 
There are several provisions that are very important to note before making a visit to this tourist destination, such as:
Visitors should not bring food, especially some large meals.
Children who have a height of more than 85 cm will be charged a full admission fee.
Entrance tickets can't be represented.
Tickets purchased can't be returned.
Tickets that have been purchased must not be in damaged condition.
Tickets purchased have validity only on the day of the visit only, so can't be used for the next day.
Ticket designed waterproof.
Officers are required to apply the tickets.
Lamongan Town Square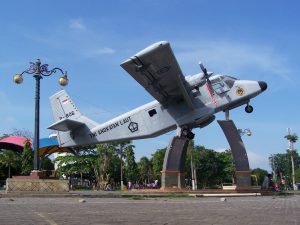 It's not only the city of Yogyakarta that has Alun-alun or a town square to be proud of, but Lamongan also has a square that located in the city center and now used as a tourist destination for visitors from out of town during the holiday season.
Lamongan Square provides an exciting game that can be enjoyed by the children and of course there are also typical culinary of Lamongan City that can be tasted while visiting this area.
One of the interesting things for kids to play around the toen square such as motorcycles as well as electric mini cars with dynamos as their movers. Visitors can lease them to make the baby happy. On daily and weekends, the square is open to travelers as well as for locals who want to get some refreshing time. Sure, it will be more crowded and reached its peak on Christmas day and New Year. So, that the tenants of motorcycles and electric mini cars were able to get an increased income on that special days. 
For parents who want to make the children have an awesome and nice experience in Lamongan, rent a mini electric car or motorcycle is a must. Well, it's even not expensive for rent, it just need to spend Rp 5,000 only, then the children can ride it in about 10 minutes. And if you want to have longer time of it, pay it more so the kids gonna be satisfied.
There are much of destination such as East Java Indonesia Attractions for you to visit. Another Place that also must be visited while you come by to Lamongan City are:
Waduk Gondang
Dewi Sekardadu Tomb
Sunan Sendang Duwur Tomb
Sendang Duwur Mosque
Sunan Drajat Tomb and Museum
Surajaya Stadion Lamongan
Beside Things to Do in Ngawi or Things to Do in Jember, you can come and visit this several place on holiday. If you're not too familiar with Lamongan and considering to have a visit, here's a list of tourist destination that can you find around Lamongan. Happy Hoilday in Indonesia! Enjoy it!