Indonesia has a lot of destinations to explore. Not only just exploring, it will be interesting to do some sports too. There are some recommended places to do sports in Indonesia.
Moreover, there are also some places to do extreme things to do in Indonesia, but do not worry, those are safety too. If you visit West Java, here are 7 recommended extreme sports for you to try!
1. Citatah Cliff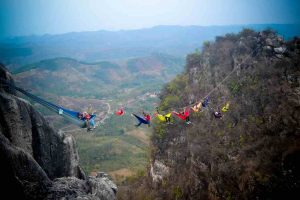 In Citatah, West Bandung, there is a cliff which has been existing since 1978. It is calle Citatah Cliff. This cliff has been very popular among extreme sports lovers. Climbing Citatah Cliff must be one of your crazy things to do in Indonesia. There are 3 cliffs in this area, Cliff 48, Cliff 90, and Cliff 125.
The cliffs' name seem like based on the height of each cliff. Cliff 48 is about 40 to 50 metres. This is a limestone cliff. There are 25 tracks to climb this cliff. At the top you can find a knife-shaped monument. The second one is Cliff 90, its height is about 90 metres. It has 5 tracks to climb.
The surface is quite fragile, so Cliff 90 is said as the hardest cliff to climb rather than Cliff 48 and Cliff 125. The last one is Cliff 125 which its height is about 120 metres. This one is the most popular cliff in Citatah Cliff area.
It is because Cliff 125 has various tracks and seems to be quite easy for beginner or even professional. To climb in Citatah Cliff, you have to inform at least a month before.
2. Nusawiru Skydiving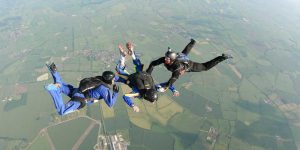 Do you want to feel different sensation of diving? It is recommended to try skydiving located in Nusawiru, Ciamis, West Java. You can see a wonderful panorama on the sky. It will also be challenging because the location of this skydiving is near sea, but do not worry, all the equipments and guides has met the international standard.
Skydiving in Nusawiru is one of the favorite skydiving choice because of the hospitality of people there, and also the affordable price. Remember if you want to visit Nusawiru, this skydiving activity only runs every Saturday and Sunday.
3. Rajamandala Rope Jumping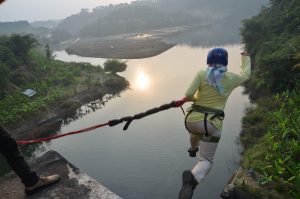 You might have been familiar with rope jumping, but how if you jump from a bridge? In Padalarang, you can find this typical rope jumping in Rajamandala Old Bridge. The bridge is located above Citarum River. Its height is about 30 metres, it is safety enough for beginners to try rope jumping.
Rope jumping sport in Rajamandala Old Bridge is usually organized by rope jumping communities there. One of them is Pushing Panda. This is a recommended community to try rope jumping here because all the equipments and safety systems are proven.
4. Palayangan River Rafting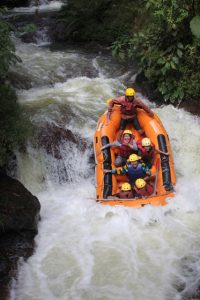 Still in Bandung, there is another kind of extreme sport that is rafting located in Cileunca Tourism Object Area. You can do rafting in Palayangan River where is located inside the tourism object area.
People like to do rafting here because the water discharge is relatively stable, so it can be said safety enough to do rafting. The river cross section is also not big, so it will be easier to arrange rescue team along the track.
If you want to join, make sure the youngest in your team is not less than years old. During the rafting, you will see beautiful scenery of pine forests. You will also feel the challenging rafting due to the 7 Grade II rapids and 11 Grade II rapids along the river.
The length of the river is only 5 kilometres, so it is not so tiring for beginners. After doing rafting, there will be a basecamp to have a rest while taking a look at the view of Situ Cileunca.
5. Lembang Offroad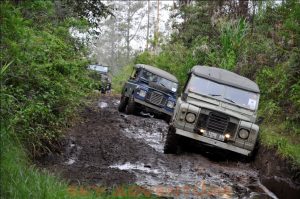 Do you like driving? Challenging yourself on the offroad can be one of best things to do in Lembang, West Java. You will feel the sensation of the uphill and rocky road. This activity will be done with a car specifically for offroad, usually use Land Rover car.
Before starting the offroad, you can have some foods first at a stall near the start point. Once you start driving your car, you will enjoy the nuance of forest that is refreshing.
To reach the top of Mount Putri, it takes about 40 minutes. After that, the track to go down will be more challenging. Not only dealing with a narrow track, you will also meet a puddle of water that will give you typical sensation.
6. Green Canyon Body Rafting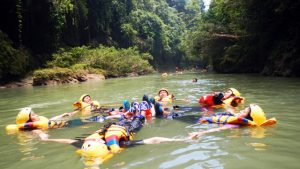 Green Canyon in Pangandaran might have been one of popular extreme tourist destinations in Indonesia. In Green Canyon, you can try an extreme sport, that is body rafting. It is diffirent with common rafting, there is no boat, no paddle, just you and your life vest!
There are 2 tracks, the long one and the short one. The long one is about 10 kilometres, while the short one is 5 kilometres. The price for the long track is Rp 225.000, and the short track is Rp 200.000. If you are not good enough in swimming, do not worry because you will be helped by the guide.
7. Puncak Bogor Paragliding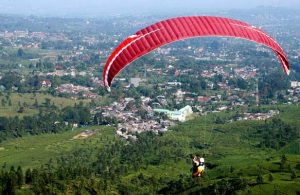 Many people in Indonesia might ever visit Puncak, Bogor. But do you ever try an extreme sport there? One of top things to do in Puncak is paragliding. You will fly at the 1300 mdpl started from Gantole Hill.
This paragliding activity is in the area of Mount Mas. For you who have history of heart disease of epilepsy, you are not allowed for doing paragliding. Make sure your weight is around 20 to 85 kilograms. For those who are under 18 years old, you must ensure being allowed by your parents.
Those are 7 recommended extreme sports in West Java. Which sport are you going to try first?