Indonesia is a country with a lot of tourist destinations. There are many kind of destinations starting from the common one to the most extreme destination. Currently, extreme tourist destinations become more popular.
Although those are extreme, but most of them are well-managed, so it can be said that these destinations are extreme but safety too. Here are 6 of the best extreme tourist destinations in Indonesia.
 Cliff Climbing, Harau Valley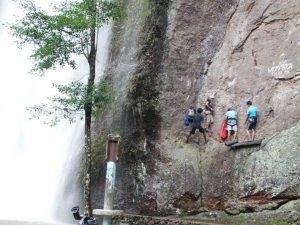 Starting from the westernmost island, Sumatra Island, one of the things to do in Sumatra is cliff climbing. It is specifically located in Harau Valley, Lima Puluh Kota Regency, West Sumatra.
This area basically consists of granite cliffs, but their height reaches 300 metres! There are 3 areas in Harau Valley, Aka Barayu Resort, Sarasah Bunta Resort, Rimbo Piobang Resort. Cliff climbing area is located in Aka Barayu Resort.
There are 300 spots for cliff climbing. These cliffs' steepness reach 90 degree. Besides climbing the cliffs, there are also 4 waterfalls you could explore. Those are Sarasah Aie Luluih, Sarasah Bunta, Sarasah Murai, Sarasah Aie Angek.
You only need to pay Rp 5.000 for adult and Rp 3.000 for child to enter Harau Valley area. If you plan to have more days exploring Harau Valley, there are many homestays you could choose around here.
 Cliff Jump Point, Blue Lagoon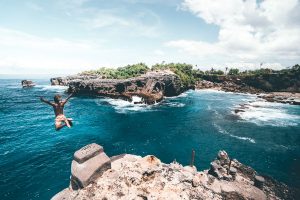 In Nusa Ceningan Bali, there are many adventurous things to do in Nusa Ceningan. In Blue Lagoon area, there is a tourist destination called Cliff Jump Point. To reach this place, you can go by fast boat from Sanur.
You would be amazed by the beauty of blue water there. Do not forget to pluck up courage because when you jump from the cliff, the speed could reach 30 to 40 km/hour.
There are 4 locations for cliff jumping with different height levels, 4 metres, 6 metres, 8 metres, and 13.5 metres. For 2 to 3 times jumping, you have to pay Rp 50.000.
When you are going to jump again, yo don't need to worry because there has been stairs toward the top of the cliff again. The most recommended jumping area here is Mahana Point. This point has been maintained well.
Rafting, Alas River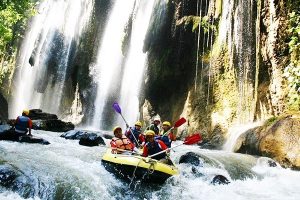 If you ever visit Gunung Leuser National Park, you might ever see the stream of Alas River. It is located in Aceh, crossing this national park. In this river, you can do rafting. The challenge is because of the length of this river.
It is about 32 kilometres, which is also the longest river in Aceh Province. Furthermore, river flows very swift. Since it is located inside Gunung Leuser National Park area, you might sometimes also meet any wild animals.
Because of its length, doing rafting in Alas River usually need 6 hours. But there are also many rest areas along the journey. Local tourists you have to pay Rp 300.000 per person, and foreign tourists need to pay Rp 500.000.
Cable Car, Timang Beach Yogyakarta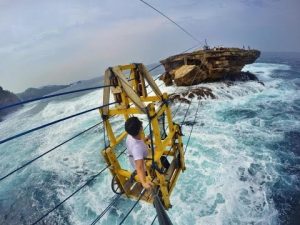 Seeking for things to do in Gunung Kidul, Yogyakarta, you could find an extraordinary tourist destination. It is located in Timang Beach. There is cable car you should try!
Trying this cable car will be so challenging because it is only formed from wood and bamboo, but it is still safe enough. You should explore the cable car that will go towards cliff in Timang Island. It is about 50 to 100 metres.
This cable car is only fit for one person, so pluck up your courage! To enter Timang Beach area, the ticket price is Rp 10.000. For taking the round-trip cable car, the price is Rp 150.000.
Body Rafting, Green Canyon Pangandaran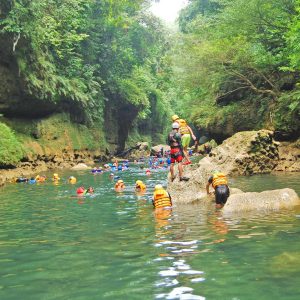 There are many things to do in West Java, one of the most popular is visiting Green Canyon in Pangandaran. As the name 'green', the water often looks green. The most favorite thing to do in Green Canyon is body rafting.
Different with the usual rafting activity, you only rely on life vest during rafting, without boat! To start rafting, you will be delivered to a hill near the river, then continue walking about 200 metres. There are 2 routes offered, 5 kilometres in 2 to 3 hours, and 10 kilometres in 3 to 4 hours.
Every 5 tourists, there will 2 guides to accompany. This rafting activity will only be held if the water is no more than 60 cm level. More than itu, rafting will be rescheduled.
You can visit Green Canyon everyday except Friday, starting from 07.30 to 13.00. This rafting activity is limited only from first 500 tourists. The are three packages of rafting, thrifty, standard, and complete which are starting from Rp 175.000 up to Rp 235.000 per person.
Hiking, Mount Anak Krakatau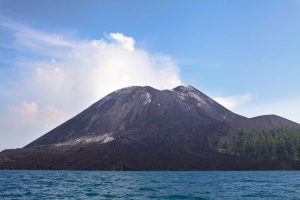 Indonesian people might be familiar with one of the most monitored volcanic mountains in Indonesia, Mount Anak Krakatau. In this area, you are able to do hiking as long as the mount is safe condition.
The height is only 450 metres, but your time to hike and go back is limited only in 2 hours. You have to be careful with the slope of Mount Anak Krakatau, it is very steep and closed by sand.
Mount Anak Krakatau is still counted as active volcanic mountain. It often erupts, and its height grows 4 centimetres each year. Besides reaching the top, you could also see another mountain across Mount Anak Krakatau. That is Mount Rakata which is the top of ancient Mount Krakatau.
Those are some of extreme tourist destinations in Indonesia. Dare to try?