Indonesia is an amazing archipelago country which has a lot of amazing natural attractions. It has mountains, beaches, hills, rivers, lakes, and other beautiful places to explore.
Indonesia spreads from the western to the eastern part. You can also spend time reading things to do in Eastern Indonesia. It has a lot of amazing spots to explore!
Since long time ago, many tourists, both local and foreign tourists have been interested in exploring eastern Indonesia.
They find that visiting the beauty of eastern Indonesia give them thrilling experience. So, let's see the 6 thrilling natural attractions from eastern Indonesia!
Banda Neira is an island located in Banda Islands, Central Maluku. Banda Neira is one of the ten volcanic islands in the Banda archipelago in Maluku.
In the past, Banda Neira served as a nutmeg trade center during the Dutch colonial era. That's why until now, tourists are able to see several historical remains, including Belgica Fortress.
The area itself consists of some islands, such as Nailaka and Rhon and the islands of Hatta. Nailaka and Rhon which have picturesque white sandy beaches and perfect spots for snorkelling and diving.
If you visit Maluku, then make sure you consider these mountains to hike in Maluku. It's challenging and thrilling!
Who doesn't know Raja Ampat? It is situated in West Papua and famous for its breath-taking underwater scenery. No wonder, Raja Ampat is listed as one of the most iconic and beautiful places in eastern Indonesia.
Have you ever wondered why Raja Ampat is Famous? Raja Ampat itself looks like a little archipelago in Papua and it is surrounded by many islands. Hopping between the islands requires quite expensive accommodations. That's why tourists are advised to travel in groups so they can share the cost of transportation.
There are many activities you can do in Raja Ampat, such as snorkelling, diving, swimming or just exploring the place.
The sea biotas in Raja Ampat can barely found in other country as they come from the native Indonesian sea water. If you plan to visit Raja Ampat and go diving here, make sure to highlight these diving spots in Raja Ampat.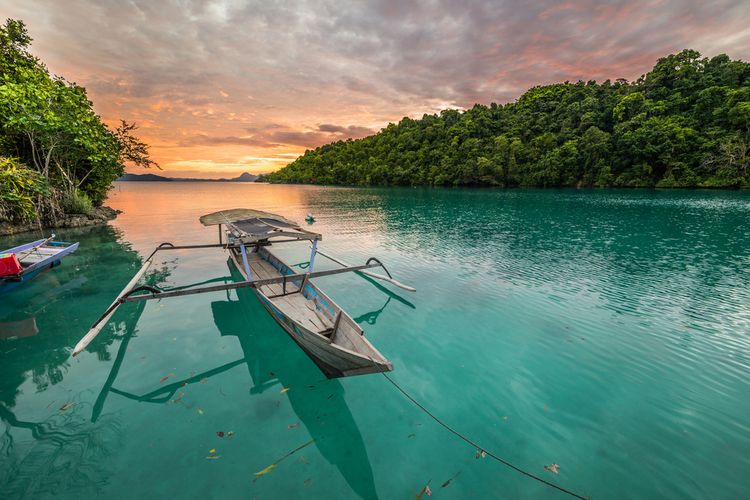 Togean Islands are situated in Tomini Bay, Central Sulawesi. They are homes to marine park with rich coral reefs and protected marine biota. You can see the giant pilot whales, coral catsharks, manta rays, and green turtles.
The dark green of the islands with crystal clear water is a perfect combination and has attracted many tourists to come in the last years. There are several activities you can do here, such as sunbathing, beachcombing, diving, snorkelling, or exploring the dense jungle.
Bunaken is an island which was formerly known as Manado Bay. This island is located in the northern part of Sulawesi province. Tourists can access this island by using speed boat and it takes around 30 minutes from Manado sea port.
Bunaken Island has Bunaken Sea Garden which is part of Bunaken National Park. It covers an area of 75,625 hectares with 5 islands within.
Bunaken National Park is a representative of Indonesian tropical water ecosystems, which include mangrove, seagrass beds, coral reefs and coastal ecosystem. In the waters of Bunaken National Park, there are around 91 species of fish., including fish gusumi horse, white oci, goropa and others.
Gili Trawangan is part of the Gili's islands. Tourists love to enjoy the sun, having some water sports and having beach parties here. This island is the most visited island among the Gili's, so it is full of accommodations, restaurants and dive ships.
While you're here, make sure you try the water sports, such as snorkelling, swimming or joining any dive trips with any dive operators.
There are even some good quality dive schools to cater the needs of tourists. By night, you can also enjoy having dinner in the local restaurants, eating fresh snapper and tuna cooked over charcoal flames.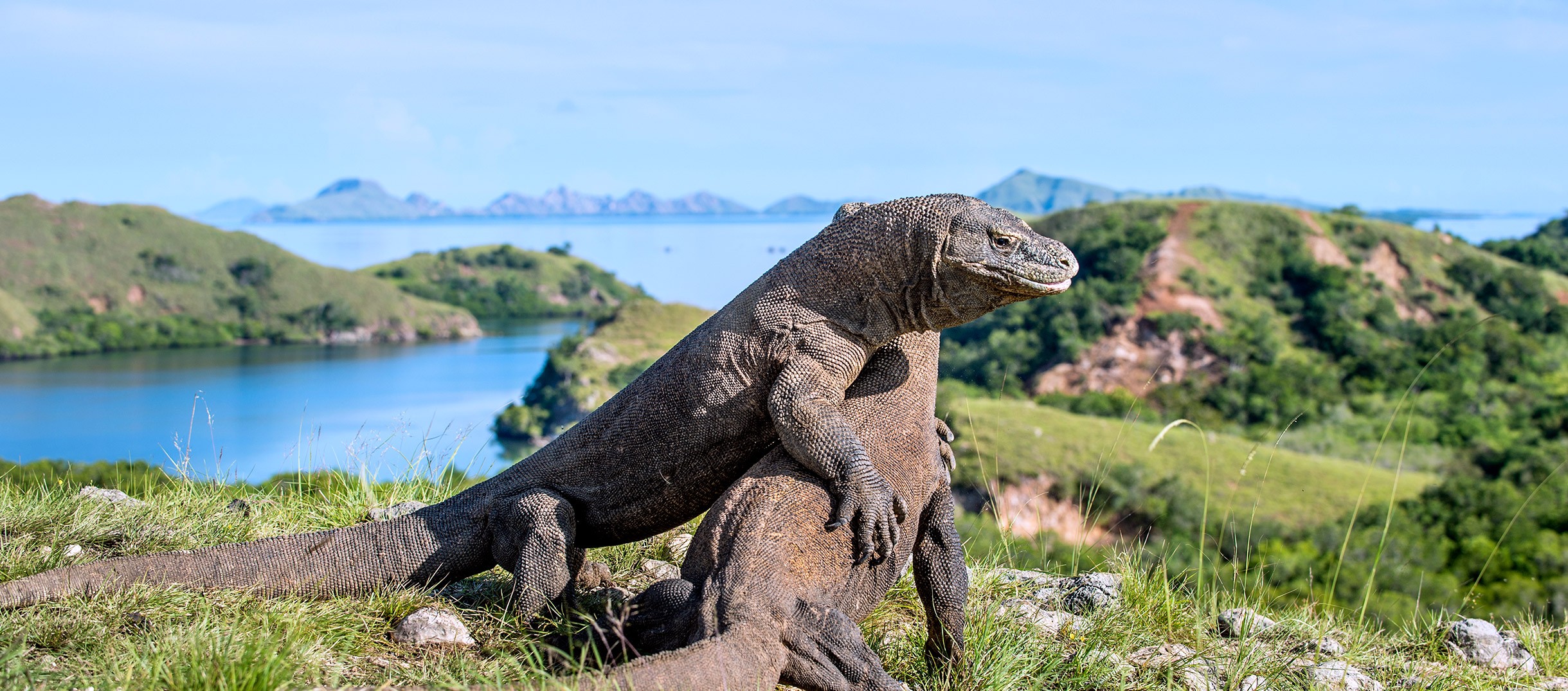 Komodo Island is the famous attraction located in Flores, East Nusa Tenggara. As the name suggests, this island is home for Komodo dragons as there are around 5,000 Komodo monitors. This island is also one of the new seven wonders of nature.
Komodo Island is not only home for Komodo dragons, but it also features some amazing beaches and wild bushes. The sea is calm so that it will be perfect for diving. The combination of the sky and blue sea makes a wonderful scenery.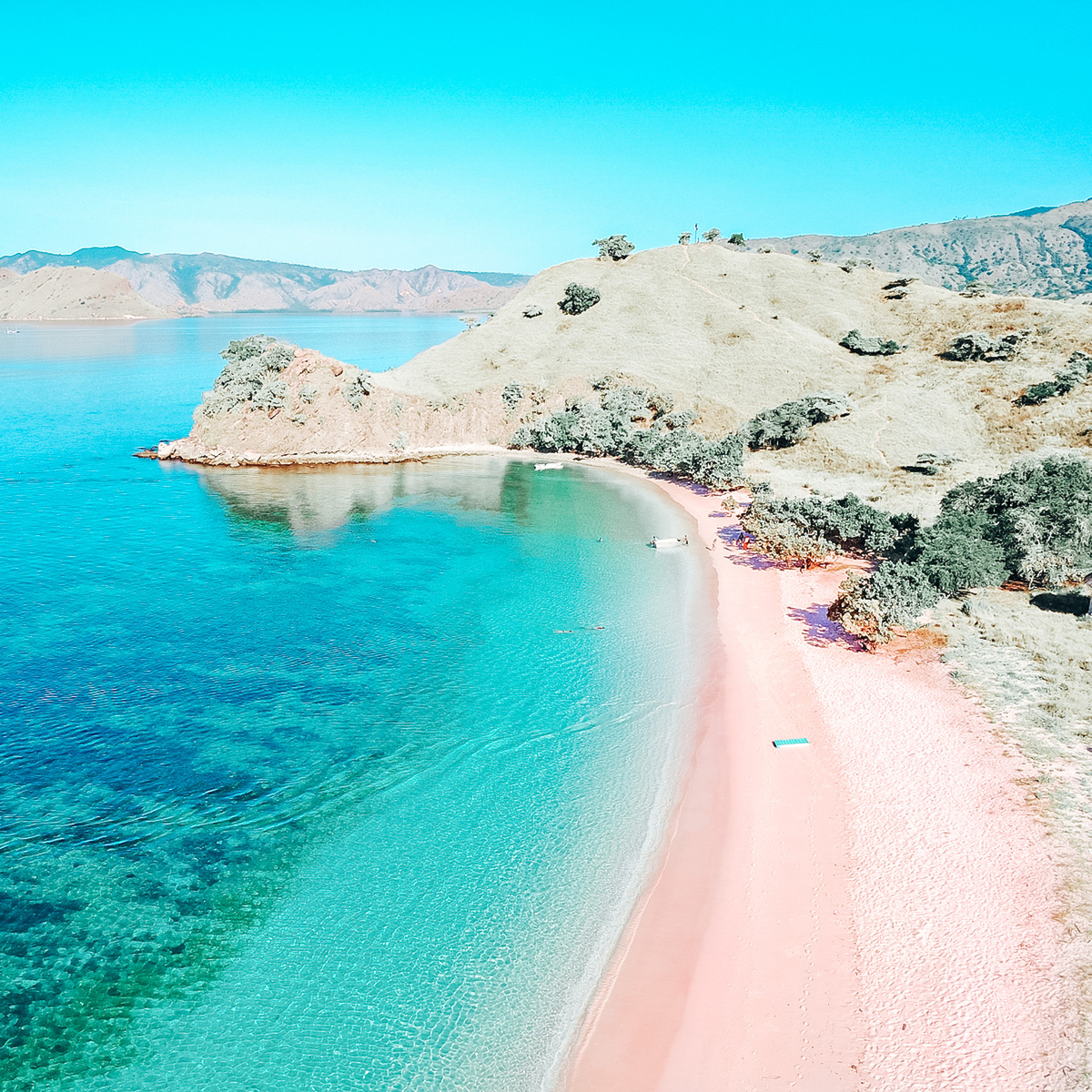 As the name suggests, Pink Beach has pink sand. This beach is located in Komodo Island, East Nusa Tenggara. This beach is one of the most popular beaches located here. The water is very clear and shallow. Besides, it is also surrounded by hills and it makes a perfect scenery.
The pink colour of the sand comes from dead red corals. These fragments come to the shorelines and mix well with the sand. Thus, it creates pink colored sand.
One famous thing to do here is diving. You will be amazed with numerous fishes and corals. Get to know the best time to visit Pink Beach in Komodo Island so you will be able to get the perfect trip!