Aceh isn't always about Banda Aceh, the capital. Other than the big city, you may explore the whole area filled with smaller beauties. One of them is Aceh Besar, which shines with its tourist attractions in Aceh Besar.
Right in the middle of Sumatra island, you can find another smaller area called Lhokseumawe. Always known to be the second biggest city in Aceh, and the bloodstream of Aceh's business and trading activities. Things that are also valuable are the attractions, which you can see right on below:
1. Jeulikat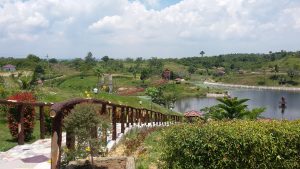 Location : Blang Mangkat, Jeuleukat
Ticket Fee : Free
A bit different form of an attraction from tourist attractions in Meulaboh, in Lhokseumawe you can find the dam attractions. One of them is Jeuleukat, works both to maintain the river flow and become a gathering place for locals.
So, for travelers who are spending their vacation time in the city of Lhokseumawe, this artificial reservoir is quite suitable for you to be used as a location for calming with family and friends.
2. Lhokseumawe Islamic Center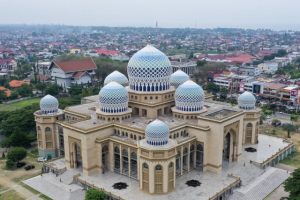 Location : Simpang Empat, Banda Sakti
Ticket Fee : Free
As may know already, this area that once called the Makah's little piece is known for the religious attractions of Aceh. One example is the Lhokseumawe Islamic Center, a house to learn and study about the religion.
The Islamic Center is equipped with various supporting facilities in addition to the Grand Mosque itself. In the mosque complex you can find a Multipurpose Building, Library, Diniyah, Museums and Acehnese traditional houses.
3. Ngieng Jioeh Park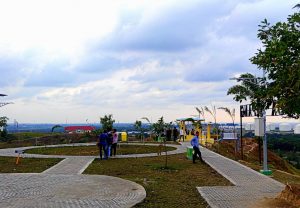 Location : Blang Panyang village, Muara Dua
Ticket Fee : Free (with additional parking ticket)
At first glance, this place actually looks simple. There are only some monuments and pamphlets completed with humble park benches. But the panoramic view that is presented makes this park suitable for a short escape from the hustle and bustle of the city.
The park benches that provided facing directly to the open sea, allowing visitors to see the beautiful city of Lhokseumawe as far as the eye can see. In addition, the breeze blowing from the gaps between trees always becomes a calming friend.
4. Pusong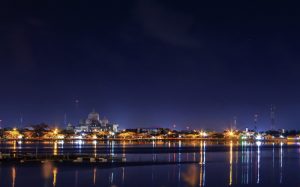 Location : Waduk Pusong st., Lhokseumawe
Ticket Fee : Free
Pusong Lhokseumawe reservoir gives a different atmosphere. In this lake, travelers will feel an atmosphere that is not inferior when compared to beautiful lakes in foreign countries. Especially if you visit Pusong Reservoir at night.
Accompanied by the surrounding city lights, the atmosphere in Pusong Reservoir will give you comfort and serenity. This reservoir is the largest reservoir in the city of Lhokseumawe and often becomes a low-cost travel destination for residents of Lhokseumawe city and or outsiders. For those of you who want to find a romantic atmosphere, this place deserves to be an option.
5. The Cave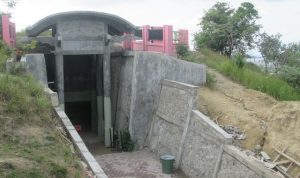 Location : Blang Panyang village, Muara Dua
Ticket Fee : Free (Accept donations)
Even though you can hike the mountains in Aceh, you can still visit the mysterious places that hold a lot of interesting histories. The Cave, or Japanese Cave is a structure that was made during the world war.
Built in 1942, the cave was supposed to be an escape way for Japanese army so they could flee right into the ocean in case anything terrible happens. Long years after the Independence, the cave still works as an attraction that is a must to visit, especially if you love the story.
6. Hiraq Park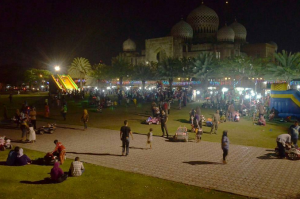 Location : Simpang Empat, Banda Sakti
Ticket Fee : Free
Hiraq Park is located in an Islamic center as it merges with the hearts of Lhokseumawe City residents. This park is highly known to be one of the cheap and very strategic recreational facilities.
What's more, to enter the garden which is overgrown with lush green grass, it is free of charge. There are many food vendors around that add to the pleasure of visiting this place.
7. Riyadhah Park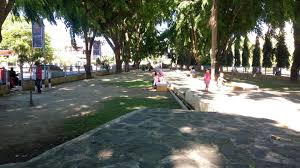 Location : Kuta Blang, Banda Sakti
Ticket Fee : Free
Riyadhah Park is the only urban park in Lhokseumawe City. The park, which is usually used by people to relax or to exercise, has now become a tourist attraction visited by Lhokseumawe people and tourists from outside the city.
The atmosphere of the place is cool, comfortable and even better with the "Free Wifi" internet connection, making everyone feel at home.
8. Rancong Beach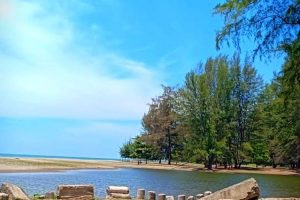 Location : Rancong, Muara Satu
Ticket Fee : Rp5.000,-
In Lhokseumawe, you may also find the beautiful beaches and an additional tropical island that's legal to visit. This time, we're going to talk about the beaches first, with the Rancong beach as the starter.
Rancong beach located close to Seumadu island, the one we mentioned as a tropical island. It becomes a highly visited attraction during weekends and holidays, making it one of the top popular ones in Lhokseumawe. Sand is soft, the ocean is clear, and everything seems good in Rancong.
9. Ujong Blang Beach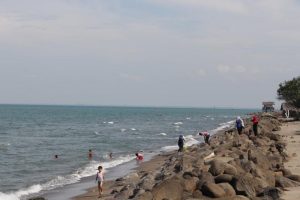 Location : Ujong Blang, Lhokseumawe
Ticket Fee : Rp5.000,-
Ujong Blang Beach is one of the most famous beaches in Lhokseumawe City. Located not far from the heart of the city, Ujong Blang Beach is never empty of visitors.
The culinary delights on this beach that are most sought after are salad and various grilled fish and this is the main attraction of this place. Visitors who have visited admit that it is incomplete to visit Ujong Blang Beach without tasting the salad.
10. Seumadu Island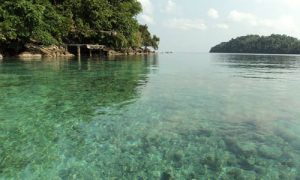 Location : Seumadu, Lhokseumawe
Ticket Fee : Rp2.000,- + additional parking ticket
A place where you can possibly enjoy some of the best diving spots in Aceh is Seumadu island. A lone island connected via a small wooden bridge that looks a bit fragile. But it's completely safe to cross.
It is well-known as a tourist attraction of Lhokseumawe City. This is due to the beautiful panorama, scenery and atmosphere that you can feel, plus the easy access to reach the location.