Maritime countries are the ones that have a vast sea area. In addition, maritime countries are usually countries that have many islands. Indonesia is geographically an archipelagic country with two-thirds of the ocean area larger than the mainland.
This can be seen with the coastline on almost every island in Indonesia along approximately 81,000 kilometers. Indonesia ranks second after Canada as the country that has the longest coastline in the world, making it internationally known for a pretty strategic country in terms of military, economy, and also tourism.
Indonesia has several visitable paradise islands, filled with kinds of attractions you can possibly imagine. This time, we're gonna explore the Sumatra island, into a special area named Aceh. There we can find several unique maritime attractions that will spoil you with their beautiful characteristics and looks. 
Without further ado, here's some of the best beaches in Aceh you need to visit :
Beaches in Aceh
1. Lampuuk Beach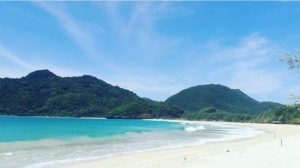 Location : Lampuuk, Meunasah Lambaro
Ticket Fee : Rp3.000,-
One that is included in the top beaches in Sumatra is Lampuuk Beach. This beach attraction, which is located 30 km north of the city of Banda Aceh, has become one of the Tanah Rencong destinations that has survived and continues to be a hit and loved by the people.
This beach is very clean and natural, perfect for visitors who want to clean their eyes with beautiful panoramic views of the sky and the blue sea. Vacationing at Lampuuk Beach is a lot of fun. The clear sea will never stop inviting you to swim in this gigantic natural swimming pool.

2. Lhok Mee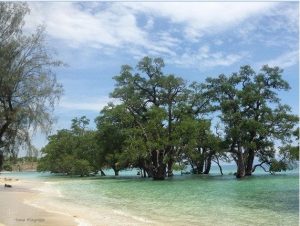 Location : Lamreh, Aceh Jaya
Ticket Fee : Rp5.000,- per person
Lhok Mee beach is like a piece of the Maldives of Aceh. How come? The sand is really white like a freshly sharpened diamond. Its beauty is second to none. No wonder, the place is always crowded with visitors.
Another unique thing found on the Lhok Mee coast is the large trees that are rooted in the sea. Want to explore underwater scenery? The trip to this beach with lots of coral reef will not be in vain. At some point, Lhok Mee Beach offers tempting snorkeling spots. Yes, swimming here is not to be missed.

3. Alue Naga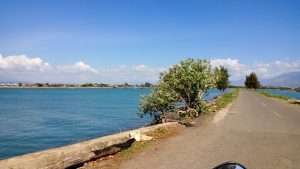 Location : Gampong Alue Naga, Syiah Kuala
Ticket Fee : Rp5.000,-
One of many things to do in Banda Aceh is to visit the lone beach that is known for its evening scenery, Alue Naga. The location is in Kajhu Aceh Besar. Upon arrival, you will find an unforgettable exotic charm.
If you are lucky, you can see the traditional Aceh tradition of "Tarik Pukat". Activities offered are no less diverse. Besides culinary, waiting for the sunset is also quite interesting. Especially when the sky is bright, when in the distance you can see the charm of Sabang.

4. Momong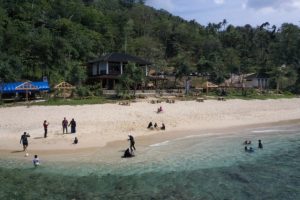 Location : Meunasah Bale, Lhoknga, Aceh Besar
Ticket Fee : Rp3.000,-
This tourist location deserves to be named the Aceh's hidden beach. Why is that? The structure of rocks, hills and strong cliffs makes Momong Beach fortified by nature. In the higher beach area, a series of small huts were built. Generally, visitors would hang out there while enjoying the cool breeze that blows gently from the vast ocean.
Visiting Momong Beach means letting the charm of Aceh surprise you. Yes, the natural formations displayed are unforgettable, as is the Lampuuk Cliff which seems to frame the beach that looks amazing.

5. Lhok Mata Le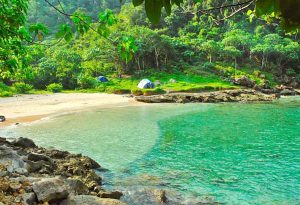 Location : Gampong Ujung Pancu, Lam Pageu
Ticket Fee : Rp5.000,- parking ticket
The next beach is Lhok Mata Le. A place that is included as one of the best things to do in North Sumatra. Lots of travelers would say that Lhok Mata Le Beach is a hidden beach in Aceh. There's no lie. To be able to enjoy it, tourists must first pass through the mountain line for 45 minutes. By foot.
Lhok Mata Le is far from the crowds, you won't be able to find any lodging here. If you want to spend the night, camping is the only choice. However, the special attraction of this beach is the natural beauty that is found. It feels like a private beach.

6. Lange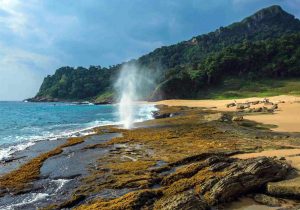 Location : Lange, Aceh
Ticket Fee : Free
Want to see the sea water breaking up through a gap in the rock? You must visit the one and only, Lange Beach. It seems that only a few people know this place. Usually those who have visited the beach came with the purpose of fishing in the fishing spot.
No fisherman can be found nearby. Meaning that the visitors can get as many fishes as they want. Just bring a group, and enjoy fishing til your heart's content.

7. Kuala Leupung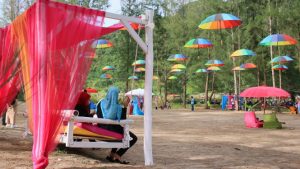 Location : Meulaboh, Banda Aceh
Ticket Fee : Rp20.000,-
Colorful umbrellas that are hung on a beautiful evergreen tree branch suggest you are at Kuala Leupung Beach. Just like being trapped inside a beach with Instagram Worthy concept, Kuala Leupung is the best escape for you who want to take good selfie photos.
Countless spots provided, such as bird nests to the view of a small lake on the edge of the sea which is colored with dazzling cloth decorations.
8. Babah Dua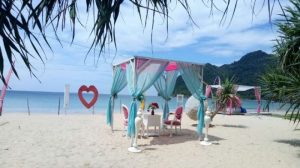 Location : Lhoknga
Ticket Fee : Rp10.000,-
One of the reasons why you should visit Sumatra is because of the existence of Babah Dua. Called as the most stylish beach because the coastline is made according to millennial tastes. Lots of trinkets can be found such as swings, decorative chairs and writings that are unique to the hearts of young people.
Access to Babah Dua Beach is not difficult either. From the city of Banda Aceh, the beach can be reached by using public transportation for 20 minutes. It's recommended to rent a car instead.