Last trip we took to Singkil wasn't the end of our journey exploring Aceh. Back then, Banda Aceh, which is the capital of Aceh was included inside the area of Aceh Besar.
Right after Banda Aceh became its own great city, the capital was moved out to Jantho, located on the mountains of Seulawah. It's actually a blessful land with a lot of things to do, including the existence of some best diving spots in Aceh.
Aceh Besar is always recommended to be included in anyone's bucket list when visiting Sumatra, due to the abundant natural sweet locations that are highly recommended to visit. If you feel curious about them, here's some best tourist attractions in Aceh Besar :
Tourist Attractions in Aceh Besar
1. Lhok Seudu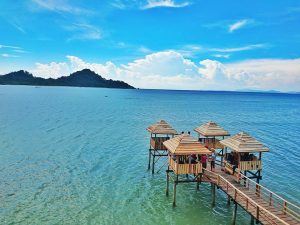 Location : Leupung, Aceh Besar
Entrance Fee : Rp2.000,-
First off, we jump to a place included as one of the best beaches in Aceh, Lhok Seudu. In this area, you won't be experiencing the soft sand or calming waves. Instead, you'll be treated with convenient huts flanked by lakes and mountains.
Visitors have a choice of two different locations, up or below. When choosing the upper ground, they may have a chance to enjoy the coolness and amazing scenery of the mountains. Meanwhile, people on below will be treated with a beautiful shooting ocean with extra biota living within.
2. Inong Balee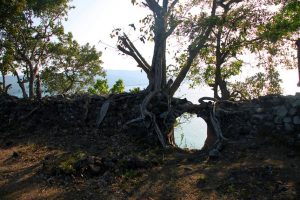 Location : Masjid Raya, Aceh Besar
Entrance Fee : Rp5.000,- parking ticket
Aceh can't be divided with its epic history involving the colonials and Indonesia's independence. What's left still can be visited by those who are interested. And one of the remains of war is Inong Balee Fort.
This tourist spot has a deep historical significance, especially the one related to Kumala Hayati. In accordance with history, the city of Aceh was once the place for foreign traders to come to Indonesia.
On this side of the coast there is a large fortress that functions to monitor the security of the area. So Inong Balee first was mainly used to supervise and monitor the trading security between locals and foreign traders.
3. Mon Ceunong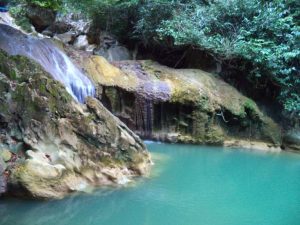 Location : Aneuk Glee, Indrapuri
Entrance Fee : Rp5.000,-
This tourist destination is actually just a big river with big rocks. If the water discharge is strong enough, then the rock will arise from the swift flow of water. Similar to a waterfall but with a height of only about 2 meters.
Nevertheless, this tourist destination is very beautiful and stunning. Many green scenery that can spoil the eye. Not only that, this river is also a source of clean water for residents.
4. Le Su'um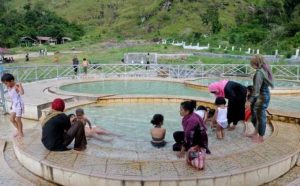 Location : Le Su'um village, Mesjid Raya, Aceh Besar
Entrance Fee : Rp5.000,-
It's not hard to find unique things to do in Banda Aceh, and Le Su'um is one of them. Le Su'um basically translated to Hot Water. In accordance with its name, this spot is a result from the activities of Mount Meuh. The foot of this mountain has a beautiful and stunning place. Many visitors come to the location to take a dip after hiking
The summit of Mount Meuh is indeed quite beautiful and stunning. Especially in the dry season because there are not many weeds and wild animals.
5. Mata Le Pool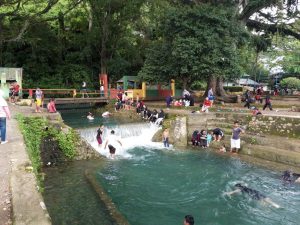 Location : Darul Imarah, Aceh Besar
Entrance Fee : Free
Mata Le has been around for a long time but has not long been used as a tourist attraction. Although in the form of natural charm, the entry fee is still quite affordable at around Rp. 3,000. This figure can change if the holiday season arrives because there are quite a lot of visitors.
Parking fees are still very cheap because the managers are only local residents. Some residents use this pool to wash clothes, some use it for bathing. So basically, it's free for everyone.
6. Semeuregui Hill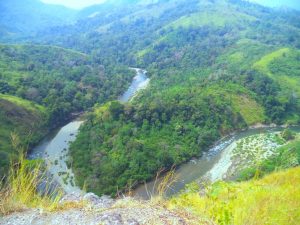 Location : Jantho, Aceh Besar
Entrance Fee : Free
A bare hill accompanied with green vegetation. Despite its "baldness", the charm of this mountain is still beautiful. Full panoramic views of rice fields and rivers can be seen from the top of the hill.
As the name implies, this hill is already bare but not so much that if the rainy season arrives, there's no landslides whatsoever because there are some plantations still standing.
7. Jantang Bay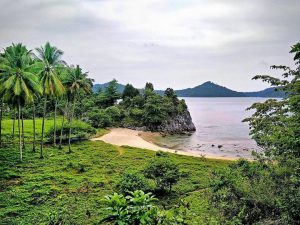 Location : Lhoong, Aceh Besar
Entrance Fee : Free
One tourist destination that is being sought after by many people is this Jantang Bay. View presented by the bay is very beautiful and stunning. You can enjoy the cool breeze and sea air. Coupled with natural charm in the form of rock cliffs and green scenery that are still virgin.
The distance is only about 100 meters from Jantang Beach and can be passed on foot. While looking at nature and enjoying the local cuisines in Aceh, you can feel the very beautiful white sand.
8. Lhok Mee Beach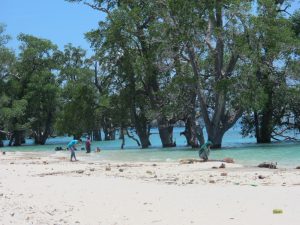 Location : Lamreh, Masjid Raya, Aceh Besar
Entrance Fee : Rp5.000,-
This one attraction is located in the area of ​​Aceh Besar or about 20 meters from the city of Banda Aceh. This beach is indeed the one that you must go to when visiting Aceh Besar.
It offers natural beauty that is very riveting. What's unique is, this Lho Mee Beach not only presents beach views, but also the green plants around the beach which add to the exoticism.
While on the Lhok Mee beach, you can see the waves sweeping through the white sand that will be more beautiful when the evening arrives. On this beach, you can see a tinge of clouds and sky that gives a yellowish-red gradation that spoils your eyes.
9. Babah Dua Beach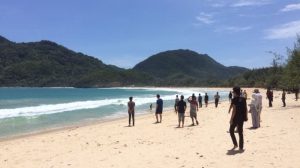 Location : Indra Jaya, Aceh Jaya
Entrance Fee : Rp3.000,-
Babah Dua Beach is a beach that offers a beauty that is different from other beaches in Aceh Besar. It's because this beach offers a view of sea water that is really exotic blue.
Moreover, the sound of the waves combined with the sparkling white sand will certainly make your vacation at Babah Dua Beach feel more perfect. The color of the sea water is blue Tosca, making the eyes will definitely be mesmerized.
10. Suhom Waterfall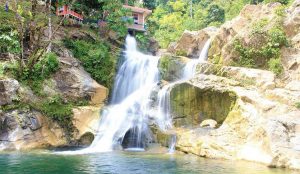 Location : Lhoong, Aceh Besar
Entrance Fee : Rp5.000,-
Want to see the special view of breath-taking mountains of Aceh while having the most refreshing and calming ambience possible? Then come to Suhom Waterfall.
Suhom waterfall is still natural and the road to a location that is not less astonishing. View of the beach with the pounding waves and mountain ranges will make the trip less tiring.
For those of you who like adventure, the Suhom waterfall tourist spot is the most appropriate choice. No need to worry if it's your first time visiting this waterfall because there will be a tour guide who is ready to accompany your trip.