If you ever visited Aceh before, you might as well visit a small area in the Southern Aceh called Singkil. Singkil is a small piece of Leuser National Park, and a result of South Aceh regency expansion. It's highly known for its maritimal attractions, including the diving spots in Aceh.
Even though the name is not as famous as other areas around Sumatra, Singkil does have its own bright shine. And it's able to serve you as the best vacation place you ever imagine. Here's some examples of the Singkil's gems:
Tourist Attractions in Aceh Singkil
1. Tana Bara Lake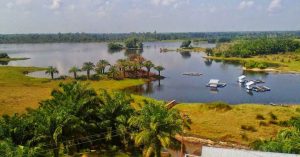 Location: Gunung Meriah, Singkil
Ticket Fee: Free
Tana Bara, a lone lake located in Gunung Meriah Village. An attraction that can be reached by both two-wheeled and four-wheeled vehicles is actually considered to be one of the top popular locations of Singkil.
Even though this one attraction has not been managed optimally, tourists won't get bored spending time visiting to enjoy the beauty of the panorama at the charming place. Simply spectacular.
2. Kedabuhan Waterfall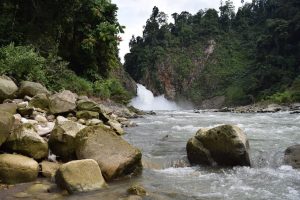 Location: Penanggalan, Sabulussalam
Ticket Fee: Rp10.000,-
For you lovers of nature tourism, Kedabuhan waterfalls in Penanggalan are of course very, the interesting one to visit. Having a height of about 6 meters, Kedabuhan Waterfall is considered to be a short waterfall. The harbor is often used as a vacation destination for many interested families.
Visitors can pump up their adrenaline level through rafting or other water sports. This place that looks as great as the attractions in Meulaboh also functions as a location for relaxing and stress relieving by doing yoga or meditating.
3. Pulau Banyak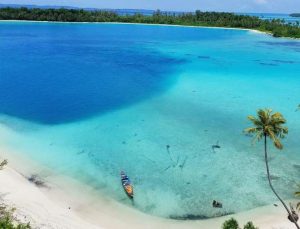 Location: Pulau Banyak, Singkil
Ticket Fee: Free (with additional charges for transportation)
Pulau Banyak ranks first as the destination that's most beloved by foreign and local tourists. With 35% visit growth each year, Pulau Banyak has beautiful beaches and is rich with wonderful coral reefs. Because of its beauty, Pulau Banyak is often referred to as the Aceh version of Bali.
You can do a variety of activities here, from snorkeling, diving, enjoying the richness of coral reefs and ornamental fish or fully exploring the 99 islands.
4. Lae Gecih Waterfall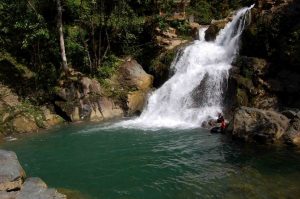 Location: Kuta Tinggi village, Simpang Kanan
Ticket Fee: Free
A place considered to be a beauty of many waterfalls in Aceh is Lae Gicih. Located about 90 km from Singkil, Lae Gecih Waterfall is located in Kuta Tinggi Village and included in Simpang Kanan District. This natural destination has a height of about 10 meters with trees around the location which adds to the vibrant of Lae Gecih.
The majority of local residents use the river for their daily lives, such as bathing and washing. So if you visit it, you will often find some people gathering around.
5. Malelo Island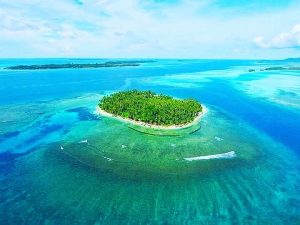 Location: Pulau Banyak
Ticket Fee: Free
Located in the Pulau Banyak islands area, Malelo has always been a bucket list for tourists. It's only natural to see the beauty of a small island that is uninhabited and is quite unique.
The Malelo Island which used to consist of 2 pieces of land is often compared with Maldive's islands. Its location is far enough that it requires a private trip if you want to take a peek.
6. Gosong Beach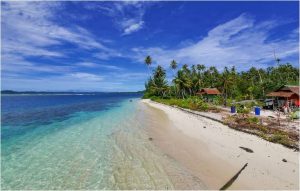 Location: Gosong Telaga, North Singkil
Ticket Fee: Rp5.000,- parking ticket for two wheeled vehicles, doubled for four wheelers
A beach that we previously talked about, and a place considered to be one of the top beaches in Aceh is Gosong. Local residents often call it by the name of Gosong Telaga Beach, even though its original name is Cemara Indah. Every holiday season, this maritime destination is never empty of visitors, the number reaches thousands.
The attraction of Gosong Beach lies on the coastline that extends with a panoramic view of the blue sea. Waves are also quite calm so it is safe for family holidays.
7. Pulo Sarok Beach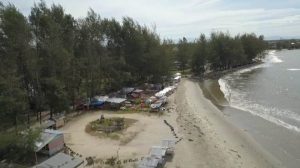 Location: Pulau Banyak
Ticket Fee: Free
If you want to go to Pulau Banyak and are waiting for the crossing ship, stop for a moment at the Pulo Sarok Beach. Not only offers views of white sand, you can also find Lake Belibis that's hidden beneath the dense trees.
At Lake Belibis, you can rent a duck boat to go around this small lake. Pulo Sarok Beach is also a favorite destination because it is located around Singkil City, which means it's highly accessible. For those of you who like marine cuisines, there are many small stalls that provide a variety of seafood.
8. Lamun Island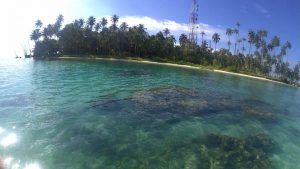 Location: Pulau Banyak islands
Ticket Fee: Free (exclude transport fee)
If you are classified as an anti-mainstream tourist, Lamun in Pulau Banyak could be the best choice because it is still very quiet from visitors. This is due to the long distance from the Port of Aceh to Lamun Island.
Being on Lamun Island will make you feel like you have a private island because this island is completely uninhabited. It offers Aceh's hidden charms, blue sea plus exotic coral reefs will make visitors feel at home.
9. Tailana Island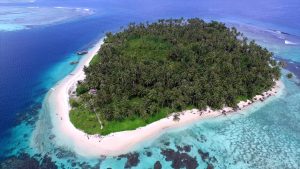 Location: Pulau Banyak
Ticket Fee: Free (exclude transport fee)
From a row of popular objects, the atmosphere of Tailana Island sucks the most attention. The land is overgrown with lush coconut palms, and entitled the nickname of the most tropical island in the country of Indonesia. Not surprisingly, for those who want to do a little tour to Pulau Banyak, Tailana is a mandatory agenda.
The coming waves that approached the island of Tailana are always so calm. In the sea, thousands of beautiful fish and coral reefs can be seen. For enthusiasts of snorkeling and diving, underwater panoramas like that would be a dream.
10. Pulo Madura Rimo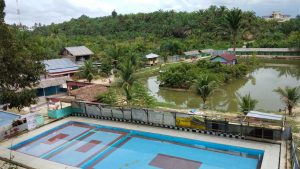 Location: Tunas Harapan, Gunung Meriah
Ticket Fee: Rp5.000,-
If you prefer a calmer situation than the mountains in Aceh, Pulo Madura Rimo is for you. It's a spot specially designed for kids and family in general. Located in Tunas Harapan, Gunung Meriah District, Pulo Madura is equipped with a special playground for children.
Other facilities are the shallow swimming pool, which is not too deep so it is good for the baby's swimming training. Here, parents can supervise their children while also enjoying their good times.