Indonesia is indeed a blessed country. Not only having spectacular cultures, it does exist as one of the countries around the globe that is highly praised for its natural attractions. Tourists are basically spoiled. Many choices of enjoyable places can be picked, from the Eastern to the Westernmost point of the country.
The Westernmost slice of Indonesia is actually included inside Aceh area, which is also known for having a lot of coastal attractions, like the wonderful beaches in Aceh for example. It also has several unique visible islands, including the one called Weh island.
If you're not too familiar with this, Weh island is actually the Westernmost point of Indonesia. It's located inside the Aceh regency, and highly known for its wonderful diving spots. Being a center for both snorkeling and diving sport, it's like a heaven for all.
Easy to access, not too expensive, and has abundant explorable spots that everyone's been looking for. If you feel interested to know better about it, here's the list of the diving spots in Aceh for you :
Diving Spots in Aceh
1. Batee Tokong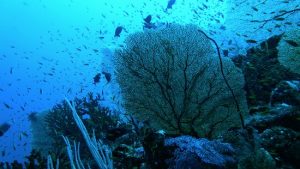 One of the diving spots around Aceh, which looks as beautiful as the spots in Bunaken island is Batee Tokong. Batee Tokong became one of the dives' favorite spots.
This is where you can find land in the sea that extends to the surface and forms cliffs as high as 25 meters. Wrapped with a beautiful panorama, Batee Tokong is often visited by sharks and other exotic animals. 
At a certain depth, you can find a variety of other living things such as octopus, lionfish, scorpion fish, frog fish, to Nudibranchs.
The factor causing this spot to be the target of so many divers is not because of the things above. Instead, it's because of the very steep slope. It may offer unique challenges for them, especially for the advanced ones.
2. Arus Balee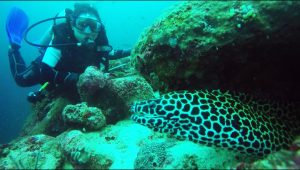 This one diving spot is located right in the middle of two small islands, Rubia and Seulako. Directly bordered by rocky peaks, Arus Balee is a very popular diving spot because this is where you can make friends with many creatures of the Indian Ocean.
Tamed groups of sharks often stop by at this spot, relaxing under the typical tropical weather of Pulau Weh. With the calm waves, Arus Balee is also a diving spot that is most suitable for the beginners. It's always a pretty and memorable diving spot, even as wonderful s the diving spots in Gili island.
3. Pantee Peunateung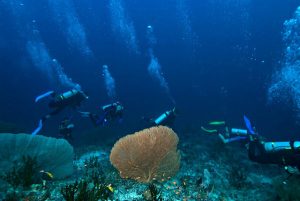 This one diving spot is known as the natural aquarium. Here you can dive while making friends with thousands of amazing underwater species. With a calm and peaceful panorama, Pantee Peunateung is also present with a collection of coral rocks that are home to coral reefs at a depth of 30 meters.
Problem is, Pantee Peunateung is ready to pamper you with large rolling waves, crashing on the beach sand and coconut trees on the edge of the island. Highly advised to always be careful, and know your surroundings. You don't want to hit the rocks while having your focus on something pretty.
4. Batee Gla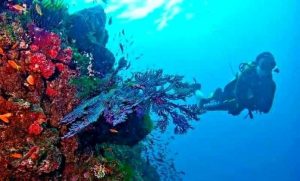 Batte Gla offers a spectacular look. Possibly one of the most wonderful ones, becoming one of the best spots for scuba diving in Indonesia.
From the edge of the beach, you can see a row of rocks that look slowly mounting from a depth of 40 meters. They are homes for many smaller fishes, with some predators also lingering by. 
Divers will also be spoiled with very relaxed currents, ideal for those of you who want to enjoy nature from under the sea. Unlike the other spots, you will meet a lot of sea eels here, so you may need to be more careful.
5. Sophie Rickmers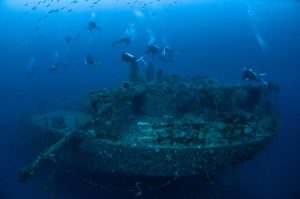 A history left behind from a terrible event happened a long time ago. The name is Sophie Rickmers. Why the name is really specified to a person's name is because of the fact that the location is actually a tomb for a ship called with the same name, Sophie Rickmers.
It is a wrecked cargo ship at a depth of 50 meters. Built in 1920 by the Germans, Sophie Rickmers has been on Weh Island since 1940.
It has become the center of attention of divers who want to explore every corner of the ship. If you're lucky, you might find a very rare angelfish species.
6. Limbo Gapang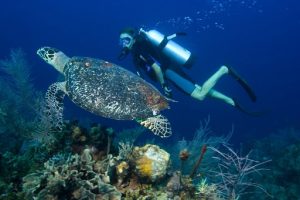 Have you seen a group of sea turtles in some animation movies like Finding Nemo? You can actually find them in a spot called Limbo Gapang.
This is like a house for them, functions as a gathering spot for so many sea turtles. Mostly filled with the sea rocks that work as protection against nasty predators.
Only two minutes from Gapang Beach, you will be greeted with coral rocks that form a mushroom shape as high as seven meters. The light blue sea water color creates its own memory to be remembered for all time.
7. Sumur Tiga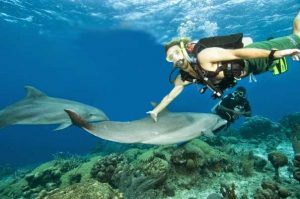 The last one on the list, a spot as good as the best diving spots in Sulawesi island is Sumur Tiga. It is a very suitable point for those who want to interact with the living sea creatures, especially dolphins.
Quiet currents combined with beautiful coral gardens provide a perfect holiday experience for you. Here, you can also watch a herd of dolphins playing up close. Surely, you can have an interaction or two, since they are known to be friendly animals.