Sabang to Merauke, Sumatra to Papua, mountains to beaches, cliffs to caves, adventure to leisure, Indonesia has it all! Beside adventure and leisure, you can also enjoy cultural things to do in Indonesia.
Sumatera is actually nice place to visit especially when you are looking for natural attractions. Wide range of mountains, forests, and rivers have parted Sumatera into several provinces with their own uniqueness. Don't forget to check list of North Sumatran foods you have to try beforehand.
Let's zoom into Jambi Province, to a region called Batanghari. It is a regency located in the middle of Jambi and its main city is Muara Bulian. Compared to the western side of Jambi which has many mountains and hills, Batanghari Regency is on the lower part of the lands so it has many rivers, swamps, and cultural attractions as the effect of economic activity. You can see those unique tourists attractions in Batanghari on the list below .
1. Ilalang Hill
The uniqueness of Ilalang Hill is that several years ago the hill was an oil palm plantation in Sungkai Village, Bajubang Area. The plantation was burned and abandoned until the grass and thatch fill the vast land. The beautiful landscape shown on social media catches many people's interest.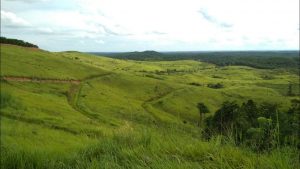 2. Batanghari River
Being the longest river in Sumatra, Batanghari River automatically becomes one of the city landmarks in Indonesia. The river has been existed for centuries and become the witness of historical events in Jambi.
In the past, Batanghari River was used as trade route. As the city develops, people now come to the riverbank to do activities such as jogging, attending cultural events, festivals, and as simple as enjoying the view. Check landmarks of cities in Indonesia and its historical meaning to see more of the country's iconic sites.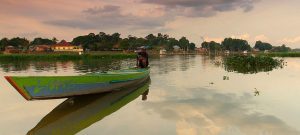 3. Puri Indah Lake
Originally, Puri Indah Lake was just a lake used for irrigation, located in Rantau Puri Indah Village, 45 minutes from Muara Bulian. As tourism grows in Jambi, the locals initiate the lake to be one of Batanghari travel destination.
If you look closely to the surrounding, you will see many variants of protected vegetations. Bulian, meranti, tembesi, and sepang trees are well preserved in the lake area, creating harmonious ecosystem between people and their surrounding nature.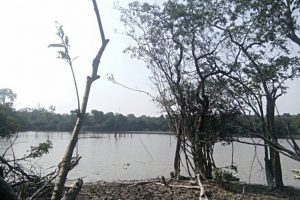 4. Muara Tembesi Old Town
Looking back to historical events in Indonesia, it's only natural for this country to have many old towns. Almost every region has old places to preserve just like these 15 vintage old towns in Yogyakarta worth to visit. Batanghari has it too.
Long before colonialism, Muara Tambesi had been the central of ancient Malay Kingdom. Its strategic location which was at the meeting of three main rivers in Sumatera made Muara Tambesi became vital point for power struggles that happened ever since. You can see many old houses and buildings in one of the historical town with many of them have already been renovated.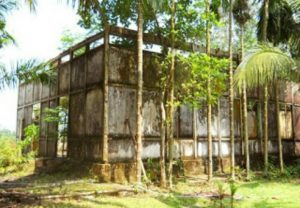 5. Pauh Lake
The main attraction Pauh Lake offers is the beautiful view of Mount Masurai. You can sit on the bank while enjoying the cold breeze from the mountains ahead. Pauh lake is located at 1.200 meters above sea level, in Pulau Tengah Village.
The water is clear. Since there is still not many people coming, you can enjoy your time in a quiet, calm, and typical village atmosphere. If you are fond with lakes, you may also visit 6 wonderful lakes in Jambi worth visiting.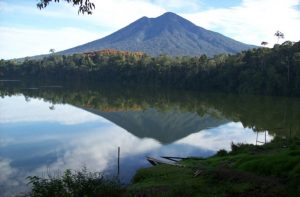 6. Muara Tembesi Blue Lake
Geographically, Muara Tembesi Blue Lake is located in Muara Tembesi area, about 22 kilometers or 30 minutes from Muara Bulian. It is a popular attraction with a number of regular domestic visitors each year. Its green-tosca colour brings the lake to life, despite it was originally formed from coal mining activities.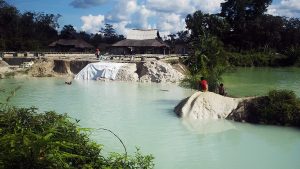 7. Embat Lake
Batanghari has many lakes worth visiting. Another one is Embat Lake in Embat Village, Maro Sebo Ilir, about 30 minutes from Muara Bulian. What makes this lake unique is the abundance of fresh water fishes.
You can throw your hook to get some fishes to grill on the spot. Some residents use nets to fish in considerable amount and then sell the fishes in the local market. You can ask them to take you on their boats too!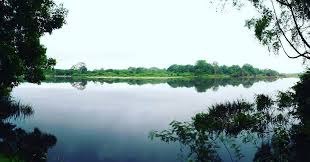 8. Puri Rimbo Bulian
Puri Rimbo Bulian is one of the result of tourism development projects in Muara Bulian, Batanghari. Bamboo huts are built inside the area of protected trees with the purpose to show the next generation about endemic vegetations in Sumatera.
Only 5 minutes from the main road from Muara Bulian, the visitor will be welcomed by village atmosphere and the breeze from the forest nearby. If you are lucky, you get to see unique animal inhabitants living in the forest such as turkey and wild chicken. Visitors can rent the hut for a day or two or just briefly enjoy the atmosphere.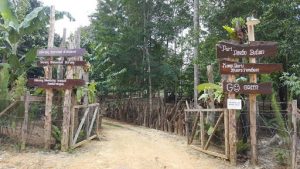 9. Ugo Lake
Having thought about taking your family to camp in the open? You might consider Ugo Lake in Aur Gading Village, Batanghari. Many people come to Ugo Lake to camp with their friends or family.
The lake has beautiful view during the day. At night, you can spoil your eyes with the view of the stars in the sky. But if you want better places to enyoy the night view, better to check 8 best stargazing sites in Indonesia to admire the beauty of the universe.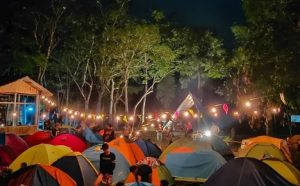 10. Lapangan Garuda
The citizen of Batanghari likes to gather and doing events. This enthusiasm is supported by many public spaces such as public fields and playgrounds. The last of 10 unique attractions to visit in Batanghari is Lapangan Garuda.
Lapangan Garuda is the central of the town where many events are usually held. Visiting Lapangan Garuda while in Batanghari is a must.